Let's get eclectic at Bethesda estate sale Aug. 9-10
Let Orion's Attic offer the following pop quiz: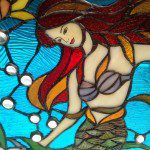 Have you ever been to a single estate sale that was so eclectic that it included all of the following items: Genuine Native American art and jewelry, Quimper pottery, Jerry Garcia images, coat rack made of copper tubing, leather biker chick jacket, drone, Mermaid stained glass panel, life-sized pig figurine, bronze sculptures featuring emergency responders, lithographs and pins honoring each branch of America's armed forces and a custom-made toilet seat adorned with nickels, dimes, quarters and Kennedy half-dollars?
If so, wow, you've lived a great life. If not, you absolutely have to come to our Bethesda, Maryland estate sale on Aug. 9-10 from 9 a.m. to 4 p.m. at 6311 Poe Road, Bethesda MD 20817.
We found a more dizzying array of items piled on one over-sized farm table in this house than we often find in entire houses. One of the owners also dedicated much of his life to producing art and pins appealing to Vietnam Veterans and veterans of all branches of the military. The house is packed with piles of pieces he didn't have time to sell before his passing. Both of the owners of this home lived life to the fullest, though, embracing every new thing they could see and experience. Now you'll be able to get some gusto to take him with you!
See our Bethesda photo album on Facebook for some 600 photos. Tons more to come. More details on the way as well but make plans now to check out this sale. You really have to see this place.
Highlights include:
Art: Folk art including small metal dog, tin sun, wood sculptures, Jack Daniels bottle wind chime, beer can airplane, wood-carved airplane; signed pencil sketches; limited edition print of Jerry Garcia;
Cameras: Wide variety of modern and some vintage cameras, lenses and equipment used by the homeowner to produce his art;
China: Taylor-Smith; Italian plates with lobster motif
Clothing: Wide variety of vintage and women's clothing and accessories (leather and beaded purses), beaded dress by Hyo Bee; men's clothing including Jack Daniels belts;
Electronics: Spirit of St. Louis hands-free telephone; short-wave radio; large flat screen TV; Bose speakers; Pioneer stereo system; drone (yes, a drone – don't know if it works yet);
Glass: Floral crystal glass candy dishes by Daniel Hechter; heavy glass elephant;
Furniture: You have got to see the toilet seat.  How many toilet seats are conversation starters? The one at this house is a clear seat embedded with coins; big farmhouse table with six matching wooden seats and two upholstered end seats; king-sized Sleep Number bed; hand-made coat rack made with copper pipes; suede couch; rocking chair; linen press; night stands;  wooden chairs; short stools; single bed; full bed; corner cabinet; reclining chairs; coffee tables; love seats; buffets; china cabinet; shipping trunks
Home Décor: Life-sized piggy bank; baskets; ceramic, glass and other figurines of all kinds of animals including squirrels, dogs, elephants; Hochst decorative egg; decorative lamps, Herend hungarian fishnet figurines
Jewelry: Several unique watches including one that is custom made featuring a watch on a half-dollar coin with a custom eagle-adorned band that is signed and numbered; costume jewelry from necklaces, pendants, brooches/pins, bracelets, earrings, rings, and so much more. Some pieces take the form of elephants, the sun, turtles; amethyst ring; signed pieces by makers such as Christopher Jupp; sterling silver Austrian crystal by HY Jewels; earrings made from old Bhutan coins; Christian Bernard watch; Laurel Burch watch with horsehead image;
Kitchen: Coffee pot, microwave oven, antique pots, food saver, hand-painted salt and pepper shaker;
Mermaids: There's a veritable ocean full mermaids in this house including items such as: small stained glass panel, iron and other metal art, jewelry, clocks, candle holders; figurines; tiles; knives; footstool; drawings;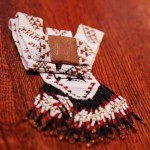 Military/Patriotic/Emergency Responder: This home was co-owned by an artisan who produced a wide variety of pieces appealing to Vietnam War veterans, veterans of other wars including World War II, Afghanistan, Iraq and more. Other pins honor the Army, Air Force, Navy and Marines (we may also find Coast Guard but haven't located a box yet.) You will find perhaps a thousand pins honoring those veterans along with pins honoring nurses, firefighters, police including women in law enforcement, K-9 units. He made clear etched glass blocks honoring the Vietnam Wall. He produced a variety of lithographs and prints (including some signed and numbered) honoring Vietnam veterans and other military and patriotic themes. The home contains a bit of the work of Tom Nielson including his striking limited edition print of an eagle against a flag backdrop called "Colors of Courage"; cast bronze sculptures; Marine Corps banner;
Misc.: Colorful kite with nude woman figure; oak walking stick with brass animal figure head; black wood walking stick with carved elephant; Tiffany & Co. playing cards; breakfast tray with architectural rendering of a ship; Jack Daniels leather-covered whiskey flask; MetroMeter Co. Trident water meter from New York; bull horns; natural sine compass; dust pan made from South Dakota license plate; Iraqi coins saved by British military;
Motorcycle Stuff: Gorgeous leather biker chick jacket; multiple Harley-Davidson items including four-tile floor logo, Custom Chrome ad featuring Albert Einstein; belt buckle, carrying bag, pins and more; pins honoring many different years of Motorcycle Week and other motorcycle pins such as the Biker's 4-Leaf Clover; Framed print of 75th Annual Laconia Motorcycle Rally; what appears to be a die-cast figure of a winged, bikini-clad woman on a motorcycle; "Live to Ride" canteen; pottery with motorcycles painted on it; Sturgis shot glasses;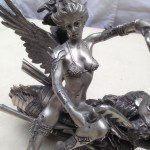 Musical Instruments: Guitars by Nagoya and Yamaha; vintage Sitar (needs re-stringing); stringed instrument from Africa; dulcimer;
Native American: Tapestries; jewelry; modern ceremonial pieces by the Lakota people;
Pottery: Great collection of pottery, sconces and figurines by Henriot Quimper (France); other signed pieces including R. Scot Hardwig (Lost Mountain Pottery), Stiles; Gail Heilmann;  hand-made and painted pieces from Italy including motifs of sunflowers; hand-painted ceramics of Portugal; Delft;
Know someone who needs a great estate sale company or has nifty antiques and collectibles to sell? Contact us today!