If you love Asian decorative arts, Mid Century Modern furniture, jewelry and more, our Jan. 16-17, 2016 estate sale in Bethesda, Maryland from 9 a.m. to 4 p.m. each day has plenty for you to peruse. (Address is 5019 Acacia Avenue.) Experienced, life-long collectors of Asian arts and furniture filled their home with treasures picked up from around the globe. You'll also find an educated reader's book collection, an array of art, old electronics, vintage board games and tons of other fun. Check out hundreds of photos of our Bethesda estate sale and make plans to attend the sale now.
No early birds. We will hand out numbers to people who arrive before the sale. We will also have staff to help you carry furniture and piles of great stuff to your vehicles as time permits. Address will be posted here the day before the sale.
Highlights of the sale include: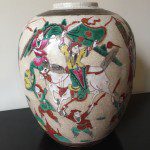 ASIAN DECORATIVE ARTS: A vast collection of porcelain pieces from across Asia including; 15th C Thai Sawankhalok ceramics, Chinese export porcelains various pieces from song, Ming and Qing Dynasty; Vases, temple urns, Floor vases, Chinese Guangxu famille rose crackleware porcelain, and Ming porcelain plates, an exquisite collection of Yixing Teapots, and Yixing items, large Chinese basins, large Chinese porcelain chargers, Chinese birdcages, complete Japanese ceramic tableware set, soapstone carvings, Chinese reticulated porcelain lanterns, celadon ewer, Song dynasty celadon bowls & Chinese porcelain garden stools.
ART: Finely produced set of reproduction Italian colored maps of the world (framed), set of Douglas Airplane colored drawings, J.J. Audubon lithograph of Common Star-Nose Mole, Ansel Adams reproduction print of Yosemite National Park, oil on canvas paintings, Asian art, Leroy Neiman artist proof serigraph Los Angeles Olympics Opening Ceremonies 1984, Eleanor Roosevelt print with signature, old Hollywood Westerns actor photos with printed signatures, Polynesian wood carved panel signed and dated 1902, Leo Meiserdorff watercolor of New Orleans jazz scene, pair of antique German hand-colored prints by Johan Elias Ridinger, antique Goofus glass portrait, several large framed cat art,
BOOKS: A home office/study filled with an educated reader's vintage and modern books on subjects including art, ballet, Hollywood, literature (including many Heritage Press special editions with slipcases), Native American (Zuni, Pueblo Indian, Navajo, Sioux) opera, science, mathematics, physics, railroads, children's literature, history
CHINA AND GLASSWARE: A staggering amount of china – all kinds of makers and patterns – and a staggering amount of barware and glassware; canisters, Depression glass, Carnival glass
COLLECTIBLES: Collection of 1940s Hallmark Doll Cards with original envelopes, 1974 Marilyn Monroe Datebook, Marilyn Monroe Life Magazine 1972, three antique railroad spikes, 29 dog plates from the Hamilton Collection, River Shore and others; glass and crystal figurines of birds, camels, crabs, frogs and more; boxes of vintage Christmas ornaments and decorations that will be sold for cheap, wooden Coca-Cola crate, much more
CLOTHING AND ACCESSORIES: [Men's] Designer suspenders in boxes, bowtie and cumber bun; Huge collection of great designers ties including actors, entertainers and characters such as Humphrey Bogart, Marilyn Monroe, Elvis, Three Stooges, Mickey Mouse, Daffy Duck, Popeye, Sylvester, Speedy Gonzales and many more, lots of golf-themed ties; wood shoeshine box with brushes; [Women's] Closets full of jackets, casual clothing, dresses, belts, purses, sunglasses and more.
ELECTRONICS: Grundig 2068 Hi-Fi Zauberclang radio, Magnavox Micromatic stereo system in portable case, variety of cameras and accessories, Macintosh 7100/80 computer, Bose ARW1 radio, RC8021 Indoor Camera new in box
FURNITURE: High quality set of 6 Danish Mid Century Modern chairs by Mogens Kold and an expanding teak dining table by Hornslet, 4 Cesca style cantilever chairs, Wegner style set of 6 dining chairs (2 carvers) and expanding table with leaves and pads, gorgeous 80-inch rosewood Faarup in very good condition, retro pedestal dining table with 3 chairs, Mid Century Modern dresser, Mid Century Modern Danish nightstands, elaborately decorated Chinese lacquered furniture including a corner cabinet, bar, cabinet, and coffee table; white striped couch and pair of matching chairs, wicker patio set, circular wood breakfast table and matching chairs, teak office desk, oak furniture cabinet, pair large antique benches with heart cut-out, small circular oak breakfast table and chairs,
HOME DÉCOR: Mid Century smalls and lamps, antique mirror, decorative glass, brass desk lamp, lamp with reverse painted shade of windmill scene, picture frames, kerosene lamp, painted duck figurines, jeweled deer carvings, Cloisonne, bronze plate, Tibetan Buddha, stoneware, Westminster mantle clock, vintage trophy
JEWELRY: Fine jewelry, including several rings, necklaces, bracelets, pendants, and earrings in gold and sterling with precious or semi-precious stones; A variety of antique and vintage pieces, including native American silver/turquois rings and pendants; Abundant costume jewelry, from necklaces, pendants, brooches, pins, bracelets, earrings, rings, and beads; Men's jewelry, including a number of cufflinks in different styles, tie tacks and tie pins; Wrist watches for both men and women, from automatic/self-winding to quartz.
KITCHEN: Artland 7-piece vodka set, Artland caviar set, cookie jars, crystal footed bowl, Pyrex glass set, many small kitchen appliances new in box, Metropolitan Museum of Art Japanese Poppies mosaic napkins, tons of dishes, flatware and cookware, Felix The Cat cookie jar and other cookie jars
MISCELLANEOUS: New York Central System Railroad 125th anniversary sign, Shouxing balls
SPORTS EQUIPMENT: Adjustable Step Up
SPORTS MEMORABILIA: Babe Ruth 100th anniversary commemorative baseball
TOOLS, HARDWARE, HOME IMPROVEMENT: Hampton Bay bath bar light, mailboxes, hand tools
TOYS AND GAMES: Fun collection of antique and vintage toys and board games. They included: Atari video game system, Jolly Tractor (wood), animated wood duck pull along, miniature chess set, Hubley dump truck, hand-made wood pull toy, General Mills mail-in prize Destroyer Escort, 1950s Slinky Bucko pull toy, Daishin Happy Naughty Chimp battery operated toy. Heaping mound of vintage board and role playing games too numerous to list include variety of military/war, sports, adventure and more; antique doll carriages/baby carriages, model trains, stuffed animals
Do you need a great estate sale company to liquidate your home? Contact Orion's Attic today. We serve Maryland, Washington D.C. and Northern Virginia.