Find your collecting groove at Arlington estate sale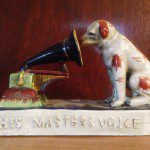 Collectors of all stripes can find your collecting groove at our Arlington estate sale on July 18-19 from 9 a.m. to 4 p.m.  at 4020 25th Street North, Arlington VA.  The people who lived in this home for decades were passionate people who believed in building large collections — and it's all priced to entice!
You will find more than 1,200 records, several hundred pieces of sheet music, probably more than 1,000 books, hundreds of cat figurines, hundreds of elephant figurines, many pounds of vintage jewelry, countless pieces of china, more than 125 porcelain and ceramic figurines by Royal Doulton and others, 500 CDs, more than 50 vintage comic books, stacks of vintage magazine advertisements, perfume bottles, vintage ladies' hats and so much more. (See hundreds Arlington estate sale photos.)
The house is also filled with fine furniture, furniture ready to be painted and given new lives, piano, grandfather clock, home décor, tools, hardware and we don't even know what else yet. Stay tuned here for more details as we continue to dig through this collector's haven.
HIGHLIGHTS: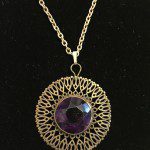 ADVERTISING: Huge pile of old magazine ads nicely matted and ready for framing (some already framed) plus another huge pile of un-matted ads; vintage tins; Coca-Cola syrup bottles, old Clorox bottles;
BOOKS: Massive amounts of mostly hardback books on all kinds of subjects and that span from antique and vintage books to modern books. Covers full range of subjects including but not limited to history, art, collectibles, literature, Hollywood, cats, biographies, music, children's interests, antiques, auction catalogs
BOTTLES: Variety of perfume bottles
CAMERAS: Basket full of old cameras that we're still going through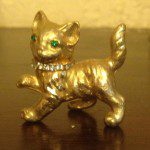 CAT AND ELEPHANT FIGURINES AND TRINKETS: Staggering number of cat and elephant figurines, china, stationary, glasses, plates, mugs, toys and more. All kinds of cats in all kinds of sizes and shapes. Tons of elephants, too. You'll be hard pressed to ever find more cats or elephants in one home.
CHINA: Collectible china, particularly gorgeous cups and saucers, from every maker you would know, including but not limited to Shelley, Meissen, Aynsley, Dresden, Tiffany, Limoges, Lenox, Pickard, Wedgwood, Royal Doulton, Staffordshire, Shuman Arzberg, Paragon, Royal Worcester, Royal Albert, Spode, Foley, Bavaria, Noritake, and countless antique cups and saucers; Ironstone Cassino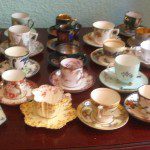 CLOCKS: Tempus Fugit grandfather clock and array of little desk clocks
CLOTHING/HATS/Quilts: Vintage women's clothing including fur coats, dresses, wedding dress. men's fedora hats in original boxes (some never used); countless ladies fashion hats in variety of style; handmade patchwork quilts; scarves and handkerchiefs, vintage linens, purses, accessories, and more.
COMIC BOOKS: Whole box of vintage Classics Illustrated books
DECORATIVE GLASS: Beautiful colored glass by Fenton and many others
ELECTRONICS: Vintage radios and stereos that work, typewriter,
FIGURINES: 60 Royal Dolton figurines dated from 1930's including highly collectible and desirable ones in excellent condition. Examples include The Mask (HN4141), Jacqueline (HN2000), Midinette (HN2090), Melody (HN2202), etc. More figurines by Florence, Radnor Rob Roy, Lenox, Dresden and so on.  Scarlett and Rhett figurines of Gone with The Wind.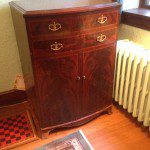 FURNITURE: Heaps of furniture that range from pieces ready to place in your home to pieces ready for a new shabby chic life. Includes buffets, servers, display cabinets, dressers, dining and other chairs, small couches, patio couch, wardrobe, tables, Hoosier cabinet, telephone tables, record cabinets, end tables, trunks, bed frames, bookshelves and more.
HOME DÉCOR: Wide array of inexpensive wall art including prints (one by Maxwell Parrish), drawings and paintings, several really neat old photos of Hollywood starlets, railroad poster; vintage lamps; mirrors, candlesticks, quilts
JEWELRY:  Step back in time and let your imagination take you a time when "dressing in jewels" was the way to go for a ladies luncheon or night out on the town! There is a plethora of vintage jewelry dating from 1940's to 1960's, including many complete sets with matching earrings, pins, bracelets, and/or necklaces; a stack of Thailand siam sterling jewelry, rhinestone sets, sterling pins, rings, brooches, pendants, pins, and vintage jewelry boxes.
KITCHEN: Vintage cookware, plates, glasses, mugs, flatware, scale, small appliances, straw containers, decorative hors d'oeuvre spears, coffee servers, barware, glassware
PIANO: Vintage Kimball Co. upright piano and bench
POST CARDS: Several albums full of vintage post cards (more details coming)
POTTERY: Nice collection of pottery including Roseville, Crown Ducalware, O. & E.G. Royal Austria,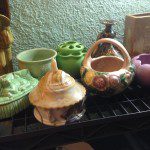 RECORDS AND CDs: Conservatively 1,200 records in the home and the vast majority of them are 33s that are in excellent shape. Includes big bands, lots of old crooners, show tunes/musicals, classical, opera, jazz and some rock, historical records, lots of boxed sets. Artists include 70-plus Bing Crosby records, Nat King Cole, Frank Sinatra, Doris Day, Glenn Miller, Vaughn Monroe, Dorothy Shay, Perry Como, Barbara Streisand, John Denver, Patti Page, General Douglas MacArthur's speech to Congress in 1951, Anna Moffo, bullfighting music, John F. Kennedy speeches, Barry Goldwater speeches, Patti Page … way more records than we can ever list here. All kinds of CDs, too.
TOOLS AND HARDWARE: Great big pile of vintage tools and hardware
TOYS: View Master toy with a whole box of slides; tin wind-up toys; doll house with furniture
OTHER NEAT STUFF: "Have Gun Will Travel" lunchbox thermos, Dinah Shore autographed photo, joke cards, Archie Bunker for President "campaign" buttons, RCA His Master's Voice ceramic Nipper figurine, vintage tins, numerous vintage playing cards (including 6 decks of De Luxe No 142), and much more
As always, no early birds at our Arlington estate sale. Numbers given out Saturday morning to early arrivers. No large bags or purses allowed into the home while shopping. Bring your own boxes if you plan to buy lots of records, books or china.
Do you need an Arlington estate sale or an estate sale anywhere in Northern Virginia, Washington D.C., or Maryland (Potomac, Silver Spring, and more)? Do you have items that may not be enough for an estate sale that you'd still like to sell? Contact Orion's Attic today to find out how we can help you with your antiques, collectibles, jewelry,  rare books, Mid Century Modern furniture, oil on canvas paintings, vintage toys and so much more.