Join Orion's Attic and Elvis at The DC Big Flea July 21-22, 2018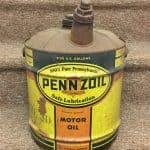 Get "all shook up" with Orion's Attic this weekend as we bring Elvis and a bunch of great collectibles to The DC Big Flea on July 21-22, 2018. Our Elvis bust is actually entering the building at the Dulles Expo Center in Chantilly, Virginia. Find us at booth 492 South from 9 a.m. to 6 p.m. on Saturday and 11 a.m to 5 p.m. on Sunday.
The Elvis bust isn't our only item that will be making its public debut this weekend. We're putting together a fun array of collectibles (see Facebook photo album) that include:
A rare, vintage "over the bell" Pennzoil five-gallon can
Other petroliana including more oil cans, vintage Gulf ash trays and ice scrapers from an old Kasin's Gulf dealership in Baltimore, Handy oil and other lubrication cans by Esso, Amoco and many more
A mountain of vintage die-cast cars that are new in box. We recently bought a collection of several hundred of them. Many are models of classic cars from the 1950s to 1970s
A framed 1930s map of the London Underground subway system
A 1950s pressed steel Tonka Livestock Semi-truck and Trailer, and a 1950s/60s Structo steel livestock truck with four gates and a chute
Piles of Star Trek model kits
Stacks of classic car model kits
Vintage costume jewelry
Sports action figures including Starting Lineup and McFarlane Toys. Highlights feature AFA-graded Starting Lineup figures of Michael Jordan, Kobe Bryant, Derek Jeter, Dan Marino and John Elway.
Eye-catching group of five vintage hair-color palette poster boards
Group of three very well-done reproduction French prints
Antique cast iron ash tray stand
Box of plastic Civil War soldiers, tents, bridges, etc.
Model train accessories
Madame Alexander doll collection new in box
Who knows what else we'll put on our truck before the show starts! If we sell out on Saturday, we'll bring a whole new load on Sunday.
Got great stuff to sell? Orion's Attic is always buying antiques, collectibles, jewelry and more. We're provide a "one call solves it all" estate liquidation service for residents of the greater DMV — District of Columbia, Northern Virginia and Maryland. Contact us today if you would like to turn your treasures into cash.