Tools, jewelry, advertising, wildlife headline Silver Spring estate sale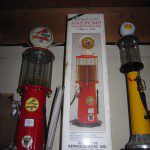 We're hosting another big Silver Spring, Maryland estate sale on June 28-29, 2014 from 9 a.m. to 4 p.m. This sale is bursting at the seams with all kinds of tools, jewelry (gold, silver, costume, vintage), antique sterling silver flatware, advertising (especially related to alcohol), furniture, player piano with hundreds of song scrolls, vintage radios and whole cases of old radio and TV tubes, kitchenware, lamps, records, a grandfather clock and more. There's an excellent library of books on subjects including history (Civil War and 20th century history), guns, Ireland, cooking, bartending and gardening.
VIEW MORE THAN 1,000 PHOTOS on our Facebook page via Album 1 and Album 2! We'll keep adding all the way until the sale starts. (Address is 324 Old Stone Road, Silver Spring MD.) No early birds allowed. Numbers will be given to early-arrivers.
Highlights of the sale in alphabetical order:
ADVERTISING: Coca-Cola trays and mirrors; Wine crates; Mirrors and art by companies including Southern Comfort, Guinness, Coach & Horses, Heineken, Cutty Shark, Wild Turkey, Lochan Ora, Smith & Wesson; Decorative decanters including stagecoaches, cowboys on horses, old cars, ducks, geese, turkeys; liquor dispensers including gas pumps and fire hydrants; liquor glasses by brands including Ancient Orange bourbon; Budweiser stein; German steins;
ART: White House Christmas print of Red Room with signatures of John F. Kennedy and Jacqueline Kennedy; Ansel Adams print; huge variety of limited edition prints, watercolors, photographs and oil on canvas paintings with themes including the American west, ships, cityscapes, Montgomery County history, Maryland history, American Revolution, Paris, wildlife, classic cars (Lamborghini, Corvette); Spartacus bust signed by S. Eylanbekov; NASA Apollo program prints
BOOKS AND MAGAZINES: Tremendous collection of books including some high-end on the subjects of guns (history, collecting, values), hunting, fishing, travel, cooking, American history (Civil War, Abraham Lincoln, modern presidents and more), world history; vintage magazines and auction catalogs of guns; other vintage magazines including Electronics Illustrated, Popular Mechanics, Field & Stream,
CAMERAS: Keystone 8mm magazine camera, Model K-40; Polaroid Sun 640; Clix Candid Camera; Baby Brownie; Canon AF 35; JVC GZ-S3 video camera; Foldex 20;
CAMPING GEAR: Coleman lantern in box; Coleman camp stove – apparently never used;
CHINA: Dining room table covered in mound of china by makers including X; decorative china made in Occupied Japan; Keele Street Pottery; hand-painted plates made in Austria by O. & E.G; hand-painted plates made in Bavaria; Maling china made in Newcastle-on-Tyne, England; Seltmann Weldman (Bavaria) cabinet plates featuring work by artists including Francisco de Goya, Rubens, and Cassioli
CHRISTMAS: Collection of lights, ornaments, bulbs, manger scenes and decor
CLOCKS: W Jones mahogany grandfather clock
CLOTHING: Shirts, belts, shoes and more for a large man; women's clothing and accessories
ELECTRONICS: Electric typewriters by IBM; all kinds of fax machines, tape recorders, computer hard drives and key boards; HP Office Jet 6110 printer new in box; heavy duty monitor arm; wide variety of older push button telephones; Ceiling fans new in box; Bissell Power Steamer new in box; all kinds of fans; televisions
HOME DÉCOR: Hand-made quilts; decorative glass; painted sea shells; wood-carved wine display; Delft-Blauw vases; pottery made in Austria; Roseville candlestick; brass firewood holder; Lenox figurines
FLATWARE: Sterling flatware set (Danish Crown by Frigast), David Anderson Norwegian sterling flatware, Tiffany sterling baby spoon, George Jensen Denmark Spoon, Gorham sterling spoon, Norwegian Sterling Plique A Jour spoons By Johan G Kjaerland, Guatemala coin silver spoons, and many other collectible sterling spoons; numerous serving pieces, from sterling and silver-plate to stainless; several sets of stainless flatware
FURNITURE: Multiple bedroom sets including master bedroom with huge Thomasville bed, dresser, armoire; Broyhill bedroom set with pair of single beds; lodge-style couches and chairs; antique sideboard and display cabinet; modern lighted display cabinet; Mirassou wine wrack; pair of leather-topped bar stools; Mid-Century desk; black secretary desk needing new back panel; end tables; coffee tables
GARDEN: Tools; lighting; birdfeeders and more
JEWELERY: Fine jewelry, from a vintage Tiffany brooch through numerous vintage and modern gold and sterling silver pieces and precious stones; abundant costume jewelry from necklaces, pendants, brooches/pins, bracelets, earrings, rings, and so much more. The family is still going through most of the jewelry and will hand us the rest in a day or two. More details and photos coming.
KALEIDOSCOPES: Three very nice kaleidoscopes including Spirit Scope;
KITCHENWARE: Etched drinking glasses; crystal champagne glasses; coffee mugs; many appliances and gadgets (some new in box) including Cuisinart food processor, Novita digital pressure cooker, Bella Panini grill, Black & Decker countertop oven; Presto skillet, Flow-Thru salad spinner, coffee pots and coffee grinder; all kinds of pots and pans; spice wracks; mason jars; face mug; Norman Rockwell painted coffee mugs;
LICENSE PLATES: Pair of Pennsylvania license plates, one from 1940s and other from 1950s; Maryland license plates from 1980s;
LIGHTING: Cork lamps; leaded glass hanging lamps; decorative lamps; hanging pendant lamps new box;
MISC: Pokemon cards; new and used suitcases; medical devices including Lympha Press and Sequential Circulator; thermoelectric cooler;
MUSICAL INSTRUMENTS: Player piano (Standard Artistic Action — not sure about condition) and hundreds of piano rolls/music sheet scrolls new in the box; banjo
ANTIQUE RADIO CABINETS AND RADIO AND TV TUBES: Brunswick Radio Corporation Uniselector Furniture Cabinet Radio 1930s (condition uncertain); RCA Victrola stereo cabinet (stereo removed, radio missing parts); Fantastic collection of new old stock radio and TV tubes in original boxes plus salesman's case;
RECORDS, CDS AND VIDEOS: Great collection of records covering multiple genres such as rock, jazz, country, classical, showtunes, comedy and more. Artists include Beatles, Rolling Stones, Frankie Lymon, Ray Charles, Joe Houston, Cole Porter, Mach One (U.S. Air Force Rock Band), Hank Williams, Frank Sinatra, Jimi Hendrix, Elvis, Johnny Cash, Willy Nelson, Patsy Cline, Kiss, Simon & Garfunkel, Bill Cosby, Dolly Parton, and many, many more. DVDs of movies such as Shawshank Redemption and others featuring John Wayne;
RECREATION: Free weights with benches and bench press bar; girls' Huffy mountain bike; men's Brittany Free Spirit road bike
SPORTS MEMORABILIA AND DÉCOR: Coca-Cola bottles from Washington Redskins 1983 Super Bowl championship; Coca-Cola bottle from Baltimore Ravens; Photograph of Cole Field House at the University of Maryland; University of Maryland couch pillows; vintage Washington Redskins jacket (large man); Washington Redskins beverage glasses;
STAMPS: First day covers with automobile themes.
STEREO: Vintage and modern stereos, CD players, radios and speakers by companies including Panasonic, Sony, Admiral and more – some new in the box.
TOOLS: An entire basement that is flooded with tools, way more than we could ever list or photograph — some new in the box. You'll find all kinds of wet saws and various power saws by makers including Craftsman, power snips, nail guns, hand saws, wrenches, clamps, hammers, axes, ratchet and socket sets, power wrenches, battery testers, bolt cutters, hex key wrench set, tubing benders, glue guns, ratcheting screw driver and bit sets, drills, stud finders, screw drivers, nuts, bolts, tool boxes, painting supplies, sanders, high-powered flash lights, tool cabinets, electric pole saw, plumbing tools, air tanks, battery chargers, gas connector kit, shop vac, swing arm magnifying lamp, braces, coaxial cable, dollies, shovels, rakes. We've got everything including a kitchen sink plus a variety of faucets to put in it.
TOYS: Nice collection of die-cast vehicles including 1926 Mack AC Rotary Pumper, 1932 Cadillac V-16 Roadster, 1935 Dusenberg, 1932 Chevrolet Confederate, 1916 Mack AC Bulldog, 1956 Ford Thunderbird, Coca-Cola delivery truck, 1957 Chevrolet Corvette, Sherwood Forest delivery vehicle, Standard Oil Company Delivery vehicle, Ford Thunderbird; Model stagecoach including Wells Fargo Overland Stage
WILDLIFE DÉCOR: Murano glass fish; taxidermy ducks and other birds; kitchen and barware with birds including ducks, mallards, herons and turkeys; duck quilt square; photos, paintings and carvings of butterflies, ducks and many other birds; bronze or aluminum bird wreath sculpture; painting of buck deer on split log; "Ducks Taking Flight" painted plates by David Maass; Signed bells featuring eight birds including nuthatch, oriole and more; pewter bookends with ducks; Hummingbirds by Gorham; figurines of birds, dogs, and elephants;
Need an estate sale? Contact Chris at Orion's Attic today!