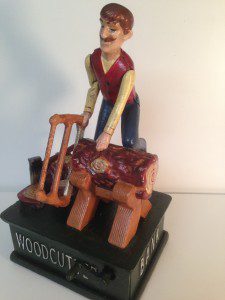 Whether you've been naughty or nice, Santa would love for you to hop in your sled and head to our next Orion's Attic "Upscale Yard Sale" on Dec. 13, 2014. You'll find us on the corner of one of our favorite charities, Pyramid Atlantic Art Center, located at 8230 Georgia Avenue in Silver Spring, Maryland. The sale will start promptly at 9 a.m. and go until 4 p.m. and maybe longer depending on weather conditions. (No early birds, numbers handed out to early arrivers.)
We've spent the last few weeks rounding up a whole truckload of cool collectibles, jewelry, art, advertising, décor, toys and more. We bought out the contents of one condominium in Silver Spring, part of another in Bethesda, traversed off-the-beaten-path auctions across Maryland and pulled out some of our own favorite pieces we've been foster parenting at our house. We'll even provide some free heat by the pay and jewelry counter! As usual, we'll donate part of our Upscale Yard Sale revenues to Pyramid Atlantic, a fantastic nonprofit organization that connects adults and children to the book and paper arts.
But wait, there's more. You can start your day with us and then join our friends at the Fenton Street Market for its pop-up store HOLIDAZE on the second-floor gallery space at Pyramid Atlantic from noon until 8 p.m. At HOLIDAZE, you'll find a curated selection of quality, handmade and locally designed products from regular FSM vendors.
Orion's Attic is working around the clock to sort and photograph everything we've rounded up for your holiday shopping pleasure so consider this list an appetizer. Return here by Tuesday night for link to tons of photos:
ADVERTISING: Group of Planters Peanut glass jars including beautiful red one plus cobalt blue salt and pepper shakers, Coca-Cola sign with flower trough, grungy spark plug tool cabinet, Valley Farms milk bottles in wood Baxter's Dairy crate, Stewart's Root Beer barrel with ice bucket top and drain, framed Gulf calendar, Veedol oil can, Jacob & Cos Cream Cracker box
TOYS: Collection of authentic and reproduction cast iron banks such as baseball players, man sawing log and Aunt Jemima, cast iron figures including circus wagons and delivery wagons, exceptionally rare cast iron Champion policeman on motorcycle (1930s), Specialty Mold Grandma and Grandpa ceramic dolls on bench, baby and doll carriages, Tonka vehicles such as the Mighty Tonka Black Jeep Bronco, Car Carrier No. 840 (1962),  Matchbox and Hot Wheel sets in cases, a variety of die-cast metal trucks and cars by CORGI, Trust Worthy and others, tin lithograph train cars by Louis Marx and others
COLLECTIBLES: Pair of Adlake kerosene railroad lanterns, Dietz Monarch Fitzall railroad lantern, Hummels, Pickwick Series hand-painted KelsboroWare Toby Jugs
COINS: We are just beginning to look at the coins. Highlights already include a 1910-D Indian $10 gold coin and many US Mint Proof Sets from the 1990s, five Morgan silver dollars from the 1800s, commemorative coins from Tsonga.  Return here for other details as we sort through them.
TOOLS: Vintage to antique tools including tool boxes, Planet Jr. No. 2 Edger, industrial metal hardware cabinet, open-top tool box, carpenter's box, hatchet, hammer, hand saw, boring tool and bits, gate hardware, pliers, leather hole puncher, wrenches, shelf support, hand plane,  combination square, chisel, draw knife, corn husking implements, breast drill, brace and bits, micro dial, hand truck.
JEWELRY: Antique and vintage jewelry, including antique Native American-made necklace with silver and green turquoise, silver and turquoise rings, gold/sterling rings with various stones, antique hand-carved ivory bracelets, Bakelite pins, locket made of butterfly wings, assortment of men's and women's watches, and mountains of costume jewelry including earrings, rings, bracelets, cufflinks, and more.
SPORTS MEMORABILIA: New York Yankees train platform light, Babe Ruth collage, 1940s and 1950s Sport magazines with stories on Jackie Robinson, Christy Mathewson, Roy Campanella, Babe Ruth, Bob Lemon, Ted Williams, Yogi Berra, Lou Boudreau, Joe Dimaggio, Andy Phillip, Rocky Marciano, and more; NBA jerseys representing players Scottie Pippen (Bulls) , NFL jerseys representing Ricky Williams (Saints and Dolphins), Jeremy Shockey (Giants), Brandon Jacobs (Giants), Terrell Owens (Eagles), Keyshawn Johnson (Jets) and T.J. Houshmandzadeh; Baltimore Colts pennant
FISHING RODS, REELS AND LURES: Big variety of rods and reels including Wright and McGill Spin Champ  with Garcia Mitchell 308 reel, True Temper 3275 rod, Ted Williams Tough Stik with Daiwa 4000 C reel, True Temper 95-10 rod with Pen Peer wheel,  Montague Blue Island BBO rod. Lures included The Reb-L, Heddon Weedless. We also have a number of other reels including some in boxes.
CHINA AND KITCHENWARE: Set of winter-themed Christmas china, antique coffee grinder, flatware, decorative utensils, brass wine cups made in Israel, Enoch Wedgwood Tunstall with Sterling Silver Party Set
DECORATIVE GLASS: Crystal, Murano glass vases.
HOME DÉCOR: Selection of pottery including Quimper, Delft and pieces made in Italy, England, America and elsewhere, steins made in Germany and Japan, pewter collection, ceramic plates, vases made in Austria, antique quilts including one from 1917, tons of sewing materials and fabrics
ART: Signed oil on canvas paintings, ink sketches, folk art country store, framed porcelain tiles, two antique family photo album books from the 1800s, Douglas airplane drawing portfolio.
FURNITURE: Antique wash stand, small spice cabinet, vintage wood wagon turned into coffee table
MISC: Vintage cast iron paper roller, vintage radios, aviation magazines from World War II era, 1950s Guns magazines, modern gun coffee table books, fishing rods, Dietz Gen drafting set; Decorative stamp booklets on subjects including trucks, pets, insects, snakes, turtles, lizards, wildlife and Alaska; Partridge Family record; Nelson Family TV show print; old Match book album;
We'll add more good stuff to the sale than what we list here. If we can fit it on the truck, we'll bring it!
Do you know anybody who needs an estate sale, estate liquidation and/or clean-out? Contact Chris at Orion's Attic today!