Hyattsville estate sale packed with collectibles, Coca-Cola room, jewelry, vintage toys and more
Make plans now to attend our May 17-18, 2014 Hyattsville, Maryland estate sale that will include a staggering number of collectibles (especially figurines), Coca-Cola room, countless paintings covering many walls, Christmas collectibles, teddy bears, furniture, china, appliances, motorcycle, car, bicycles, jewelry including gold and silver, hair salon chairs and equipment, tools, vintage toys, vintage ladies clothing, baby clothes and much more.
The home owner has lived in home for decades and there are so many smalls and collectibles that we had to donate much of the furniture in the home to make room to display them!
We will post additional updates here in the days ahead along with many more photos. You can also find updates on our Web site at www.orionsattic.com and on our Facebook page at www.facebook.com/orionsattic. Videos coming soon.
The sale will run from 9 a.m. to 4 p.m. both days. No early birds allowed. Early arrivers will receive numbers for entry. Address to be posted here the day before the sale.
Here's a partial list of what we've uncovered so far:
Art: Oil on canvas painting of a bearded man whose eyes seem to follow you across the room; Countless pieces of inexpensive oil on canvas and board wall art with heavy emphasis on cottage scenes, flowers, beaches, light houses, ships and the sea; Scores of mansion, home, city skyline and Gone With The Wind plaques signed by Sheila;
Beanie Babies: Hundreds of Beanie Babies including those from 3rd generation plus Coca-Cola Beanies
Teddy Bears: It's as if Teddy Roosevelt himself convened a teddy bear convention. There have to be at least several hundred bears of every size and shape in this house and they're all in excellent condition, some with original boxes. Won't surprise us if number passes 500.
Bicycles: Pink Predator Pro; GT BMX Performer Pro; Ross EuroTour
Board Games: All kinds of current and some vintage board games.
Books: Modern and older hardbacks and paperbacks on history (Civil War and many other subjects), religion, diet, health, arts and crafts, nature and many other subjects; modern and old children's books; coffee table books
Cameras: A small group of vintage still and video cameras
China: Multiple sets of china including Noritake, Staffordshire Ironstone,
Eschenbach (Germany), Bavarian, Haviland Limoges (France), Shelley (England) cup and saucers, La Fleur gold-rimmed coffee cups, Pfaltzgraff, china with duck decor
Christmas Stuff: Every manner of Christmas décor, bulbs, paper, trees, lights and more
Clothing – adult: Vintage women's clothing including hats, purses, handbags (Prada, bottega veneda, etc.), dresses, fur coats, leather jackets, shoes
Clothing – baby: Mountains of baby clothes and infant clothes for girls and boys including shoes, boots, pants, dresses, suits, bibs, pajamas, shirts.
Coca-Cola Collectibles: The Coke room includes a great ceiling fan, plus polar bears, plaques, glasses, lamps, towels, puzzles, clocks, signs, nightlights, snow globes, figurines, Coca-Cola Picnic Barbie, Beanie Babies, train car, antique wallets and more.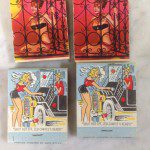 Crafts: All kinds of arts and crafts supplies including silk and plastic flowers, pine cones, reference books, paints and more
Dolls: Wide variety of dolls including Marian Yu Designs, Brinn's Collectible Porcelain, Princess House, Heritage, Memories, and more
Electronics: Stereo, vintage Apple McIntosh SE computer, Animated Holiday Symphonium
Figurines: Many hundreds of animal figurines including ducks, horses, elephants, dolphins and dogs (Collies); human character figurines by Enesco; Norman Rockwell figurines; Hummel figurines; numerous lighthouses
Furniture: Dining table and chairs, china cabinet, office chairs, rocking chairs, student desks, roll-top desk, marble-topped vanity, toy chests, reclining chairs, book cases, jewelry cabinets, patio furniture, mahogany flatware chest
Glass: Red decorative glass, unused lead crystal glassware in boxes, multiple punch bowl sets, pair of vintage milk bottles, Fostoria glass, unused lead crystal or etched glassware in boxes, multiple punch bowl sets and cake stands
Harley-Davidson Collectibles: Some great coffee table books, several figurines, black Christmas stocking, belt buckle and a few other items.
Hair Salon: Vintage and modern hair salon equipment and supplies including washing chair, dryers and all kinds of products (homeowner operated salon in basement)
Home Décor: Pair of leaded glass kitchen cabinet doors; lamps from Victorian to modern; piles of blankets and linens; lots of décor related to beaches and oceans including light house lamps, shells, art, miniature ships
Jewelry: We'll have a jewelry room with fine jewelry, including gold and sterling silver, as well as mountain of costume jewelry; rings, necklaces, bracelets, brooches, pins, earrings, charms, etc.
Kitchen: Cutlery, Reed & Barton flatware, cookie jars, glasses, cookware, dishes, NFL team glasses/mugs (Dallas Cowboys, Washington Redskins, Buffalo Bills)
Lamps: Lovely assortment of banquet lamps including some two-tier, hand-painted Victorian-style lamps, kerosene oil lamps, and decorative lighthouse lamps, including an unusual vintage Port & Starboard lamp.
Miscellaneous: Four nifty vintage matchbooks; fishing gear including lures; fish tanks and accessories;
Musical Instruments: Organ (not sure yet about condition), Yamaha PSS-270 keyboard
Puzzles: There have to be at least 50 puzzles, maybe a lot more.
Thimbles: Probably 100-plus thimbles made from variety of materials including porcelain, cloisonné, brass, tin and more.
Tools: Variety of household and garden tools; Craftsman tools;
Toys: Fantastic assortment of toys spanning decades. They include two working musical carousels in near mint condition; numerous dolls; doll houses and doll furniture; Hess trucks; metal farm vehicles; all kinds of vintage and modern Fisher Price toys; Barbie; Construx; Matchbox and Hot Wheels cars; Lego sets; cookware sets; McDonald's miniature food set; HO scale model trains, scenes and accessories by AHM, Tyco, Life-Line.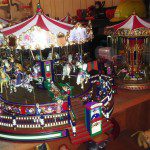 Vehicles: Suzuki Savage 650 motorcycle in excellent condition with clear title with 3,440 miles on it; 1983 Monte Carlo with blown radiator and much rust on the driver's side – great restoration project; small number of auto and motorcycle parts, starters, alternators, tires and rims.
Need an estate sale company in Maryland, D.C. or Northern Virginia? Contact Orion's Attic today. Want to find out about more of our events and special offers? Sign up for our e-newsletter from the top of our Web site.