Falls Church VA estate sale features ladies watches, paintings, military uniforms and more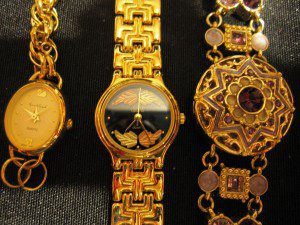 A stunning array of sparkly ladies' wristwatches and costume jewelry gave us a bout of light blindness when we first walked into the home of our May 4-5 estate sale at 1918 Pimmit Drive, Falls Church VA. View hundreds of photos of the sale on our Facebook page at www.facebook.com/orionsattic.
The elegant yet affordable watches, though, are just the start of a sale that packs a mountain of fun finds into a small home.
This sale also includes oil on canvas paintings, fine china, decorative glass and vases, crystal, Tiffany-style lamps, a few Army uniforms from the 1950s or 60s, books, records, vintage stereos, porcelain, silverplate and goldplate pieces, furniture including a vintage chest-on-chest, couches, bedroom set, Mid-Century cabinet, dining table, leather chairs and very nifty bar. The sale will also feature a special appearance by Washington D.C. furniture maker James Navarro, Jr., who specializes in reclaiming and re-using local hardwoods to make a variety of pieces – some of which will be on sale on Saturday.
The watch collection includes collectible ladies' wristwatches, from Jules Jurgensen, Addrienne, Gruen, Madison, Suzanne Somers, Helbros, and so much more.  Many of them have never been worn, remaining in mint or almost new condition. We've added new batteries to many of them, too.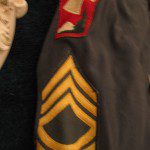 "I am not a watch collector myself but as I now see how beautiful and fashionable a watch can be, I would like to try them all," Orion's Attic co-owner Won-ok Kim says. "You want a watch that is just like a bracelet, inexpensive but gorgeous like real gold and diamond, this is the collection for you. You can get one for your daughter, one for your mom, and another one for yourself!
The house was owned by a German woman who lived there for decades.
Doors to the sale open precisely at 9 a.m. Numbers will be handed out to people beginning at 7:30 a.m.