Client Says Orion's Attic Saved the Day with Estate Appraisal and More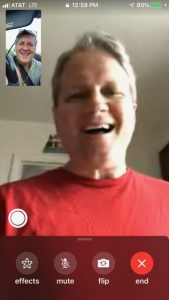 Testimonial from Karen Schuler Hill, a California resident who inherited her father's estate in Rockville, Maryland. Hill hired Orion's Attic to provide an estate appraisal for the contents of her dad's home, and to clean out the estate — which had been moved into storage units. We honored our client's wishes by donating the vast majority of the estate to a charity in her father's honor, providing the estate with the itemized tax receipt.
Feb. 18, 2020
Orion's Attic and Chris Lancette were lifesavers … no seriously… I'm not sure what I would have done without their help.
I was on my way into the storage facility where my recently departed father's possessions were being moved into storage. Just by chance, I bumped into Chris and his team at Orion's Attic as they were leaving the facility after finishing a job there. I had just asked the storage unit manager if he knew of anyone who could help me with moving/appraisals/donations etc. He told me to flag Chris down. It was fortuitous timing.  I was only In Maryland from California for a short period of time and was, frankly, desperate for help — and not sure how to handle all of what needed to get done. I was leaving the next day and Chris agreed to return to the unit the next day, giving up a Sunday morning to do it, as he knew I had to depart for California.
He pretty much said, "We can take care of it for you. You deal with what you have to deal with and we'll take care of the rest"! And they did! He and his crew handled it all for me when I didn't have anyone else to help me. Chris jumped on it. When I suddenly needed to go through the entire contents in the storage facility to get a list to the court, he took care of it! Or when I needed an appraisal on some artwork, he had me send him a drop box folder and took care of it! And he figured out how and what to dispose of, who to donate the rest too and spotlessly cleaned out the storage unit. He made it so simple and easy. He was the only person I had reached out to who understood that my father had just died, and that I was grieving and dealing with a stressful situation. He took my stress away. He was the only who did.
The other companies I had been I touch with before Orion's Attic, honestly, it felt like they were just gonna rip me off. All they cared about was getting paid upfront! And not one of them gave me their condolences. It all felt so wrong that I had to keep flying back and forth myself.  Once I met Chris, he just handled it. He even held onto a box of mementos that I put together for some of our family who live down south and made arrangements to get it to them.
We communicated via FaceTime across the country throughout the entire process. He put that smile on my face every time! I can't thank him and his team enough! I would call on him again in a heartbeat! Orion's Attic is seriously one of the best finds in the state of Maryland!
Karen Schuler Hill