Client grateful for rescue of items with sentimental value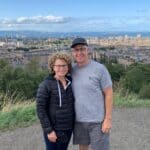 Testimonial from Elisa Potosky Thibeau. She and her siblings hired Orion's Attic to liquidate and clear out their mother's home in Silver Spring, Maryland. Even though the family thought it had found everything carrying sentimental value, we dug into often overlooked places and uncovered piles of precious family photos and documents — connecting them with their past, leaving the home broom clean and giving countless objects a second life by selling and donating them.
We are so grateful to Chris and his team at Orion's Attic for the thoughtful, kind, and thorough job they did clearing out my mom's home to prepare it for sale. Chris's responsiveness and communication are top-notch. He kept us informed throughout the entire process. The house had 50 years of items accumulated. Buried within the obvious junk were both sentimental and valuable treasures that we overlooked (even though we thought we'd been thorough.) Chris honored the value of these items and made sure they were safely brought to us. He and his team also worked hard to give a 2nd life to anything he could, donating items to non-profits and selling at auction anything of possible value. We love that the dump is the very last resort. In addition, Orion's Attic prices are very fair and transparent.
My siblings and I all agree that Orion's Attic returns a great value for the price. We wouldn't hesitate to call on them again for liquidation services.