McLean VA estate sale runs Oct. 20-21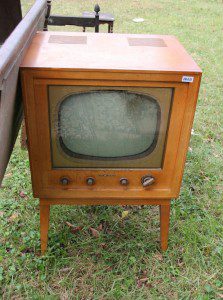 Our next big estate sale will open its doors from 9 a.m. to 4 p.m. on Oct. 20-21 at 1616 Walden Drive in McLean, Virginia. The owner was a true collector and this estate sale is going to be a haven for people who love fascinating stuff. The house is also going on the market after we sell its contents and a realtor will be standing by to provide early information about the home.
View an extensive photo album at www.facebook.com/orionsattic. The list of items up for sale is too long to cover here but a partial list follows. Note that no one will be allowed to enter the home before 9 a.m. Shoppers arriving before 9 a.m. are welcome to stand in line.
ANTIQUES: RCA Victor television in its original wooden stand, interesting array of furniture including couches, chairs, dressers, mirrors, trunks, sewing machine with table. Many need some TLC and will be priced to move.
ART: High-end (and old) prints, drawings, busts, Buddha, African statuettes, paintings
AUTOGRAPHS: Extremely rare football program signed by Bear Bryant, Joe Namath and all the seniors on the University of Alabama's 1964 national championship team (includes letter of authenticity from JSA); Theodore Roosevelt signed document with seal; Willie Mays
COLLECTIBLES: American-made tin cat toy, autographs (Theodore Roosevelt, Willie Mays), signed cast iron, African musical instruments, movies on laser discs, all kinds of glass, a few military items (Army gas mask, etc.)
FURNITURE: Leather couch set, coffee tables, side tables, Asian-style coffee table, Hoosier cabinet
HOME DÉCOR: Sterling silver candle holders; lots of wildlife-themed items including vases, ashtrays, brass figures, taxidermy deer head; Budweiser beer lamps, Black Label beer lamp, small ship on top of bone, larger ship made in Hong Kong,
KITCHEN: China, glasses, plates, cookware, gold-plated flatware
JEWELRY: Eclectic mix of jewelry and gemstone, including nephrite jade, ametrine, amethyst, opal quartz, sterling silver, vintage costume jewelry, rosary, a variety of beads, and jewelry making supplies
LAMPS: Modern lamp in the form of a bull fighter, leaded glass lamp with beautiful orange glow, large banquet oil lamp with crystals, tall tension lamp with green globes, table lamps
MANCAVE: Bumper pool table, vintage fishing rods, 1950s Dr. Pepper cooler in excellent condition, vintage camping equipment,
RECORDS: Great range of artists including Aretha Franklin, Jim Croce, Beatles, Elvis, Ella Fitzgerald, Etta James, John Denver, Nat King Cole, Art Garfunkel, Henry Mancini, Tina Turner and a whole lot more
MISC: Old piano, Amipro Precision movie projector, snowboard
Stay tuned to this blog post and our Facebook page for additional information and photos.