What's My Insane Clown Posse Hockey Jersey Worth?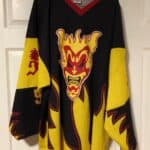 The answer will surprise you — in a good way — even if we can't explain it.
There are a lot of things in the antiques and collectibles world that make no sense to us. The answer to the question of what's my Insane Clown Posse hockey jersey worth is one of them.
If you're not familiar with Insane Clown Posse (ICP) — and there's no reason you should be — it is allegedly a musical group. To call the hip hop duo formed in 1989 by rappers including Violent J (Joseph Bruce) and Shaggy 2 Dope (Joseph Utsler) musicians is an insult to music. Inexplicably, the duo has somehow managed to sell two platinum and five gold albums. I would describe ICP's "style" as "two white guys covered in clown paint scream-vomiting words into a microphone". I would add a note about their "lyrics", which apparently have something to do with horror themes and stereotypical views of life in Detroit, but I can't make any of them out.
The most accurate depiction of the group by people other than me comes from Spin magazine, via Wikipedia:
The January 1998 issue of Spin magazine ran a four-page cartoon lampooning Insane Clown Posse and Juggalos, claiming that the group was offensive "not for their obscenity, but for their stupidity". Spin likened Insane Clown Posse's stage act to "a sort of circus karaoke" and portrayed the group's fans as overweight suburbanites.
I stumbled into a collection of Insane Clown Possee hockey jerseys (still not clear about the connection, if any to hockey) two years ago when I visited a woman who wanted to sell a sports memorabilia collection and some toys. I spotted the neon bright ICP jerseys in the closet and of course had no idea what they were.
"What's an ICP?" I asked.
She said it was some kind of rap group or something. The shirts had belonged to a family member.
"You should take these," she said. "I think they're worth some money."
We agreed on a consignment deal because I wasn't about to spend a dollar on such stupid-looking shirts.
Then it got interesting.
Quick research suggested that people pay real money for these "treasures" still today. The first answer the market gave us to the question of what's my Insane Clown Posse hockey jersey worth? More than $100 for the least popular shirts in the collection. Then we sold some better ones in our Orion's Attic eBay store for more than $200.
It got more interesting.
We sold Insane Clown Posse ICP Jake Jeckel No. 5 sold for more than $300. And then another one for the same sum. Some on the market can even push to $400.
My jaw dropped each time. A beat-up old vintage metal lunchbox selling for decent money, I get that. Those are cool. These shirts by this offense to the music industry? No.
We sold the ugly Insane Clown Posse blacklight posters that came with the jerseys as well. Most went for more than $100.
Our client was thrilled to get the sales results.
Me, too.
Let these clowns scream-vomit all they want: We never have to understand the alleged appeal of something to sell it.
Do you have questions about your antiques and collectibles? Got some great stuff including Insane Clown Posse hockey jerseys that you would like to sell? Contact us today!
Getting good info from our site? Like us on Facebook and Follow us on Twitter, too. And tell some friends!