Upscale Yard Sale set for Saturday Aug. 25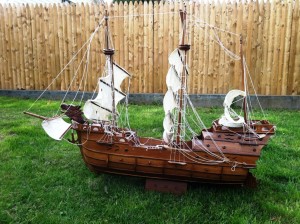 Looking for a yard sale with great stuff instead of junk? Want to come to one that's more like a must-see event with lemonade, snacks and rare finds? Head to our next wildly popular "Upscale Yard Sale" on Saturday Aug. 25, 2012, from 9 a.m. to 5 p.m. at 9515 Ocala Street in Silver Spring. (We're the same people who used to throw these sales a few blocks away at East Melbourne Avenue.) Follow the bright yellow "Upscale Yard Sale" signs to the big event!
Most items in this sale came from an antiques and collectibles shop that went out of business and still contain their price tags. We're offering the majority of those items (smalls, glass, art, etc.) at 50 percent off – and we're open to offers.
Highlights of this Saturday's sale:
Antiques – Victorian end table with floral inlay, French style circular table with classic hand-painted scenery inside glass, L.C. Smith typewriter from 1937, Brownie camera, mirrors, French fencing swords and more.
Art – Statuettes, busts, abstract art, limited edition prints, folk art, modern art, nude woman on alternative canvas (scrap aluminum), wildlife prints, wall art of all kinds
China/ceramics/porcelain – Decanters, steins, English pitchers, china
Collectibles – Hummels, plates (Lalique, Norman Rockwell, Royal Bayreuth), and many boxes of other collectibles
Curiosities –  Plaster crocodile head, old cigarette dispenser in the form of a donkey
Furniture — leather-topped seats, stools with hand-painted ocean scenes, shabby chic coffee tables
Glass – Fenton, Brilliant cut, decorative, Depression, etched
Historical memorabilia – Theodore Roosevelt signed document, photographs of Lyndon Johnson, Ronald Reagan, Richard Nixon, unused ticket for Johnson inauguration, and much more.
Home Décor – Bookends, jewelry boxes, hand-made blanket with leather backing, area rugs, runners, statuettes, steamer trunk, tapestries,
Jewelry – Costume jewelry, rosary collection
Lamps – Tiffany-style with butterflies, banquet lamps, floor lamps, desk lamps, antique leaded glass lamp with cat motif
Militaria – Navy uniforms, trench art
Pottery – Japanese vases, Keele Street collection and whatever else we can pull out
Native American – Decorative leather drum cover, bust
Silver – Sterling silver souvenir spoons from 1890s-1910, sterling silver flatware
Sports memorabilia – Extremely rare college football program signed by Bear Bryant, Joe Namath and all seniors from University of Alabama's 1964 championship team (document includes autograph authentication papers), large photo signed by Ted Williams, baseball signed by Warren Spahn
Vintage toys –Stuffed animals, board games and more
Western – horse collar, mirror bound by leather horse collar
As always, we'll be looking to do some social good while we're out there — selling lemonade to raise money for House With A Heart Senior Pet Sanctuary and also donating a percentage of our sales to the organization.  We've raised a few thousand dollars for this great charity already and want to keep doing more to help. We will also be employing a few local teenagers for the day, adding to our summer investment in youth jobs.