This Just In: Boyd's Crystal Art Glass Teddy the Tugboat 35-piece collection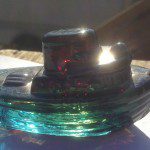 Love beautiful art glass that is even more radiant when light strikes it? Claim our collection of 35 Boyd's Crystal Art Glass "Teddy The Tugboat" figures. All 35 are marked on the underside with Boyd's distinctive diamond B with an underline – indicating they were made from 1983 to 1988. Our Tugboats were actually the first 35 in the series of 74 that were produced all the way up to 2011. The whole collection goes live on our eBay page on Jan. 1, 2015 at 4 p.m. Visit OrionsAttic.com and then click on "eBay store" at the top to bid! (You'll find a video of the boats there, too.)
All of Boyd's pieces are now going to be harder to find as the Cambridge, Ohio company announced in December of 2014 that it sold all of its inventory and is shutting down after four generations of making glass.
Our 35 Teddy the Tugboat pieces include the wildly popular No. 25, Rubina, that by itself sells for more than $60 on eBay. See the complete list below for the official numbers and names of what we're including. You can also can view detailed photos of all 35 Teddy The Tugboats on Facebook.
1 Milk White (hand painted); 2 Corn Silk; 3 Sunburst; 4 Mountain Haze; 5 September Swirl; 6 Mint Green; 7 Pocono; 8 Violet Slate; 9 Daffodil; 10 Olympic White Carnival; 11 Ebony; 12 Crystal; 13 Heather Bloom; 14 Peridot; 15 Cobalt; 16 Bermuda; 17 Bermuda Slag; 18 Mulberry Mist; 19 Touch of Pink; 20 Lemonade; 21 Lilac; 22 Old Lyme; 23 Caramel; 24 Indian Orange; 25 Rubina; 26 Azure; 27 Budding Pink; 28 Heliotrope; 29 Sea Foam; 30 Misty Vale; 31 Confetti; 32 Ruby; 33 Candy Land; 34 Vaseline; 35 Alexandrite
If you're looking for an unusual way to display your new purchase, we're also selling the neat little hanging cabinet the collector had them in. See our Orions-Attic eBay page for that piece. The cabinet wasn't specifically made for this collection but the boats do look great in it.
Do you have antiques and collectibles to sell, need an estate sale or know someone who does? We would love to be of service. Contact us today to find out how we can help.