Saving Money at Estate Sales Tip 7: Bring friends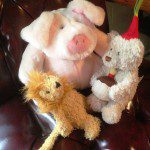 There are a lot of simple ways to save money at Orion's Attic estate sales. We have compiled our favorite eight tips and share them with you here, one at a time. We'll publish the list as a whole when we're done so you can pin these reminders to your fridge and save some bucks the next time you join us at an estate sale in Northern Virginia, Maryland or Washington D.C. Here's Tip No. 7.
7. Bring friends, tell people about us. What business doesn't love great word-of-mouth advertising? It's the best kind there is and Orion's Attic has been fortunate to get lots of it. You may not realize, though, that this, too, can save you money. A lot of people whose faces we remember from Saturday return on Sunday and introduce us to friends they've brought with them. (Some even return on the first day.) That means a lot to us and certainly makes us inclined to give your bill a shave. Our clients benefit because they're selling more.
You can also use your social media tools to earn some bargains. Use your smart phone to show us Facebook posts or Tweets you're writing about the sale or about us. On Facebook, Share us at www.facebook.com/orionsattic. Tweet about us @orionsattic. We would be just as thrilled to see that you've sent an e-mail about us to some of your friends or posted something on a listserv you belong to. If you're Sharing or Tweeting us in between sales, just be sure to tell us what you've done when you see us again.
Another great way to save and even make money? Refer friends to us who may need estate sales themselves or who have collections of items they would like to sell. That can earn you a cash finder's fee or an Orion's Attic credit.