Saving Money at Estate Sales Tip 6: Pay cash
There are a lot of simple ways to save money at Orion's Attic estate sales. We have compiled our favorite eight tips and share them with you here, one at a time. We'll publish the list as a whole when we're done so you can pin these reminders to your fridge and save some bucks the next time you join us at an estate sale in Northern Virginia, Maryland or Washington D.C. Here's Tip No. 6.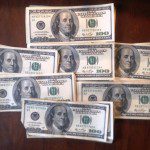 6. Pay cash. Most hard-core estate sale shoppers arrive with lots of greenbacks. This is a good move for more reasons than meet the eye but let's start with the obvious. Our bank charges us a 3- percent fee on credit card transactions. We tell every shopper that we have to pass that fee on to them because we can't take it out of the commission Orion's Attic receives from the sale and we can't take it out of the pockets of our clients. If you buy $500 worth of great finds, that saves you $15. (Writing a check isn't often an option because we rarely take checks from buyers we don't know.) A buyer at our Falls Church VA estate sale bought a huge pile of jewelry and avoided the fee.
She also earned a discount because there is also a psychological element, the "cash is king" notion, to using paper money that still doesn't make sense even to us. There is something powerfully persuasive about someone offering to pay cash versus using a credit card. If we have a nice antique priced at $1,000 and someone pulls out $950 cash, even we tend to accept the offer rather than charging the buyer the full $1,000 plus the credit card fee. We know that we would be better off taking the credit card payment but the sight of a stack of green bills makes us salivate like Pavlov's dogs.
It works for us as buyers, too. When we go out picking, Ben Franklin does all the talking.
Sign up for our e-newsletter today to find out about our future estate sales, special events and offers. Look for the "Subscribe" option on the top of our home page.