Saving Money at Estate Sales Tip 4: Remind Us Who You Are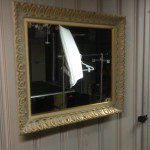 There are a lot of simple ways to save money at Orion's Attic estate sales. We have compiled our favorite eight tips and share them with you here, one at a time. We'll publish the list as a whole when we're done so you can pin these reminders to your fridge and save some bucks the next time you join us at an estate sale in Northern Virginia, Maryland or Washington D.C. Here's Tip No. 4 — the easiest one in the bunch.
4. Remind us that you're on our newsletter list/follow us on Facebook/have been to our sales. We see and meet so many people in our work that it's difficult for us to remember everyone's names and faces. When you come to our events, remind us that you're on our e-newsletter list or that you like us on Facebook. Double bonus if you tell us what or where was the last Orion's Attic event you attended. If you happened to have spent a pile of greenbacks with us, drop us a reminder of what you bought, too. The more time and income you've invested in us, the more we want to do the best we can for you. We are grateful for your loyalty and support.
People take advantage of Tip 4 all the time, even pulling out their mobile phones to show us a recent email sitting in their in boxes.
Not yet on our e-newsletter list? Sign up today by visiting our Web site and entering your email at the top of the home page. Look for the "Subscribe to our newsletter" area at the top center. You can also Like Orion's Attic on Facebook.
Check out other tips by scrolling down here or clicking on the Tips box in the categories section (on the right of our blog).