Saving Money at Estate Sales Tip 3: Pack It Yourself
There are a lot of simple ways to save money at Orion's Attic estate sales. We have compiled our favorite eight tips and share them with you here, one at a time. We'll publish the list as a whole when we're done so you can pin these reminders to your fridge and save some bucks the next time you join us at an estate sale in Northern Virginia, Maryland or Washington D.C. Here's Tip No. 3.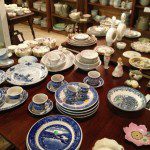 3. Offer to move/pack items yourself. We bring a large staff to our events and have plenty of people on hand to help, but if you're buying a 100-piece china set or something else that's going to take us a very long time to pack, we're often willing to shave a little off the price if you're willing to do it. This is especially true on sales that involve large numbers of low-value items.
One of our regulars offered to do this at our "Tool Time" estate sale in Silver Spring, Maryland. We sold two entire tables full of clear glass dishes for $40 to get them out of the house. It would have taken us an hour to pack them. The shopper offered to do all the packing herself so we lowered the price for the lot even more – to just $20. We needed to get those tables cleared because they were taking up space that we needed for higher-end items.
Not yet on our e-newsletter list? Sign up today by visiting our Web site and entering your email at the top of the home page. Look for the "Subscribe to our newsletter" area at the top center. You can also Like Orion's Attic on Facebook.