Glenn Dale "Fun House" sale a hit — if only we had taken pictures
We billed our April 6-7, 2013 estate sale in Glenn Dale, Maryland as the "Fun House" sale. Turned out to be exactly that. Won-ok and I love hosting these events because they're not just about selling things and making money; they're about helping clients eliminate headaches while connecting people with treasures they'll love. The Glenn Dale sale created many great moments that put big smiles on the faces of shoppers and sellers alike. We only wish we had taken pictures of the sale while it was taking place.
Take the eight-year-old boy who approached the pay counter and asked about the price of a toy figurine that had lost its tag. "Sir," the youngster began, "How much is this?"
I was so stunned by the fact that he was so polite that I knew I had only one response.
"For you — you're so polite, please accept that as a gift from us," I said.
He grinned from ear to ear.
"Thank you, Sir," he said. I reached over the table, shook his hand and wished him a good afternoon.
Children weren't the only people interested in toys. Adults came out in droves to buy vintage toys including Buddy L vehicles, Legos, stuffed animals, Matchbox cars, and the two marquis items up for grabs — a collection of model trains and a collection of dolls. The trains filled an entire room and were the pride and joy of our client. (He had left the trains in his parents' home for decades and had hired us to conduct an estate sale to clear the home and make it ready for sale.) One gentleman, Eric, came on the first day, snatched up the Buddy L pieces and wanted to buy a ton of trains. The first day total, even at our bargain prices, still added up to no small sum.  He returned the next day, discount day, and saw that the majority of trains were still there and priced at 50 percent off.
An entire room full of anything, even at half-off, is still a significant amount of money for most people to spend. I knew Eric was itching to get started in the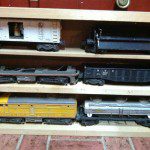 model train world. Won-ok and I pulled out a calculator and made him our very best offer. He called his wife to make sure the purchase wouldn't land him on the couch that night and accepted the deal.
Grown folks were feeling like kids all over the home as they bought the vintage toys. Many shared memories the toys brought back. The toughest decision Won-ok and I had to make came with the doll collection. We had to balance our client's priorities with the offers made to us. A grandmother, daughter and granddaughter teamed up on us with a combination of smarts and charm that was hard to resist. The negotiation was the longest of the weekend. The snag was a neat doll lamp that Won-ok and I knew would look fantastic in one of our stores. We wanted to buy the lamp, put a "Not for Sale" sticker on it, and let the doll make like a magnet and pull people to our merchandise.
I accepted that we had to let the lamp go to close the deal. (Won-ok had no such attachment to the piece.) We ultimately found a number that worked for everyone, I said goodbye to the lamp, and Won-ok and I stuffed a car with boxes of dolls. I ran back to the house and noticed a shelf with a stuffed animal pig that everyone seemed to ignore. Had he done something wrong? Was he being punished?
I turned my attention back to crowd that packed our sale from the opening bell to the closing minute. People told us they knew our sale must be good because they had to drive a few blocks to find a place to park. They also told us they loved the way Orion's Attic does business … taking on homes with great stuff, offering fair prices and making people laugh along the way. (Stay tuned for details on upcoming estate sales in Silver Spring and Bethesda, Maryland, and in Falls Church, Virginia.)
One item was music to a man's ears.
He came in at closing time on the first day and asked if he could look at the antique pump organ before we closed the door. We were ready to call it a day but knew that such rare pieces are tough to sell. We couldn't walk away from a potential buyer. He asked if it worked. I said that it did and sat down to play it like a wounded duck falling out of the sky. Pump organs take musical talent and an extraordinary amount of coordination to pump the foot pedals, expand the knee pedals outward and bang the keys.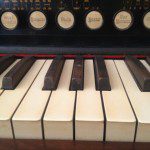 He asked if I minded if he gave it a try.
By all means.
He sat down and hypnotized us. It didn't even look like he was moving but music poured out from the organ. Wow.
The man explained he had been in the market for exactly such a pump organ and that the others he had traveled to see — including one in West Virginia — were over-priced. He made us a very fair offer. Done!
We sold out the house by 4 p.m. on Sunday. Won-ok and I, along with our tremendous crew, closed up shop, retrieved our signs and cleaned up the house. Another successful sale was in the books. (Read testimonial from the clients.) I had to go back a few days later to help a shopper pick up a dining set she had paid for on Sunday. I took one last look around and found one of the last few items in the house — the pink pig. Willy the Pig, I named him. Won-ok and I love stuffed animals. We have a kingdom of them.
"Come on Willy," I said, a huge smile breaking out across my own face. "Time to go home."