No high-five for you at Potomac estate sale, little girls tells me
A precious little girl walked up to Won-ok at the pay counter of the latest Orion's Attic estate sale in Potomac, Maryland carrying a figurine worth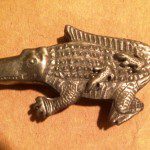 $5-$10. The redhead said there was no price on it and that she would like to know how much it was.
I saw Won-ok's smile as I was standing behind the girl. We appreciate polite kids and always try to make them a special deal when they express interest in an item for themselves.
"For you, fifty cents," Won-ok said, giving her at least 90 percent off the true value of the piece.
The little girl had other ideas.
"How about twenty-five cents?" she countered, flatly, drawing a thunderous crack of laughter from everyone around her.
I was so impressed that I stepped in front of the girl to congratulate her for demonstrating such shrewd bargaining skill. "That was great!," I said, putting my right hand up in front of her. "Give me a high-five!"
"I don't high-five men," she said, her young face as stern as a scolding parent. She didn't flinch, didn't move a muscle. Just left me standing there speechless, my five digits dangling in the wind. Laughter echoed across the garage. I was struck by many things in that minute, including the fact the well-spoken shopper didn't use the word "boys." She spoke like an adult.
"OK," I said, seeking compromise. "How about a handshake?"
"I don't do that, either," she said, her deadpan delivery showing no signs of disappearing. "I only spend time with girls. They are my friends."
I noticed that her mom was grinning from ear to ear and that I had only one option to save face. I winked at her mom and looked back at the redhead.
"OK, then," I said. "The price for you is fifty bucks!"
I spun around and retreated into the house. I think I saw the faintest trace of a smile sneak on to the girl's face as I exited.
The Orion's Attic team loves those kinds of moments at a sale, and every state sale we do in Maryland, Northern Virginia or anywhere else tends to be packed with them. The other surprise of the Potomac estate sale also involved a child — a young man in this case. He walked up to me with a copy of Black's Law Dictionary that weighed as much as he did. His dad stood behind him, staying out of the boy's way so he could conduct the transaction on his own.
"How much is this?" he asked.
"Wow!," I said. "You want a copy of Black's Law Dictionary for yourself? For you … free. Accept that as our gift. I know I'll be working for you or voting for you some day and I'll tell everybody I met the president of the United States right here."
Jewelry was a hot commodity in Potomac. It always is. When we opened the doors at 9 a.m. to allow the first group of shoppers to enter, there was a stampede that startled me a bit. I thought poor Won-ok was about to be run over by a heard of buffalo charging down the plain but she survived. She anchored the pay counter and jewelry station with one of our teenage staff members while two other top-notch teens manned other parts of the house. I did what I do best — roaming the home and making deals that worked for our clients, shoppers and ourselves. We all had to work extra hard in this case because the homeowners had only called us on Monday to see if we could organize an emergency sale five days later. We agreed, cancelling our Memorial Day weekend plans.
"This is fun!" one woman exclaimed as she talked me down to something like $700 on a set of dining chairs and a pair of Baker chairs. She pulled that off on the second day of the sale, when bargains reach a frenzy. In most cases, we'd rather make a second-day deal than transport the item to one of our retail stores, where we could command a higher price after considerable time, labor and expense. She was even more thrilled, as are most shoppers, when they realize we're one of the few estate sale firms in the Washington D.C. region that provides carry-out service: If you can get there with a vehicle that's big enough to contain what you buy, our young, strong guys can often carry it to your vehicle for you.
We made a few small deals that meant something to us, too. The clients donated an item for us to sell for House With A Heart Senior Pet Sanctuary, our favorite charity. We sold a 14k gold frog pendant to one of our most loyal shoppers for less than a dealer had offered because we wanted her to have it. We also removed from the sale a fantastic leopard or tiger pendant worn on the shoulder — giving it back to the clients when we handed them their check. The piece meant a lot to one of the clients and she had mentioned that she would like it back if it didn't sell. We certainly don't mind forfeiting a few dollars if doing so helps us place the right objects with the right people.
A sweet woman named Mirtha, meanwhile, made my day. I spoke to the Costa Rica native in Spanish (we speak Spanish, Korean and English at Orion's Attic) on Saturday and Sunday. We love it when people so enjoy themselves on the first day that they return the next. She pulled me aside and told me that we have the kindest and most friendly staff she has ever seen at an estate sale. She also asked me if I was a single man and told me I should snatch up Won-ok in a heartbeat. I smiled and told her that was my girlfriend. Mirtha was pleased.
I am, too.