Editor's Note: Orion's Attic is proud to partner with Everything But The House on a special upcoming auction of the life's work of Maryland artist Frank Kowing. The online auction begins Sunday Aug. 27, 2017 and runs until Thursday Aug. 31, 2017 at 8 p.m. Eastern. Click directly on the auction here. More than 150 Kowing pieces will be in this auction, while more will follow at later dates. You will find a fantastical world of vivid two-dimensional paintings and three-dimensional stick art, or found object art. You will find an eye-popping array of pieces that include political figures such as Donald Trump, Barack Obama, Sarah Palin, Karl Rove, Osama bid Laden and more. Explore commentary on a diverse array of subjects and world events. Examine society from an unusual perspective. From whimsy to dystopia, Kowing was a prolific artist who leaves it to viewers to best find their own meaning in his work. Visit the Everything But The House web site above to register to bid now! You can also view some of our photos from the day we found the collection in the home but visit EBTH to purchase the art. View videos about our discovery on our Orion's Attic Facebook page. 
Frank Eugene Kowing (April 1, 1944 – Sept. 24, 2016) knew early in his life that he was going to be an artist. Born in McMinnville, Oregon, he was painting by numbers by age six. The youngster grew tired of that by the time he was eight because it wasn't creative enough, his brother Terry Kowing remembers.
A neighbor then stepped in and changed the course of Kowing's life. "He gave him a set of oil paints which truly launched his enthusiasm for art," Terry Kowing says. "By the time he was fourteen, art was his favorite subject."
Kowing would dedicate the rest of his life to developing his talent – selling paintings and "stick art" (also known as "found object art") around the world and producing a massive volume of pieces that would be discovered in his Silver Spring, Maryland home after his death.
The young Kowing graduated Linfield College as the school's first art major in 1966. A member of the U.S. Navy Reserve, he joined the Navy full-time during the Vietnam War. He served on the combat supply ship USS Mars as a personnel man. His ship went on a battle mission to North Korea when the spy ship USS Pueblo was captured.
According to Kowing's first wife Peggy McCardle, who had already begun working with Kowing on his memoirs by the time of his death, Kowing went on to study painting at the Gerritt Rietveld Academy in The Netherlands and later obtained a Master of Fine Arts in painting at Penn State University (1973). Kowing then spent several years working with art galleries in New York before he was drawn to a Peace Corps assignment in Tunisia, where he taught both art and living skills to developmentally disabled students.
McCardle says that Kowing would spend the rest of his life in a similar fashion, moving from job to job. He loved adventure, loved new things and worked as much as he needed to in order to support his artistic endeavors. He worked sporadically building and painting lofts in New York. He renovated and painted homes in Pennsylvania, salvaged mine timbers in the North Cascade Mountains of Washington state, taught developmentally disabled children in California. Meanwhile, he participated in gallery shows and solo shows in New York, Washington D.C., Maryland and elsewhere. He eventually settled in Silver Spring, Maryland, just across the Washington D.C. border, and reconnected with the District arts scene. He taught art, worked as a curator throughout the Metro D.C. area, and did more solo and group shows.
Kowing also retained an agent to help him sell his work but McCardle says that process, selling, was always a philosophical struggle, something that caused him anguish.
"He struggled with that his whole life," she says. "He wanted more people to see his work but he wasn't willing to play the game."
Kowing focused on impressionism in his early career. Over time, he began to fall in love with abstract painting and "construction" on canvas. His entry in the New York Yearbook explained the style as that of "using multiple materials on two-dimensional canvasses with bas-relief shapes – forms break away and out of the confining space of rectangles, collage echoing often lyrical line, in a dynamic whole that is a fusion of emotional content and objective imagery."
Kowing possessed a deep and abiding love of nature, too, prompting him to begin incorporating sticks and other items from the natural world in his art. He combined that with discarded man-made objects, salvaging pieces from the trash and creating art with them.
"We would be walking past a dumpster and he'd see something, think it was a cool thing that someone was just throwing away," McCardle says. "He would go after it and then use it in his art. He was a driven artist and he was always carrying sketchbooks everywhere he went. He didn't feel he was living if he wasn't doing something with his art."
His subjects are often intense.
"The shapes I create are forms that I have discovered in nature's rhythms," he wrote in the draft of his memoirs he was working on with McCardle before he died. "(I use) geometric and curvilinear shapes, in dialogue with expressive paint work, symbolic of struggles between structured society and the chaotic natural world. I utilize many layers of paint to achieve just the tonality and quality of light I desire … words, poems, text from studio notes show up in various ways in my work. These are steeped in a wide range of emotions. The content of the artworks is the dynamic network of paint and materials, and constitutes a visual journal of my life."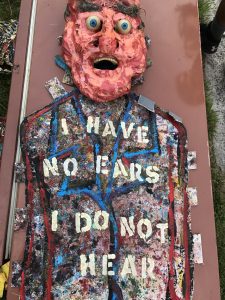 McCardle says that Kowing's greatest joy as an artist came from giving viewers the opportunity to see his work through their own lenses, looking at it with all of their own life experiences guiding how they saw it.
"He hoped they would have some kind of emotional reaction to it," she says. "He wanted them to see the shapes and the content and bring their own interpretation to it."
Though some of Kowing's work focuses on political subjects, the artist himself possessed no partisan leanings.
"The beginning of appreciating art is a sense of wonder – it's what makes us human beings," he wrote. "I have never been politically active.  I make fun of politicians in my work, but leave activism to others."
After years of failing health and during an intense period of depression, Kowing took his own life in September of 2016. He endured several accidents and operations that were followed by a crippling late diagnosis of Lyme Disease. Increasing pain required increasing medication with a poor prognosis, according to brother Terry Kowing, and the specter of more surgeries may have been the final straw.
"Frank left us with a greater appreciation for his art and a desire to share his life (and art) with others, although there is much sadness that his life was not longer," Terry Kowing says.
Asked what the artist would most like to be remembered for, McCardle points to one of the last notes he wrote for the memoirs she hopes to complete next year.
"Painting is my form of celebration, and it's also the way in which I explore the world. I make 'recordings' of what I find out. I always try to give my whole self to whatever I'm working on, with as much curiosity as I can muster, in order to understand a little better what being human is.  In that sense, I use art as an instrument to unearth shards of truth and beauty."
Christopher Lancette is co-owner of Orion's Attic, a Silver Spring, Maryland-based estate liquidation company that serves the greater Washington D.C., Virginia, Maryland area. Orion's Attic is also always looking to buy collections of jewelry, antique toys, militaria, rare books, art, all kinds of collectibles and so much more. Contact us today if you would like to sell your antiques and collectibles.