This Just In: World War II love letter from Army private in Heilbronn Germany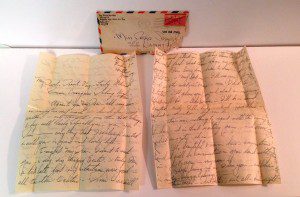 U.S. Army Private First Class Bill McMullen wrote this passionate love letter to his wife on April 12, 1946 from Heilbronn, Germany as he was preparing to return home after World War II — a letter that is now in our Orion's Attic eBay store. Heilbronn, of course, was home to the salt mines where the Nazis stored art and artifacts. In 1944, Allied bombing raids targeted the city — destroying much of it and killing some 6,500 residents. The U.S. Army occupied the city on April 12, 1945, a year to the day before McMullen wrote this letter. Presumably, he took part in the victorious effort. Either that or he arrived just afterward. Unfortunately, we weren't able to find any other letters, memorabilia or information when we found this letter.
One of the highlights of the letter McMullen mentioning that his troops were "still busy with the discharges here at the prison cage." The POW "cage" was the common area where POWs could mingle during the duty day, as opposed to their usual cells, I learned upon consultation with my Army veteran uncle. My uncle added that the return address information indicates that McMullen belonged to D Battery of the 486th Anti-Aircraft Artillery Regiment.  His battalion was the Automatic Weapons type of AAA, which meant either quad-mounted 50-cal machineguns (usually on the back of a 2 1/2 ton truck), or a single-mount 40mm Bofors (the kind of gun you see all the time on WWII footage of US Navy ships in twin or quadruple mounts, with the cone-shaped muzzle- blast hiders).
McMullen missed his wife terribly and was, like all of our soldiers, counting the days until he could return home. "My dearest, dearest, very lovely, adorable, precious, courageous, darling wife," he says in his greeting to open the letter, which is written with now old-fashioned cursive penmanship. The private wishes his wife a happy Easter, noting that his was a happy one because he knew they would soon be together. He expresses gratitude for the letters she wrote him. He also shares that it's warm and beautiful in Heilbronn at the time of his writing.
Do you have cool stuff to sell or need an estate liquidation? Orion's Attic would love to hear from you. Contact us today. We serve the greater District of Columbia, Maryland and Northern Virginia (NOVA) area and beyond!