The joy of being wrong — you never know what's behind the next door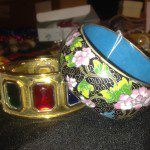 I hit the ground running on a recent morning, knocking out a little marketing from the ol' home office and then dashing across the Maryland line to a moving sale in Northwest, D.C. I was excited, my picking engines roaring and my pockets full of cash. The family running the sale had announced it on a neighborhood list serve — hyped it up good and said only people from the neighborhood would be allowed in on the first day. Awesome.
The fact that I am almost always wrong about what I think I'll find on a buying run — how good or bad it will be — had already faded from my mind. This had to be a good sale, right?
I make it through the door first. The place was a mess. It looked like a pack of kindergartners who hadn't eaten in a week had ravaged the place. "I'm sorry. We're not quite prepared like we hoped," the homeowner says, in a whopping understatement.
No problem, I think. I find the best stuff in the biggest messes. The more shambalized the house, the better deals I usually get, too. I go straight for my main target of the morning: I ask if she had any jewelry for sale. I tell her we buy everything from cheap costume jewelry to the good stuff. She calls her daughter down with a bag for me to look at while I try not to break my neck tripping over all the stuff scattered on the floors. The bag doesn't have any great treasures but it is full of the basic vintage jewelry that always does well for us. I pop n that for $22 and keep on looking.
I spot a Mid-Century modern Danish dining table that had seen better days. I email photos to a staffer who specializes in that area. She gives me the skinny and tells me the max we could sell it for. The seller's price isn't unreasonable but I d don't know if I feel like returning with our truck and then paying to re-finish the table before we can put it on the market. I ask if I could look around the rest of the house, if it was all for sale. The homeowner tells me to feel free to look everywhere and ask her for prices on anything I find interesting. The family hadn't bothered to try to price a single item, which only causes chaos at sales. It's inefficiency at its finest.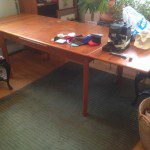 I go upstairs and see some decent bedroom furniture. I open the drawers to examine the construction and to see if there was anything inside the dressers I wanted to buy. I find more jewelry and start laying it out neatly, figuring the woman would come up eventually and I could ask her to price it for me. She comes up, alright. She comes up and starts screaming at me, telling me she can't believe I have opened drawers.
"Ma'am," I say, resorting to a slow-drawl Southern opening I sometimes use when I'm trying to keep from going off like a bottle rocket, "You told me to feel free to look around and ask for prices. When you tell people to look around, we're going to look around."
She huffs and puffs and I head back downstairs. Her husband passes me on the way up and makes some jerkish comment that again forces me to bite my tongue.
I decide to pass on the table as I had consumed my fill of that family for the day. I split and make at pit stop to visit my friendly CPA Carlos at ZP Tax. I return home, wolf down lunch while catching a back episode of Revolution on the tube, then head up to another appointment that I think will be a great one. Never mind the overwhelming fact that I am almost always wrong. Why do I even allow myself to have expectations? I enter that apartment in an upscale high-rise and see … an empty apartment with only a few piles of items that have no value to a dealer, and one cool Mid-Century chair. The owners tell me the chair is not for sale.
They're very nice people but there's nothing I can do there. I explain politely what the items look like through a dealer's eyes and suggest they contact A Wider Circle to donate the china and dishes. That Silver Spring nonprofit does great things to lift people out of poverty. I do offer to at least buy a few vintage cameras as I can always find buyers for those. I'm anxious to move on as pickers can't afford to spend time in places where there's nothing to pick.
I show myself out and race toward the elevator. I bump into a tall well-dressed man exiting an apartment a few doors down. We were deep in conversation by the time we reached the lobby floor. He saw my Orion's Attic hoodie, one of the best conversation starters I own. Turns out he's a Realtor and the apartment he was helping his client with had what he thought was some good stuff in it. He asks if I would mind taking a look.
I'm already here, I think. No harm in that.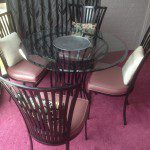 He opens the door. His client doesn't have good stuff. She has great stuff. I get blinded for a second, maybe from the quality of the furnishings in front of me but more likely from the sun that is coming through the sliding glass doors.
I have to do a triple-take to let it all sink in. I see stunning modern dining and breakfast tables in thick glass, one with a marble base and the other held together like a basket by black metal rods. Gorgeous. The art is more breathtaking … paintings that screamed, "I was done by a pro!" … sculptures and what looked like bronze pieces but made from perhaps paper mache .
"The homeowner is an artist," he tells me. "She did all these."
Holy smokes! Everything still remaining in the house is stunning. I notice a backgammon set that I know people would buy even if they don't know what backgammon is. It is just that nifty.
I suggest several ways Orion's Attic could help his client but tell him I need to do some research. I thank him for the honor of even letting me view that home. It's a thrill for me to see things like that, stuff I could see nowhere else other than in my line of work when I get the chance to enter people's homes. I am pumped just from the opportunity to see it, let alone the prospect of selling it.
We talk for a while on the way out. Turns out we have a lot in common. I'm on my third career, working harder than I've ever worked before but loving it. He's on his fourth career, loving his, too.
I drive home reveling in my consistency, that I'm always wrong about what I think I'll see at each stop I make. It's the excitement that comes with my wrongness that makes this job so right!
Need an estate liquidator or estate sale company in Maryland, Washington D.C. or Northern Virginia? Contact us today!