Santa Stuffs Our eBay Store With Vintage Toys!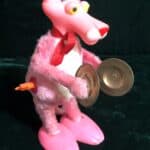 Great vintage toys are by far the hottest items in the collectibles world today — and also the absolute hardest for us to find. Collectors who own them prize their toys above all else and rarely ever choose to part with them: The force of nostalgia runs too strong. Family members who inherit treasure chests full of vintage toys tend not to let them go, either.
That's why we were so shocked when a long-time and highly skilled collector called us to ask if we would be interested in acquiring his antique and vintage toys. He said he had a lot of them.
"How many do you think you might have?" we asked, suspecting that he might possess maybe a dozen toys — a number that most people who call us consider to be "a lot" of toys. For dealers like us, a lot means hundreds or thousands of something.
"I think you should just come and take a look," he happily suggested. "It will be worth your while."
My wife and I raced through the countryside as fast as the law allowed, entered his home, and … nearly went blind from the glow of gorgeous old toys beaming at us from every direction.
Japanese tin toys, American tin toys by makers including my beloved Louis Marx, antique Hubley cast iron cars and trucks, 1950s and 1960s space toys. We saw Black Americana toys and dolls, a wildlife refuge full of stuffed animals and pot metal animal figurines, Superheroes, Star Wars and all kinds of other vintage movie and TV toys. Vintage toy boat motors filled a showcase shelf, lead soldiers another. We spotted more Matchbox cars than we could count. Model cars, airplanes and boats were everywhere. Rockets and blimps hunger from the air on nearly invisible string.
Oh my.
We stood there, mouths agape, admiring the most extraordinary vintage toy collection we had ever seen in person. We felt like we had just become The American Pickers — minus the fame and fortune. I actually got dizzy — "junk drunk" — people call it in our business.
More shock waves blew through us when he told us that he was ready to let go of the entire collection in one shot.
"It's time," he said, gently.
It took several hours for us to figure out how to make the economics work for him and for us. We operate in a variety of ways depending on what sellers' goals and timelines are. On any given day, we might buy vintage toy collections (and all kinds of other antiques, collectibles, jewelry, art, advertising and more) or work on a consignment basis.
Deal struck, it was time to get to work for a few days.
We took extraordinary care packing the toys, managing to reunite many of them with their original boxes that he had kept, returned to our HQ, and instantly stuffed our Orion's Attic eBay store. We also reached out to some of our long-time buyers about pieces we knew they would like — selling a great The Monkees Monkee Mobile with box before we even finished unloading our truck.
We've been adding these toys to our eBay store almost every day for four months now — and will continue to do so for who knows how long. Some toys sell almost the moment we list them so if you are a collector reading this, you'll want to make sure to drop by the store daily — if not multiple times a day. If you are someone who is looking to sell your vintage toy collection, call us today as we are always looking for more. There's just no such thing in this world as having too many toys. We would focus on them exclusively — if we could find enough of them on a regular basis to do so.
There's also no such thing as a collection of anything that's too big for us to handle.
Over the years, we've obtained all kinds of big collections. We've picked up 50 gold-nibbed fountain pens, a few hundred elephant figurines, more than 5,000 records and CDs (twice!), 1,000-plus pieces of Coca-Cola advertising and memorabilia, hundreds of other old advertising pieces (signs, clocks, store displays), 100-plus piece Swarovski figurine and ornament collections like the one we're selling in our eBay store right now.
We've handled home libraries with thousands of rare books, safes full of old coins, costume jewelry with many thousands of pieces, autograph collections featuring everyone from actors and athletes to Mother Teresa and U.S. presidents, mountains of sports memorabilia, and the list goes on.
If you are someone in Maryland, Washington, D.C., Virginia or elsewhere in the general Mid-Atlantic region (and sometimes beyond) who is looking to sell antiques and collectibles in bulk or you need full estate liquidation/estate buyout and home cleanout services, we're always ready to help.
And if you've got a stash of vintage toys, we'll probably start driving the moment we answer your call!