Horsing around somewhere in western Maryland
I jammed on the brakes the moment we spotted three horses in a pasture alongside a back road somewhere in western Maryland. My girlfriend and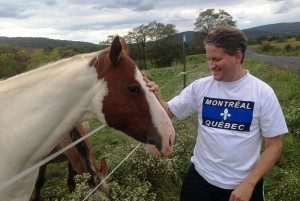 business partner Won-ok Kim hopped out of her Prius to snap photos with her iPad. The horses looked up from their mid-afternoon grass munching and stared us in the eyes. They didn't know who we were or why we were stopping.
We didn't know where we were. The GPS showed that we were crisscrossing dotted state lines all day long. We had just finished another round of stocking shelves in our third-floor space at the Queen City Flea Market in Cumberland, Maryland, and were spending the rest of the day driving aimlessly in whatever directions the car felt like taking us.
I stepped out of the car to join the photo shoot.
The horses decided to come over and say hello and to make sure we captured their best sides. A white one with a brown and white face forced his way to me and ate grass right out of my hands, tickling my fingers with his sandpapery tongue and lips. A brown horse with a mohawk demanded Won-ok's attention. A very old white horse with black spots, blood-shot eyes and cracked hooves stood back a bit. He or she wasn't quite sure what to make of us. I reached out to the old thing, drawing the animal closer and then giving it a good rubdown with my fingernails.
My white-and-brown-faced friend stepped in again. I asked Won-ok to shoot a quick video of me with the horses. She pressed "record" and I did a one-take equestrian snippet explaining that some of the great joys of the antiques and collectibles life are the experiences that have little to do with either. Road trips chosen by the wind are the best. "My" horse nibbled on my head, neck and hands while I spoke to the camera but I didn't lose my concentration. I gave him a kiss on the nose to close the scene.
We could have stayed there all day hugging the horses and staring at the lush green grass that rolled out in every direction. We were in the middle of nowhere under a brilliant blue sky, only the spirits of the dead looking down on us from a hill-side cemetery across the way.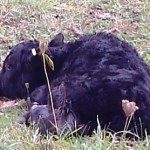 We bid farewell to our ungulate friends and continued our sojourn. We passed the youngest baby cow I have ever seen in person. The calf looked like she couldn't have been more than weeks old — a spindly-legged ball of black, still-wet fur. She was the cutest thing ever, at least among the bovine kind. Her mom wasn't amused by our visit, though. She nudged her offspring back a few dozen yards. That moment reminded me of a day two decades ago when a mother moose chased me away from her kids on a bike trail leading out of Anchorage, Alaska.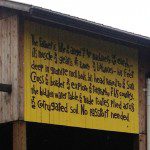 The car pulled us around who knows where. We passed a barn on which someone had painted a giant poem about the value of farmers and what they do.
We intended to keep going in the direction we were traveling but were forced to do a U-turn by a pair of a mammoth cement barricades and a "road closed" sign: A tiny creek in front of us could not be crossed. Won-ok and I made our way to a fork in a country road that indicated we were in Maryland and gave us the choice between two towns we had never heard of.
"It has been my life-long dream to go to Frostburg," I joked, veering right.
We fell in love with the place the moment we came across a carriage museum, old train depot and a cafe that was flooded with bicyclists.  The museum was closed so we didn't get a chance to soak in some extra knowledge that would help us with our business but we did go for a hike on the crushed stone path of the Allegheny Highlands Trail of Maryland — part of a network of bike trails that run from Washington D.C. to Pittsburgh, Pennsylvania. We stopped to smell yellow and purple flowers, pose for photos on boulders, climb trees and explore the woods next to the trail. Some trees cheated — their leaves turning brilliant autumn hues of orange and red while the others remained green with envy. Windmills stood atop the mountains in the distance in one direction, a folk art bike welded vertically to a metal pole in the other.
Joggers removed their seemingly invisible earphones to return our hellos as they passed. A pack of 60-year-olds kept each other in stitches as they took a break from their Saturday ride.
It was way too early to head back home on such a spectacular fall day. We hoofed around the town for quite a while, marveling at the fact that an independent bookshop and a theater still existed there. Both beckoned us to make a return trip so that we could take in what they had to offer. We wandered all over the campus of Frostburg State University, home to about 5,000 mighty Bobcats.
The knee-buckling aroma of broasted chicken coming from the Frostburg Trail Inn & Cafe lured us back there. We didn't know what "broasted" was but quickly learned it meant yummy for our tummies. The biscuits melted in our mouths while a six-piece order of hot wings added just the right compliment to the house speciality.
A young woman next to us asked her friends working at the cafe for the name of the article of clothing that Scarlett O'Hara wore to give her dresses their distinctive shape.
"Hoop skirt," I said to the Frostburg State student working on a paper for English class.
She thanked me and raised her eyebrows.
"I'm from Atlanta," I said, explaining why I would know this.
Won-ok and I grew tired as the sun set and opted to head out. The parking lot was full of a group of teenagers sporting tuxedos and brightly colored dresses drawing all kinds of attention from parents with big cameras. Homecoming, we figured.
We learned that the train depot is still used by Western Maryland Scenic Raildroad, which offers brief excursions down its tracks. We'll be back for that, too, and we'll bring our bikes. A guidebook and the friendly staff at the inn and cafe told us everything we needed to know for our return.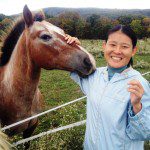 GPS activated, we used I-68 east to begin making our way back to I-70. Early that morning, we drove right through a cloud as we took the roller coaster ride up and down that route.  At 8:30 p.m., we played hide and seek with a full moon that kept sneaking behind the mountaintops before jumping out over the interstate.
I paid half attention to the radio play-by-play of our beloved Baltimore Orioles  — "our kids" as Won-ok calls them — pulling into a first-place tie with the Yankees. My mind kept drifting back to the three horses. I wondered if they missed us, too.