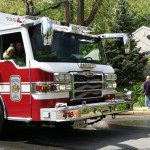 The second day of our latest Falls Church estate sale by your favorite Falls Church estate sale company opened with a rush of shoppers seizing Sunday bargains. The house was packed with Orion's Attic fans. People were calling for help from all directions. One voice, though, was louder and more stern than the others.
"Excuse me," he said. "I think you have a gas leak in the kitchen."
I raced to the kitchen and caught a nose-hair-turning whiff of gas coming from the stove area. I wheeled around 360 degrees to make sure no one in the vicinity was smoking, called 9-1-1 and gave the dispatcher the low-down. She told me to evacuate everyone from the home immediately and close all the windows and doors to make it easier for the fire company to detect and stop the source of the leak. I actually heard sirens by the time we hung up.
"Everyone, get out of the house!," I screamed at the top of my lungs. "We have a gas leak. Get out of the house now!"
There was a moment of deafening silence as all activity throughout the house and front and back yards ceased. People looked at me as if I were an alien that had just landed in the living room. "A Falls Church estate sale company halting a sale just because of a life-and-death issue?" they seemed to be contemplating.
"Everybody, there is a gas leak. Fire trucks are on the way. Get out!"
Shoppers overcame their tape-delayed response to the message, made for the exits and crossed the street. All but one person, that is. I walked past the pay station on my own way out. A large, muscular gentleman was about to pay for a pair of $20 pots. "Sir," I said, harshly, "you've got to leave the yard right now."
"But I want those pots," he exclaimed. "I need to buy those pots."
Fury ignited inside me.
"Sir," I said, "these pots are not worth dying over."
The man STILL didn't move toward the gate. I grabbed him by the shoulders, using his shirt to yank him away from his pots and drag the much bigger man toward the gate. I didn't let him go until we were both well clear of the property. I obviously don't want anyone to die, and I I don't want to end up on the evening news after the words, "Falls Church estate sale company fails to evacuate shoppers during gas leak."
The first of several Fairfax County fire trucks arrived. Burly men and a petite blonde woman in full gear marched into the home with all kinds of gadgets and tools. They spread across the home with eye-catching precision, like a marching band stepping to a beat only they could hear. The firefighters were clearly ready for anything.
One very polite firefighter later told me they did in fact find a leak at the stove, would shut off the gas to the house, and to stay clear until they were done.
I breathed a huge sigh of relief. Then I looked up and saw that a very large crowd of our estate sale shoppers were standing across the street, waiting patiently to return to the event. That's a loyal clientele right there, I thought.
Firefighters gave us permission to return. The sale hit full swing in a flash. The firetrucks may have inadvertently drawn an even bigger crowd; Neighbors coming out to check out the commotion came on in and joined the buying frenzy — gobbling up crystal, oil on canvas paintings, decorative art, the few remaining pieces of a large ladies' wristwatch collection and all kinds of other things. I lost track of the man who was willing to give his life for the pair of pots.
The lightened mood didn't last long.
"Excuse me," someone said. "Your bathroom is flooding."
I ran to the bathroom and saw enough water flowing out of the toilet that I was thankful I had started taking swimming lessons. It looked like the toilet had cracked but there was so much, um, stuff, coming out of the john that I couldn't get that close to see it any better. I turned off the water valve and started cleaning that mess, calling Realtor Jamie Wheeler of the Wheeler Team for the second time in a day. I've never had to call a client or real estate agent during a sale, ever, let alone twice.
Won-ok Kim and our staff kept on selling why I cleaned up the mess. This house had already provided plenty more adventure than our typical job offers. The junk removal service we provided before the sale dealt more bumps and bruises than usual. I cut a nice hole into my arm when I got bitten by a broken bottle. The beautiful yet tiny size of the house also turned out to be deceiving. Once we began tugging loose the trash and non-sellable items, tons of them sprang forward. Spandex houses, we call this type of project.
The problem turned out to be just an issue of a shopper putting too much into the toilet but I still cursed under my breath a bit, wondering what was going to go wrong next.
My answer came on four legs, a small pug-like dog flying down the street, turning left and dashing into the yard as if he needed to make an estate sale purchase. The amiable youngster had no collar to identify him or his owner. I again turned my attention from the sale and focused on corralling the dog. I am a huge dog lover. Our company is named after my first dog. We support House With A Heart Senior Pet Sanctuary. I was not about to let this dog get hurt on my watch and figured an owner would think of going to the center of activity on the block to ask for him.  One of our staffers used a little pizza crust to lure the pup into a small room, moved the merchandise out of there, gave the dog some water … and made a third call to the Wheeler Team. I checked on the dog periodically and shot enough photos to start a multimedia campaign if needed. I was thrilled when the boyfriend of a shopper from the previous day arrived and asked if we had seen a stray dog. He thanked us profusely for the rescue and bought a great wet bar in the process.
I wasn't about to risk wondering anything after the pooch left. The sale was scheduled to end at 4 p.m. but people were still in the house spending good money. I'd far rather sell something at a deep discount on a Sunday than spend the time and labor cost moving it to one of our retail stores on Monday so I let the sale keep going while two of our crew drove around retrieving our bright yellow signs.
It took us three hours longer than usual to break down and clean up but that didn't surprise me. Of course that house would take triple the time. On the plus side, we had exceeded the executor's expectations for the sale and met the new owners of the home. They had turned up at the sale and bought several pieces of furniture. We don't normally get to meet the next owners of a home we serve but this house sold in one day.
The Orion's Attic team left knowing TWO families were happy with our work, not to mention all the shoppers who thanked us for the way we treated them during the sale.  Gas leaks, floods and stray dogs just aren't enough to keep Orion's Attic down.
Are you looking for a Falls Church estate sale company, or a Falls Church estate liquidation company that also takes different approaches based on your needs? Contact us today! Also be sure to check our comprehensive estate liquidation and downsizing guide. You'll learn everything you need to know to help you make the best decisions about liquidating estates, downsizing and home cleanouts.