Who We Are
Co-owners Christopher Lancette and Won-ok Kim were already having fun selling all kinds of treasures as a hobby when a light bulb went off: What would it look like if Orion's Attic focused not just on making a living but on making a difference?
The question sparked a new vision for themselves as social entrepreneurs dedicated to building a better company and a better community … a firm that enables people to "buy good stuff, do great things."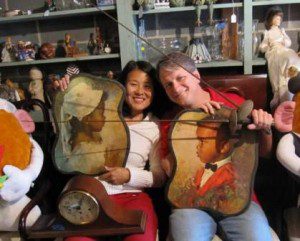 That mantra runs through everything Orion's Attic does: We  make headaches go away for for home owners and estate executors through our "one call solves it all" estate liquidation services. We sell a huge variety of antiques and collectibles on eBay, at auctions, shows and more. From time to time, we even help people deal with hoarding and hoarder houses. Our growing business provides youth employment and mentoring for a number of high school and college students – young people who have developed an array of skill sets and learned the keys to achieving successful careers. We also conduct fundraisers and support a number of great nonprofits. We utilize the services of other local entrepreneurs from CPAs to scrap metal haulers.
We're also big on supporting great nonprofit organizations including A Wider Circle, where we bring a lot of our clients' furniture and household items that can be used by families in need. The primary focus of the Attic's philanthropic work, meanwhile, is lending a hand to the House With A Heart Senior Pet Sanctuary. The nonprofit organization in Gaithersburg, Maryland, provides a loving home and medical services to abandoned old dogs (and some cats) whose lives are nearing an end. The Attic chose House With A Heart to honor the memory of the company's namesake, Orion — Lancette's shelter-rescued Siberian husky who passed away in 2007. We also honor the memory of Alexis, Orion's half-husky shelter-rescued sister who served as the company's spokesdog until she died in 2012.
"Aligning the company with our personal values makes running the business a more fulfilling experience for us," says Lancette, an Atlanta native who led successful careers in journalism and in nonprofit communications before climbing into the Attic. "Selling just to make a profit would get boring pretty quickly. Now we're on a mission to build a better company and contribute to a better community."
Kim agrees.
"It's a neat feeling to see satisfied customers purchase things they like so much that they're going to display them in their homes or offices," says Kim, a data analyst for a Washington hospital. Originally from Korea, she became a U.S. citizen in 2010. "It's even more exciting to know we're helping organizations that are doing critical work for society."
The thrill of the hunt is a blast, too.
While most people kick back and relax after work and on the weekends, Lancette and Kim spend most of their free time earning bumps and bruises from moving all the furniture and boxes of new items they scour the roads to find.
"Our general rule is that we won't buy anything that we wouldn't want to keep if we can't sell it," Lancette says.
He's drawn to anything related to vintage toys, sports memorabilia, comic books, American history, antique chairs, art, Mid-Century Modern furniture, and about anything with an animal on it. Kim, meanwhile, loves art glass, figurines, pottery, lamps, costume jewelry, tea pots, and more. "If it's something that lights up our imaginations and the price is right, we'll grab it," Kim says.
From a pair of binoculars whose history goes back through a historic Baltimore fire all the way to the American Revolution to glass and chalkware dating to the Great Depression, the history lessons they've learned have been one of the many surprises the business has brought them.
Another is the people they encounter.
"The people we're meeting are incredible," Lancette says. "We meet folks with amazing stories to tell about what they made or bought and clients from every walk of life who have passions for different items." (You'll see a lot of their stories on the Orion's Attic blog and on video as they enhance their Web site.)
When they're not working, you can most often find the Attic's owners on the tennis court, riding bikes, visiting historic sites, exploring nature, and running a pro-bono multimedia website at EyeOnSligoCreek.com.
Our Values
Our Name