This just in: Sparky's Volksmarch medal collection from Germany and U.S.
Dr. John "Sparky" Breeskin, make that Lieutenant Colonel Breeskin, was a U.S. Air Force psychologist stationed in Wiesbaden, Germany in the mid-1970s when he was introduced to the German hiking tradition of the Volksmarch — "the people's walk." The idea, he learned, was to join folks from small villages and go for organized, non-competitive walks that included food and friendship. Many walks also commemorated important people and events in local, national or even global history.
"I joined a walk that weekend and I never looked back," says Breeskin, a Takoma Park, Maryland, resident whose sentences flow as gently and lyrically as his long white beard. He bears an uncanny resemblance to poet Walt Whitman, a portrait of whom hangs in his dining room. "I started going every weekend. Volksmarching took me all over Germany."
Breeskin sojourned for two years in Germany before returning to the United States and continuing the practice here for 10 years as Volksmarching clubs are plentiful in this country, too. While many participants opted for very short walks, Breeskin preferred the long ones, often taking routes of 20 miles. He once did 100 kilometers — more than 62 miles — in a span covering 24 hours. By the time he had hung up his walking boots, he had participated in some 300 Volksmarches and covered more than 6,000 miles. One of those marches sent him tumbling down a mountain when a wild boar suggested he vacate the premises but that kind of danger was rare.
Much of his reward came from personal satisfaction. The rest came from the goody awaiting hikers at the end of a successful event — a shiny medal made for that Volksmarch. Patches were prevalent, too. The memories now a glimmer in Breeskin's sparkling blue eyes, he has chosen Orion's Attic to sell his collection of more than 200 German and American Volksmarch mementos from the 1970s and 1980s. Some are now available in the Orion's Attic eBay store  (more coming later) while others will soon be for sale in our booth, D-6, at the Old Glory Antiques Mall in Frederick, Maryland.
The still practicing psychologist who does a lot of work with military veterans suffering from post-traumatic stress disorder points to an orange patch from a walk in Holland that catches his attention. The king and queen of Holland joined in that walk but it wasn't the royal sighting that he remembers most.
"There were a bunch of American G.I.s there," he recalls. "One of them saw a little boy in a wheelchair watching everyone go by. A G.I. went over to him and pinned a medal on the boy's shirt."
Every medal and patch tells a story such as one that memorializes President John F. Kennedy and another that pays tribute to the Space Shuttle Challenger. A few that sent Orion's Attic digging into history books include medals telling the story of:
Franz Sigel. He first came to fame as a German revolutionary, one of the "Forty-Eighters," – referring to the Baden Revolution in 1848, when he led troops and later became Secretary of War. Later in life, he left Germany, emigrated to the United States and served as a teacher, newspaperman, politician, and served as a Union major general in the American Civil War. There is a statue of him on Riverside Drive in New York City. The hand-painted medal features a full likeness of Sigel.
German Battleship Scharnhorst, a World War II battleship that attacked British battleships before the British sank it during the Battle of North Cape.
Herzog Johann II of Simmern. If we have the right Johann, Wikipedia's bio blast on him says: "John was the son of the Count Palatine and Duke John I of Simmering from his marriage to Johanna, daughter of Count Johann II of Nassau-Saarbrucken. Against the custom of the period, the training of the Prince was increased in the scientific field than in knightly exercises. In the natural sciences, and government and law Johann was considered a leading prince of his time. He stood with numerous artists and scientists in conjunction."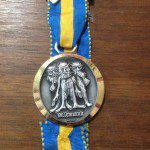 Breeskin loved the time that Volksmarching gave him in the woods, where he could soak in the splendor of the trees. His love for excursions also took him to the famed California redwoods. "I'll never forget it," he says. "It was like a church to me."
He won't forget the lifetime of memories made with his family, either. He strongly encourages people learning about Volksmarching for the first time to find the nearest event and head out with family in tow.
"It's perfect for families," he says. "You can develop your own traditions. Our tradition at the end of a march was to join in a circle and chant 'Volksmarch One Two — Congratulations To You.' Each one of us would then step in the circle and take a bow while we all applauded."
The good doctor will always have his memories. Now collectors can obtain his eye-catching medals to display in their homes — and maybe even be inspired to go on Volksmarches of their own.
Do you have neat things to sell? Orion's Attic is always looking to buy and consign more antiques, collectibles, jewelry, rare books, contemporary furniture, oddities and so much more. We also provide estate sale and estate liquidation services. Contact us today to find out how we can be of help with your treasures.
Learn more about Breeskin including his new book "Training Wheels for Beginning Psychotherapists" by visiting JohnBreeskin.com.