Take a trip around the world at March 8-9 estate sale in McLean Virginia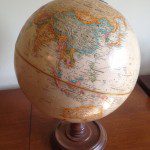 Take a trip around the world without ever dusting off your passport at our March 8-9 2014 estate sale in McLean, Virginia from 9 a.m. to 4 p.m. The owners of the home spent much of their careers overseas collecting a dazzling array of exquisite furnishings, men's and women's jewelry and watches, china, decorative arts, sterling silver flatware, clocks, art, rugs, decorative glass and porcelain, figurines and so much more. You'll find the handiwork of craftspeople from all over Asia, Europe and the Middle East, with hints of Africa and some good old fashioned U.S.A. Doors open sharply at 9 a.m. No early birds allowed but numbers will be handed out to early arrivers on a first-come, first-serve basis. [Address will be posted here on March 7.]
Stay tuned to this post for updated details as the week progresses but initial highlights include the following. See our Facebook photo album for more than 500 photos.
Jewelry: A bounty of men's vintage jewelry including designer cufflinks (some sterling silver), tie pins, tie bars, watches; Women's fine jewelry including gold, silver and gemstone such as emerald and ruby – and vintage costume jewelry including rhinestones, mother of pearl, and Siam jewelry (Thailand), featuring rings, necklaces, earrings, brooches, pendants and more; 14K ladies watch by Glycine; vintage Swiss-made wristwatches and pocket watches by American Waltham, Hamilton, Elgin, Omega, Movado, etc. There may also be a rare 150-year-old Vacheron Constantin pocket watch missing one jewel and key and needing repair (first day price of $1,300 if owner decides to include it in sale).
Decorative arts: Asian lacquered wood panels and screens, hand-carved antique ivory from the Congo, Japanese cork art, Lladro figurines.
Furniture: Vietnamese lacquer cabinet (signed), hand-carved chairs with mother of pearl inlay (Vietnam), Mid Century gate leg desk with sliding compartment top, American-made furniture including solid mahogany dining table and chairs, china cabinet, server, secretary desk, leather chair, camel stool, beds, end tables, coffee tables and couches
Lamps: Murano (Italy), Sherbinn (U.S.), and porcelain vase lamps with enamel.
Sterling silver dishes and flatware: Several makers and patterns from England including Towle (Tumbler Rose pattern), Sheffield, Fisher, Reed & Barton, Wallace & Sons, etc.
Coins: Gold coins from Austria, Iran, Italy, France, and U.S., Pottery: Delft (Holland), vases from Spain
Vintage Cameras: Olympus OM 4T, Yashica 44, Nettar, Kowa SET,
Clothing: Vintage handbags and clothes (size M), women's traditional garments from Vietnam, Japan and other places
China/porcelain: Wedgwood (England), Haviland Limoges (France), Lenox, Empress Garden (Japan), Christian Dior Gaudron Malachite (Japan), Nippon, hand-painted goblet by Dresden (Germany), Aynsley (England) and several pieces of 'Bleu De Hue' china (Vietnam)
Glass/pottery: Waterford vase, Cloisonné with dragons (China), Pedros Alcobaca vase (Portugal), Murano Guerrieri trinket box, Delft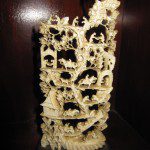 Books: Set of French-language books bound in Moroccan leather about subjects including culture and history of Vietnam, Buddhism and more; pair of leather-bound books from 1882 – "Illustrations of Dissections in a Series of Original Colored Plates, modern books on wide range of subjects.
Home décor: Carved figurines in faux ivory, bakelite, celluloid, and so on; French Ormolu Mantel Clock (circa 19c)
Rugs: Hand-made rugs in various sizes from multiple countries.
Vintage board games: Blacks and Whites by Psychology Today, Foil, and more.
Misc.: Vintage Christmas ornaments, de Uberti (Italy) cup, Kings Arms Trivet (1953), Vintage Steamer Trunk by National Vulcanized Fibre Company.
Want to get the jump on special deals we offer to our loyal shoppers? Sign up for our e-newsletter and Follow us on Facebook. Need an estate sale yourself or know someone who does? We would love to hear from you. Contact us today.