Silver Spring MD "Tool Time" estate sale set for April 20-21
We had a great turnout last Tuesday at our newsletter subscriber-only advance sale but even that didn't make a dent in the bounty of good stuff stored inside the home of our next estate sale. The regular sale is set for this Saturday and Sunday from 9 a.m. to 4 p.m. at 2028 Forest Hill Drive in Silver Spring. [See hundreds of photos on our Facebook page.]
If you're a tool guy or gal, you may faint when you come to our Silver Spring MD "Tool Time" estate sale. We've never seen so many tools in one home in our lives.
The house was owned by a man who was an engineer by day and a first-class craftsman, builder and Mr. Fix It by night. The gentleman hoarded tools — we've found a number of them brand new in the box.  Here's a partial list of what you'll find this weekend's Orion's Attic sale:
TOOLS: Air compressors, cement mixers, car tools, drills, Cleveland hydraulic ton bearing press, snow blowers, chain saws, water pumps, bicycle repair stations, dry vacs, paint sprayers, ladders, hammers, wrenches, tool boxes, woodworking tools, routers, impact drivers, drive sockets, power tool accessories such as drill bits, saw blades, chargers, flashlights, air tools, including nail guns, impact wrenches, sanders, grinders, air hoses, painting accessories, sockets & ratchets, pliers, hammers, screwdrivers, snips, chisels, old tools for electrical work, lighting, plumbing, kitchen, security, and all kinds of bits and nails, automotive tools including welders, bottle/floor jacks, jump cables, towing chains, molding tools, tie downs, auto care products, dollies, ladders, workwear, safety gear. Many of these tools are made by the best names in the business including Craftsman.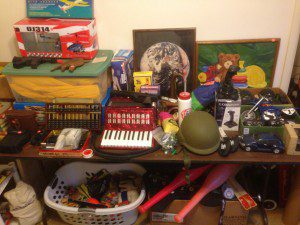 OUTDOOR AND ADVENTURE GEAR: Vintage Raleigh black and white bike with original components, Cannondale road bike from probably the 1980s/90s, Phoenix 6D hang glider, tents inflatable kayaks, scuba gear (wet suit) snowboards, fishing poles, bows and arrows, paint ball guns, tents,
ART: Salvador Dali signed, limited edition lithograph "Impressions of Africa", prints, oil on canvas paintings
FURNITURE: Mid-Century cabinet made Denmark; Mid-Century dining chairs made in Denmark, mahogany curio cabinet, bedroom set, side tables
COOL TOYS: Remote control airplanes and helicopters, paintball guns and supplies, kites
JEWELRY: Collectible men's watches including a 14k Jules Jurgensen watch; costume jewelry
ELECTRONICS: Stereo equipment; musical instruments (guitars, keyboards); DVRs, VCRs, radios, DVDs and CDs
Doors open promptly at 9 a.m. No early birds allowed but numbers will be handed out on a first-come, first-serve basis.