Silver Spring estate sale stuffed with antiques, fine art, militaria, jewelry, Mid Century furniture and more!
We're ecstatic about the May 31 and June 1 estate sale we're hosting in Silver Spring, Maryland on May 31 and June 1 and hope you will be, too. This house is stuffed with some serious treasures including antiques, fine art, Mid Century and Mid Century Modern furniture, jewelry, including numerous gold and sterling pieces, and one of the best military collections we've ever found.
A full list follows below but return here for updates and additional photos as the week unfolds. View hundreds of photos on our Silver Spring estate sale photo album on Facebook. Address is 4014 Havard Street, Silver Spring MD.)
We still have a lot to unpack and examine so return to this site for updates all the way up to opening day. (Our clients just called and said they're bringing more stuff from storage!) No early birds. Numbers handed out to early arrivers.
Antiques and Vintage Furniture and Decor: Beds, dressers, side tables, lamps, chairs, couches, Louis XV style cartel clock carved and gilded (made in Sweden); Magnavox radio cabinet;
Mid Century and Mid Century Modern Furniture: Couch, wood-framed chairs, molded Lucite chair with chromed metal base, lamps, stackable cabinet made in Denmark by Ervi-Mobler; dining set with table, chairs, buffet and china cabinet;
Art: Large oil on canvas painting dated 1615 of 29-year-old man; 18th century oil on canvas painting of figures at ruined building with nameplate attributed to Jacopo Marieschi (our research indicates it is not by Marieschi himself but a follower or someone painting in his style); 18th century painting of a gentleman in a powdered wig; statues;
China and Kitchen: China by Mikasa, Homer Laughlin, Nippon, Lenox and others; painted plates made in Italy (Benrose), Greece and elsewhere; stemware; coffee pots; stemware;
Decorative Glass: Perfume bottles; hobnail vase; Wheaton miniature bottles;
Figurines: Royal Doulton; Coronetti;
Glassware: All kinds of bowls, vases and plates; crystal; decanters; jars; handmade glass by Empire with sterling;
Home Décor: Large brass wall sconces; mirrors;
Jewelry: Fine jewelry, from very old 14K necklace and brooch with amazing artisanship through numerous vintage and modern gold and sterling silver pieces; abundant costume jewelry from necklaces, pendants, brooches/pins, bracelets, earrings, rings, and so much more.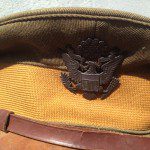 Lamps: Leaded glass hanging lamp; chandeliers; table lamps.
Toys and Games: Array of chess sets including set with hand-carved African pieces, another set with brass pieces; Tonka truck; Anson Classic 1947 Cadillac
Pottery: Signed and hand-thrown pieces including Irish pottery.
Women's Clothing and Accessories: Designer handbags and women's clothing;
Do you need an estate sale or know someone who does? Maybe you know someone who may have an attic full of treasures they need to sell? Contact Orion's Attic today!