Huge estate sale set for Dec. 15-16 in Fort Washington MD
Looking for a tremendous treasure for your home or some amazing Christmas gifts? Head to our next big estate sale from 9 a.m. to 4 p.m. on Dec. 15-16 at 12905 Heather Circle in Fort Washington, Maryland. The owner is an amazing man – a World War II veteran – with a home packed with items he and his wife obtained over the course of some 40 years. (Can't blame him for wanting to move to a warmer place.) Several rooms of the house were designed by a decorator who did work for the White House.
You'll find everything from modern mid-century furniture to a workshop and garage full of tools. In between is everything from folk art and fine clothing to hand-assembled doll houses and grandfather clocks. We will also be baking cookies and serving coffee and other treats throughout the day.
View an extensive photo album at www.facebook.com/orionsattic. The list of items up for sale is too long to completely cover here but a partial list follows. Note that no one will be allowed to enter the home before 9 a.m. each day. Shoppers arriving before 9 a.m. are welcome to stand in line. Credit cards are accepted. We'll add more to this list and the Facebook photo page as the week moves along.
FURNITURE: Mid-century dining table that expands with built-in leaves and six chairs. Stamped "Made in Sweden, Aug. 20, 1959." Eames style lounge chair and ottoman made by Selig Manufacturing Company in Leominster, Massachusetts; Rooms full of furniture purchased from the old Dankers Furniture store; Dining set with china cabinet, couches, love seats, French provincial-style bedroom set, dining tables, glass-top coffee table, wicker bed, café tables and chairs, dressers, servers, end tables, tilt-top tables and a whole lot more.
ART: Folk art with ocean themes (ocean village scenes made from beach materials, other art made from shells); oil on canvas paintings, prints, Currier and Ives prints; drawings, Buddha and other figurines; fighter plane prints from 1960s; Japanese black lacquers with mother of pearl Geisha; car image made from watch components.
BAR-WARE AND BAR DÉCOR: All kinds of bar glasses including vintage NFL QB glasses, stemware; bottles, beer and liquor signs and mirrors (Johnnie Walker Red, Rolling Rock, Miller and more); Budweiser lighted clock, Pabst Blue Ribbon thermometer, Seagram's Gin hanging lamp, sake set, beer steins.
CHINA: 100-plus piece set of Noritake Segovia pattern 2216, cups and saucers, Lenox decorative pieces
TOOLS AND APPLIANCES: A virtual hardware store of tools – leaf blower, snow blower, lawn more, wrenches, hammers, screwdrivers, all kinds of saws, sanders, nuts and bolts, hydraulic floor jack, gardening tools, pliers, clamps, drills, tool chests, tool boxes, ratchet sets, ladders, vintage Westinghouse refrigerator that ran for decades and just stopped working this week;
COLLECTIBLES: Laurel and Hardy poster from 1934, Laurel and Hardy 8 mm movies, Dennis Winter cottage collection, dolls, teddy bears, Christmas collectible ornaments
CLOTHING: Extremely large collection of men's and women's clothing including leather jackets, dresses, suits, shirts, gloves, slacks, jeans, women's dress boots and lots of shoes, vintage clothing
HOME DÉCOR: Chandeliers, all kinds of lamps including lamp with ship on the shade, grandfather clock, mirrors, spiral staircase plant stands, high-end window treatments, curtains with horses,
KITCHEN: Glasses, plates, all kinds of cookware and kitchen electronics, Tupperware, countless other dishes and utensils.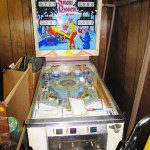 FUN STUFF: Organ (Thomas by Heathkit – it works), Gottlieb's Snow Queen pinball machine (not currently working), ping pong table, very large doll house.
TVS: Several working televisions will be sold for $1! Flatscreen TVs will also be for sale.
RECORDS/CDs/TAPES: Small collection of records along with many tapes and eight-track cassettes, stereo, tuner.
BOOKS: Some books from early 1900s through mid-1900s plus others from within past 40 years, a couple of books about films (thrillers, horror and Gone With The Wind).