Hand-made wagon (goat cart) is hard to let go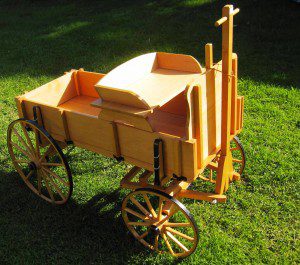 Won-ok and I didn't wake up on May 28, 2011 planning to have a life-affirming day that would still bring joy to our hearts a year and a half later. We didn't plan to buy a hand-made wagon and fall so madly in love with it that we held on to it until 2013. (We put it up for sale today on our Web store.) It just sort of worked out that way.
Our intention then was to simply show two new friends representing the Japan Bear and Forest Society a little slice of America before they returned home: That meant only one thing — minor league baseball. We picked up Tomoko and Kaz at a D.C. hotel and headed north. Bryce Harper and his Hagerstown Suns teammates weren't slated to take on the Asheville Tourists until the evening, giving us plenty of time to wander around Maryland before the game.
We jammed on the brakes when we passed a countryside yard sale in a hamlet called Foxville, Maryland. Most locals know it as Sabillasville. We didn't know it at all but we were budding entrepreneurs with a vision for expanding the range of items Orion's Attic sells. All American pickers have enough sense to stop when they see a front yard full of stuff for sale and a barn and shed behind the house. Tomoko and Kaz were mesmerized, too. They had no idea what a yard sale was.
I confess I did pause for a moment before we got out of the car. I wasn't quite sure how an elderly white woman and her barrel-chested husband with military tattoos on his bulging arms would react to a Toyota Prius filled with a white guy, his Korean girlfriend and two Japanese folks. Bonnie and Gary Swope, though, greeted us like long-lost family the second we set foot on their driveway.
Won-ok and I filled a few boxes with items we knew we could easily re-sell. A wind chime enchanted Kaz while a couple of owl figurines grabbed Tomoko's attention. The more we shopped, the better we got to know the Swopes. Turned out that Gary was a Navy man, serving from 1960 to 1964 — including a stint at nearby Camp David the year that JFK was assassinated. Gary then spent more than 30 years working for Mack Trucks in Hagerstown before he retired.
Even before calling it quits there, though, the son of a sawmill operator got out into the woods, and his workshop, every chance he could. We didn't know that until after he and his wife had given us bear hugs goodbye and we were piling back into the car. He asked if we had a moment to see something he wanted to show us.
"Absolutely," I said, jumping at the chance to see any other treasures he might have.
Gary escorted us to his workshop and pulled out a miniature wagon — also known as a goat cart — that he made from Linden wood near his home more than 20 years ago. He built the wagon as a little but exact replica of a four-horse wagon used in a bygone era. He said you could hook a goat to it and use it for modern day chores, though his has never been put to work. It's in mint condition like the day he finished it. It took him an entire winter.
"I've got a lot of hours in that," he said in a video interview now on our Orion's Attic You Tube channel.
All four of us were struck silent by the quality of his craftsmanship and the notion that we were gazing at something made from the very woods he loves. The more he told us about its construction, the more riveted we became.
I didn't want to insult Gary by asking him if it was for sale and I certainly didn't want to add salt to the wound by suggesting a price that was too low. I spoke telepathically with Won-ok as we often do in this business and asked him if he thought he might ever sell it some day.
"I hadn't — until just now," he said, as if surprised by his own answer.
Won-ok and I braced ourselves for a price that we suspected would be well beyond our means, then nearly gasped when he tossed out a figure that we could manage. We didn't have room in the car that day but we could speed right back the next day. We had to have that wagon and we had to capture him on video talking about its history so we could share his story … and perhaps provide the next owner with a DVD to keep with the wagon.
Deal!
We all made another round of goodbyes and headed to Hagerstown for some baseball. Asheville dominated the Washington Nationals' Single A team for eight innings — making phenom Harper look foolish on curve balls. The Suns stormed back and won it in the bottom of the ninth. Our Japanese friends loved the drama as much as they did the ballpark food and ice cold beer.
Our conversation continued flowing the entire way back to D.C. They shared their philosophies of life, centered around the concepts of love and gratitude, and we shared our remarkably similar views. We delved into questions about the essence of nature and conservation.  (I was still working for The Wilderness Society at the time.) We wondered which nation was filled with worse drivers.
Won-ok and I bid them farewell and raced out of the house the next morning to buy Gary's wagon.
"What made you decide to let it go?," I asked.
"I am getting to the age now where I don't know what's going to happen to me," he said. "Then I'd never know what happens to this. I'd like to know where it's going and what happens to it."
We thanked Gary profusely for the honor of selling us such an extraordinary item and allowing us in turn to find the right home for it. That home has been with us for 19 months. Will it be with yours next?