Ask The Attic: What's My Vintage License Plate Worth?
Old License Plates Help Collectors Cruise In Style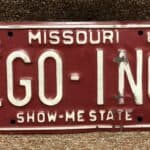 Clients are often amazed when our engines start roaring because we've spotted a pile of vintage to antique license plates in their garage or basement. The plates are often completely unappreciated by family members.
"Somebody would want those?" comes the inevitable question. They just see a pile of often rusty old pieces of metal that a loved one never returned to the local department of motor vehicles.
"Yes!" We see shiny sheets of fun. And some cash!
Answering the question of what is my vintage license plate worth is as breezy as a Sunday drive through the mountains. That's because license plates are "cross-collectibles" — meaning that they appeal to multiple kinds of collectors across multiple kinds of categories. People collect them for all kinds of reasons.
Collectors include:
Car enthusiasts, people who love automobilia. They want various kinds of plates made in a certain year to represent cars they once owned or still do. They want vintage license plates that represent certain elements of automotive history. They want the most rare and valuable license plates that exist, and they may be willing to pay $60,000 to, yes, $500,000 or more for them.
State lovers. They want plates from states they love. I recently bought license plates from Minnesota covering the year I was born. I'm old now; I felt like buying some plates my age. I also bought a set of plates from the year I lived in Alaska — a journey launched as a result of, yes, collecting stamps including Alaska statehood stamps as a kid.
Theme enthusiasts. A lot of plates show birds, animals, flowers, trees, historical events and so much more. When I left Georgia a long time ago, there was no way I was giving up my specialty plate featuring a bald eagle and the call to action, "Give wildlife a chance." I'm a nature nut.
Vanity plate collectors. They want license plates containing certain words that mean something to them.
Artists. People make all kinds of amazing things using antique and vintage license plates. Artists can make maps, flower boxes, lampshades, coat racks, birdhouses, and countless other kinds of folk art.
The average vintage license plate sitting around your house is more likely to be worth $10 to $50 than half a million, though. A set of matching plates generally goes for more than the price of two individual plates. The great news is that the money in your pocket revs up quickly as these vintage license plates start falling out of the woodwork once your eyes are primed to see them. Selling them also keeps them out of a landfill.
Good for collectors, good for the environment.
Do you have questions about your antiques and collectibles? Got some great stuff including vintage license plates that you would like to sell? Contact us today!
Getting good info from our site? Like us on Facebook and Follow us on Twitter, too. And tell some friends!
And don't forget to check out our Orion's Attic eBay store!