Ask The Attic: What's My Vintage IBM Keyboard Worth?
Click your way to some sweet cash with your old IBM keyboards.
A very nice woman called us a while back and said she would like to part with a collection of vintage IBM keyboards.
"Would you like to buy them?" she asked.
"Umm, I'm afraid that's not the right project for us," I said, intuitively — and as gently as I could.
"I think it might be worth your time," she said, humbly. "My husband was a pretty serious collector, and he bought good boards. Why don't you come take a look?"
"Ok," I said, still skeptical.
It's hard for a well-reared Southern man like myself to say no to a woman in need of help.
The junk gods rewarded me with a quick and surprisingly good lesson in answering the question "What is my vintage IBM keyboard worth?"
First I had to shut my jaw. I wasn't aware that collecting vintage IBM keyboards was a thing. Turned out it was and is. Her husband had a great many of them on display in a special room, and many more lined up nicely in a storage area.
Actual eBay sold prices (not the asking price you land on when you first visit the site) made it clear that a number of other people apparently love to buy old IBM keyboards that most people just toss into an electronics recycling bin at their local landfill, or, worse, throw in the trash. (PLEASE don't ever throw electronics in the trash.)
The size of the collection was amazing.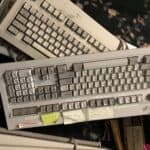 There may well be value there, I thought, but I had no idea of how long it would take to find buyers. (Neither eBay nor the American Pickers ever tell you how hard it can be, and how long it can take, to find buyers for some items — or that a lot of things just don't sell. No need for you to contact us to buy your china cabinets, limited edition prints, or your Hummels unless you have the truly exceptional ones).
I certainly didn't have enough knowledge or confidence to make an offer to buy the collection.
My Orion's Attic co-owner wife Won-ok and I chewed the fat for a bit and offered to try the project on consignment and see how it went — with no guarantees that all the keyboards would sell. That solved the nice woman's problem of at least getting them out of the house.
The first batch of vintage IBM keyboards sold like hotcakes. IBM Keyboard Model M 1397681 SSK sold for more than $200. So did Model M 1378207. Buyers from across the country contacted us and asked how quickly we could list more keyboards in our eBay store. We cranked out the listings, putting fixed prices on the boards for which we could determine a fair price — and putting the rest in an auction format with a minimum opening bid requirement that would still make the boards worth the time to sell.
Five more flew out the door. Then another seven. Then another big batch.
Buyers wrote rave reviews with their eBay customer feedback and wrote us notes telling us that our descriptions were accurate. Won-ok, bless her heart, had spent a ton of time testing each vintage IBM keyboard before we put it up for sale.
We engaged a number of buyers in conversation, the way we so often do, so that we could learn more about their collecting passion. They explained that the older boards make a wonderful clicky sound — and that both the sound, design and function are superior to keyboards made today. They said that they use some of the keyboards they buy but they designate most for display only. Some of the buyers told us they needed certain models to complete a certain element of their collections.
Fantastic for us and our client.
Model F industrial (83-key XT) sold for nearly $400. Model M 1392464 Space Saver SSK DisplayWrite shot past $425.
A number of the keyboard did sell for about $100, but most went for more — leading to the big finale. We listed the IBM Industrial Gray Model M 1390653 J1 1985 in action format. Buyers went nuts. The hammer price topped $600!
The next time someone asks us, "What's my vintage IBM keyboard worth?", we'll be happy to tell them that the answer is, "More than you might guess."
Do you have questions about your antiques and collectibles? Got some great stuff that you would like to sell? Contact us today!
Getting good info from our site? Like us on Facebook and Follow us on Twitter, too. And tell some friends!