Ask The Attic: What Are My Rare Books Worth?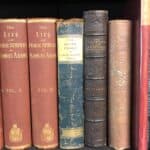 My friend Anna Novak at Home Transition Pros asked me if I cared to share a few nuggets of knowledge about how to sell rare books with her clients. I'm a rare book collector myself — writing this piece in my formal library, surrounded by rare books on the American Revolution, Henry David Thoreau and nature — but the news is not often great for people trying to sell.  Especially when you need to sell a huge collection. While I could write, well, a novel on this subject, here are the top tips you need to know about selling your collection of antique and rare books.
We certainly handle large collections of all kinds of books — both old and modern, so do contact us today if you own or have inherited a large book collection in the greater Washington D.C., Maryland, Virginia area. We  provide appraisal services for personal property including all kinds of antiques, collectibles and household items. We also provide full estate liquidation services — and we're out buying cool stuff every day!