Posts Tagged 'Silver Spring'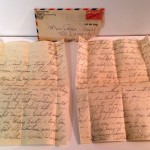 U.S. Army Private First Class Bill McMullen wrote this passionate love letter to his wife on April 12, 1946 from Heilbronn, Germany as he was preparing to return home after World War II — a letter that is now in our Orion's Attic eBay store. Heilbronn, of course, was home to the salt mines where the Nazis stored art and artifacts. In 1944, Allied bombing raids targeted the city — destroying much of it and killing some 6,500 residents. The U.S. Army occupied the city on April 12, 1945, a year to the day before McMullen wrote this letter. Presumably, he took part in the victorious effort. Either that or he arrived just afterward. Unfortunately, we weren't able to find any other letters, memorabilia or information when we found this letter.
One of the highlights of the letter McMullen mentioning that his troops were "still busy with the discharges here at the prison cage." The POW "cage" was the common area where POWs could mingle during the duty day, as opposed to their usual cells, I learned upon consultation with my Army veteran uncle. My uncle added that the return address information indicates that McMullen belonged to D Battery of the 486th Anti-Aircraft Artillery Regiment.  His battalion was the Automatic Weapons type of AAA, which meant either quad-mounted 50-cal machineguns (usually on the back of a 2 1/2 ton truck), or a single-mount 40mm Bofors (the kind of gun you see all the time on WWII footage of US Navy ships in twin or quadruple mounts, with the cone-shaped muzzle- blast hiders).
McMullen missed his wife terribly and was, like all of our soldiers, counting the days until he could return home. "My dearest, dearest, very lovely, adorable, precious, courageous, darling wife," he says in his greeting to open the letter, which is written with now old-fashioned cursive penmanship. The private wishes his wife a happy Easter, noting that his was a happy one because he knew they would soon be together. He expresses gratitude for the letters she wrote him. He also shares that it's warm and beautiful in Heilbronn at the time of his writing.
Do you have cool stuff to sell or need an estate liquidation? Orion's Attic would love to hear from you. Contact us today. We serve the greater District of Columbia, Maryland and Northern Virginia (NOVA) area and beyond!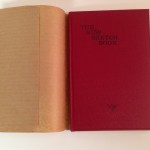 "The New Sketch Book: An Anthology of Voices" by Vermont poet Ella Warner Fisher published by The Excelsior Press in Shelburne, Vermont is the next of a number of extraordinary books by Vermont authors in the first half of the 20th century that we discovered recently. See this book and others in our OrionsAttic eBay store and stay tuned for more. We were astonished not only to find the books here in Maryland but that the books are written with exceptional skill and are in equally excellent condition. We found the books in the bottom of a box we bought at an auction in Morganza, Maryland.
We haven't yet been able to learn much about Fisher, who also authored "Idylls of Champlain," "Green Mountain Echoes," and "Castles of Memory." She identifies herself as a "Writer of Magazine and newspaper verse." This book is "Dedicated to my townspeople and all students of human nature." Fisher includes an explanatory note that states, "Some of the sketches in the following pages are a memorial to those who lived, loved and died before us, inscribed 'lest we forget.' The others are purely fictitious, samples of human nature, with no reference to, or reflection on any person, living or dead."
The 85 pages of the book are filled with poems in the voices of a wide range of people. The opening poem on page 7 sets the tone for the rich work that follows. Entitled "Voices," it reads in part:
The valleys are full of voices,
Each with its own appeal,
Vibrating in field and woodland,
Arising from brick and steel.
Wave on wave intoning
Out of the everywhere,
Caught in the meshes of wireless,
Vibrant on the air.
Waiting voices that whimper
With life's unending pain,
Fainting hearts who are longing
A measure of peace to gain.
Clatter of empty voices
Having nothing to say,
Chattering always of nothing
And always on display.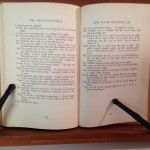 Other "voices" represent perspectives including that of a man who fought in the American Revolution (Fisher herself appears to have descended from such a man), an old engineer, the founder of a church, an old schoolmaster, and many, many more. You'll find that Fisher's works are recapturing public attention as people are beginning to reprint them.
Do you have cool stuff to sell or need an estate liquidation? Orion's Attic would love to hear from you. Contact us today. We serve the greater District of Columbia, Maryland and Northern Virginia (NOVA) area and beyond!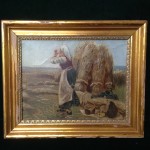 We've just added five great pieces of art to our new-look Orion's Attic eBay store. Peruse a range of pieces from a harvest scene to a American Revolution navy battle. Highlights include:
Harvest scene of woman calling out — oil on canvas, signed, late 1800s to early 1900s: We love this piece and have been lucky to find a number of excellent paintings lately. This one leaves us with more questions than answers, makes us want to transport ourselves into the scene to figure out with certainty what's happening. There is so much drama in this petite work that measures 11.5 inches wide by 9.5 inches tall to the outside of the frame. At the most basic level, this painting features a harvest scene of a woman standing next to a wheat stack. She is cupping her hands and calling out — but to whom and for what? Is she calling out for help? Is something wrong? Is she calling family or other workers and field hands to let them know it's time for a lunch break? A disorderly picnic sits on the ground behind her. A drink is spilled on its side. And what or who exactly is the blue clump at the right side of the wheat stack? Is that simply a coat or a garment strewn on to the ground? Is it a soldier's jacket? Is it a person or a soldier who has fallen over?
The piece is signed but we have tried our best to make out the artist's name and learn more about him or her to no avail. Our research indicates the piece is likely from the late 1800s to early 1900s. The style suggests that it's European, possibly French. The label on the back says the piece was framed by Ferdinand Rotten of Baltimore, Maryland. Our research indicates the company was born in the 1930s as a framing company and later evolved into selling art. It very likely could have framed a late 19th century or early 20th century piece.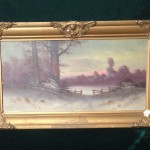 Winter scene in woods by lake – oil on canvas, unsigned: We were drawn to this antique oil on canvas painting the moment we spotted it. The winter landscape places you as the viewer at a turn around the bend, in the snow, with large old trees to your left and the hint of a lake up ahead. There are some kind of prints in front of you — made by a human traveler or perhaps an animal. A pinkish haze rests in the horizon above the distant trees ahead. The painting fills you with a sense of calm. It's a shame that the piece is unsigned as it was clearly done by a skilled hand, likely sometime between 1890-1920. The style of the piece suggests it's American. The gilt frame is nice, too, even with its flaws. The painting belonged to the mother of the man in Alexandria, Virginia that we obtained it from and he doesn't know where she got it but said it had been in the family a long time.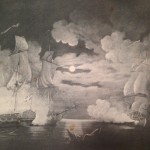 Battle between the Bon Homme Richard and the Serapis print — early 1900s: Continental Navy Commodore John Paul Jones and his crew are fighting what appears to be a losing battle in September of 1779 against the HMS Serapis, whose captain — Robert Pearson —  orders them to surrender.
Jones will have none of it.
"I have not begun to fight!" he declares, launching a bold counter attack in which he and his men ram the Serapis, hook their ship to it, board it and assault the ship with musket fire and hand grenades. Jones ultimately captures the Serapis – embarrassing the British navy and adding to Jones' legendary status as one of the great early leaders of the U.S. Navy.
American painter Thomas Birch was only born the year the famous battle took place but he would become America's first great ship portraitist. Though some of his most famous works depict naval battles during The War of 1812, his original painting of the Bon Homme Richard battle must have been a beauty. The piece made such an impression that Philadelphia's Frank G. Stewart of 226 S. Eleventh Street included it in a series of prints published in the early 1900s. Our black and white print is an original of that series and our research indicates this was copyrighted in 1907. The piece measures 19 wide by 13 inches tall.
Entitled "The battle between the 'Bon Homme Richard' Com. John Paul Jones of the Continental Navy and 'The Serapis' Capt. Robert Pearson of the British Navy September 22nd 1779," it's an attractive piece that becomes even more engaging when viewed beneath a magnifying glass. The Union Jack on the Serapis displays nicely as do the cannon blasts coming from both ships – the smoke appearing in brilliant white plumes thanks to the full moon above.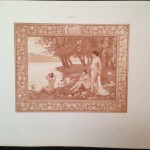 Juillet – original half-tone print by Albert Aublet, 1893: Who doesn't love naked Victorian women? Put three of three of them next to a lake in an antique print and you get to call it art – as is the case with this original half-tone print by Albert Aublet, a French artist known for his turn-of-the-century nudes. Depending on how you look at it, this piece is either a conversation starter or an, um engine starter. The title of the print appears in the top center: Juillet. The image is sort of brown and cream in tones and is at the center of what feels like a heavy piece of paper/light sheet of cardboard. The artist's last name appears above the image. The printed English word "July" appears below it. In tiny print in the right corner of the document are the words "Salon de 1893″.
Jewish rabbi, oil on canvas painting, signed, modern: This striking oil on canvas painting of a Jewish rabbi stands 17.5 inches tall by 15.5 inches wide to the outside edges of the frame. The inner image is 9.5 inches tall by 7.5 inches tall. We bought the piece from an elderly Jewish woman but she did not remember exactly when or where she first obtained it. It appears to be signed by a J Tuller or J Fuller. The signature appears to be from a pen rather than a brush. The painting itself looks like an oil on canvas to me but could possibly also be pen and ink. The wood of the frame notes in Spanish on the book that the frame was made in Mexico but the seller did buy the piece in the U.S., possibly here in the Maryland/DC/Virginia area.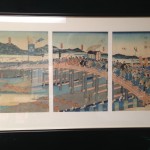 Antique Japanese woodblock triptych print by Utagawa Yoshimori: We have a very interesting Japanese triptych by artist (Utagawa) Yoshimori that measures 36.5 inches wide and 20.75 inches tall to the outside edges of the frame. According to our research, his real name was Yoshmori Taguchi. He was a student of Utagawa Kuniyoshi, a major Japanese woodblock artist. The chop marks and signatures look right. We did find a few copies of it under different titles, like Shogun Visits Kyoto and The Procession of Lord Yoritomo, Minister of the Right, on the Way to Kyoto. It just depends on who did the translating of the marks. It's one of a number of triptychs Yoshimori did. The original was produced around1862-1863. Could this be that old? It's possible. The marks on ours match the same one as the copy at a Boston museum. It may be more likely this print is from the late 1800s or very early 1900s at the latest. As you look around the Web, you may find a copy of this print on a British site that's asking the equivalent of about $2,400. We're asking $1,395 for this one.
Find tons of other treasures on our eBay store, too. Do you have great stuff to sell? Need an estate sale, estate liquidation or simply need to downsize and de-clutter? Orion's Attic is here to help. Learn more about us and contact us at OrionsAttic.com today!
There are a lot of simple ways to save money at Orion's Attic estate sales. We have compiled our favorite eight tips and share them with you here, one at a time. We'll publish the list as a whole when we're done so you can pin these reminders to your fridge and save some bucks the next time you join us at an estate sale in Northern Virginia, Maryland or Washington D.C. Here's Tip No. 6.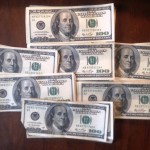 6. Pay cash. Most hard-core estate sale shoppers arrive with lots of greenbacks. This is a good move for more reasons than meet the eye but let's start with the obvious. Our bank charges us a 3- percent fee on credit card transactions. We tell every shopper that we have to pass that fee on to them because we can't take it out of the commission Orion's Attic receives from the sale and we can't take it out of the pockets of our clients. If you buy $500 worth of great finds, that saves you $15. (Writing a check isn't often an option because we rarely take checks from buyers we don't know.) A buyer at our Falls Church VA estate sale bought a huge pile of jewelry and avoided the fee.
She also earned a discount because there is also a psychological element, the "cash is king" notion, to using paper money that still doesn't make sense even to us. There is something powerfully persuasive about someone offering to pay cash versus using a credit card. If we have a nice antique priced at $1,000 and someone pulls out $950 cash, even we tend to accept the offer rather than charging the buyer the full $1,000 plus the credit card fee. We know that we would be better off taking the credit card payment but the sight of a stack of green bills makes us salivate like Pavlov's dogs.
It works for us as buyers, too. When we go out picking, Ben Franklin does all the talking.
Sign up for our e-newsletter today to find out about our future estate sales, special events and offers. Look for the "Subscribe" option on the top of our home page.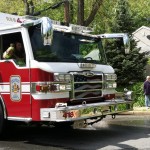 The second day of our latest Falls Church estate sale opened with a rush of shoppers seizing Sunday bargains. The house was packed with Orion's Attic fans. People were calling for help from all directions. One voice, though, was louder and more stern than the others.
"Excuse me," he said. "I think you have a gas leak in the kitchen."
I raced to the kitchen and caught a nose hair-turning whiff of gas coming from the stove area. I wheeled around 360 degrees to make sure no one in the vicinity was smoking, called 9-1-1 and gave the dispatcher the low-down. She told me to evacuate everyone from the home immediately and close all the windows and doors to make it easier for the fire company to detect and stop the source of the leak. I actually heard sirens by the time we hung up.
"Everyone, get out of the house!," I screamed at the top of my lungs. "We have a gas leak. Get out of the house now!"
There was a moment of deafening silence as all activity throughout the house and front and back yards ceased. People looked at me as if I were an alien that had just landed in the living room.
"Everybody, there is a gas leak. Fire trucks are on the way. Get out!"
Shoppers overcame their tape-delayed response to the message, made for the exits and crossed the street. All but one person, that is. I walked past the pay station on my own way out. A large, muscular gentleman was about to pay for a pair of $20 pots. "Sir," I said, harshly, "you've got to leave the yard right now."
"But I want those pots," he exclaimed. "I need to buy those pots."
Fury ignited inside me.
"Sir," I said, "these pots are not worth dying over."
The man STILL didn't move toward the gate. I grabbed him by the shoulders, using his shirt to yank him away from his pots and drag the much bigger man toward the gate. I didn't let him go until we were both well clear of the property.
The first of several Fairfax County fire trucks arrived. Burly men and a petite blonde woman in full gear marched into the home with all kinds of gadgets and tools. They spread across the home with eye-catching precision, like a marching band stepping to a beat only they could hear. The firefighters were clearly ready for anything.
One very polite firefighter later told me they did in fact find a leak at the stove, would shut off the gas to the house, and to stay clear until they were done.
I breathed a huge sigh of relief. Then I looked up and saw that a very large crowd of our estate sale shoppers were standing across the street, waiting patiently to return to the event. That's a loyal clientele right there, I thought.
Firefighters gave us permission to return. The sale hit full swing in a flash. The firetrucks may have inadvertently drawn an even bigger crowd; Neighbors coming out to check out the commotion came on in and joined the buying frenzy — gobbling up crystal, oil on canvas paintings, decorative art, the few remaining pieces of a large ladies' wristwatch collection and all kinds of other things. I lost track of the man who was willing to give his life for the pair of pots.
The lightened mood didn't last long.
"Excuse me," someone said. "Your bathroom is flooding."
I ran to the bathroom and saw enough water flowing out of the toilet that I was thankful I had started taking swimming lessons. It looked like the toilet had cracked but there was so much, um, stuff, coming out of the john that I couldn't get that close to see it any better. I turned off the water valve and started cleaning that mess, calling Realtor Jamie Wheeler of the Wheeler Team for the second time in a day. I've never had to call a client or real estate agent during a sale, ever, let alone twice.
Won-ok Kim and our staff kept on selling why I cleaned up the mess. This house had already provided plenty more adventure than our typical job offers. The junk removal service we provided before the sale dealt more bumps and bruises than usual. I cut a nice hole into my arm when I got bitten by a broken bottle. The beautiful yet tiny size of the house also turned out to be deceiving. Once we began tugging loose the trash and non-sellable items, tons of them sprang forward. Spandex houses, we call this type of project.
The problem turned out to be just an issue of a shopper putting too much into the toilet but I still cursed under my breath a bit, wondering what was going to go wrong next.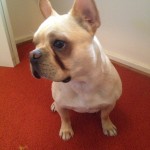 My answer came on four legs, a small pug-like dog flying down the street, turning left and dashing into the yard as if he needed to make an estate sale purchase. The amiable youngster had no collar to identify him or his owner. I again turned my attention from the sale and focused on corralling the dog. I am a huge dog lover. Our company is named after my first dog. We support House With A Heart Senior Pet Sanctuary. I was not about to let this dog get hurt on my watch and figured an owner would think of going to the center of activity on the block to ask for him.  One of our staffers used a little pizza crust to lure the pup into a small room, moved the merchandise out of there, gave the dog some water … and made a third call to the Wheeler Team. I checked on the dog periodically and shot enough photos to start a multimedia campaign if needed. I was thrilled when the boyfriend of a shopper from the previous day arrived and asked if we had seen a stray dog. He thanked us profusely for the rescue and bought a great wet bar in the process.
I wasn't about to risk wondering anything after the pooch left. The sale was scheduled to end at 4 p.m. but people were still in the house spending good money. I'd far rather sell something at a deep discount on a Sunday than spend the time and labor cost moving it to one of our retail stores on Monday so I let the sale keep going while two of our crew drove around retrieving our bright yellow signs.
It took us three hours longer than usual to break down and clean up but that didn't surprise me. Of course that house would take triple the time. On the plus side, we had exceeded the executor's expectations for the sale and met the new owners of the home. They had turned up at the sale and bought several pieces of furniture. We don't normally get to meet the next owners of a home we serve but this house sold in one day.
The Orion's Attic team left knowing TWO families were happy with our work, not to mention all the shoppers who thanked us for the way we treated them during the sale.  Gas leaks, floods and stray dogs just aren't enough to keep Orion's Attic down.