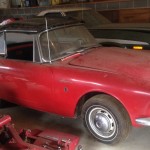 Make plans now to attend one gigantic estate sale on April 26-27, 2014 from 9 a.m. to 4 p.m. in Bowie, Maryland. This estate sale features a house and a barn that are packed with tools, furniture, classic cars and collectibles. (Address to be posted here the day before the sale. No early birds allowed. Early arrivers will receive numbers for entry.) You can also find more details and updates on our Web site at www.orionsattic.com. Be sure to check out all the videos we're posting on our YouTube channel at www.youtube.com/OrionsAtticTV. For still photos, find more than 500 photos on our Facebook page.
Highlights of this sale include:
Classic Cars: Buy three hard-to-find cars – a 1963 Sunbeam Alpine, Series III (B92), 1958 Studebaker Silver Hawk (58G) and 1973 Ford Ranchero GT. These three are restoration projects as the cars do not run now. The sale also includes part of another Alpine along with a pair of a scrap metal or parts projects — a Ford dump truck and an old tractor. See all kinds of photos and lengthy details on each car on our Facebook photo album dedicated to the vehicles. There are also lots of auto parts for various vintage vehicles including Sunbeam and Ford.
Tools: You could start a business or stock a couple of garages with all the tools we have waiting for you. The house and barn include a fully loaded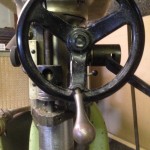 precision machine shop with American-made high-end tools, tons of other tools and all kinds of auto parts. We've even got some antique horse carriage parts!  A partial list of the bounty you'll find includes: Bridgeport M-Head Milling Machine plus parts (Bridgeport J Head available), Collets, Chucks and End Mills (American and German), Boring Heads, Precision Gage Sets, Micrometers, Calipers, Parallels, Clamps, Indexing Head, Small Lathe Chucks for milling machine (no stand-alone lathe), Delta Vertical Band Saw, Peerless Power Hacksaw, Bench Grinder, Variable Speed Drill Press (tabletop), Block and Tackle with Trolley, Weldon Relieving Fixture and Sub Bases, Rotary Tables, Made in USA tools, Hand Tools, Power Tools, Industrial Drawers (many), Hamilton Drafting Desk, Bridgeport, Starrett, Albrecht, Wheldon, Wohlhaupter, Craftsman, Delta, Rockwell, Hardinge, Equipto, Hamilton, Hoke, Yard tools plus countless hammers, wrenches, screwdrivers, chainsaws, woodworking tools, tool chests and so, so much more. View 150 tools photos on our tools photo album on Facebook.
Antique and Vintage Cameras: Antique Kodak cameras (including Brownies), Voitlander (bellows) camera, movie and slide projectors, brass lenses, 1930's Surveyor K&E Transit in box, surveyor telescope, Polaroid
Cobalt Blue Glass: Peruse more than 100 pieces of blue glass in a room drenches in natural light including milk bottles, Carnival glass, cruets, goblets, plates, bowls, fruit jars, oil lamps and more.
Animal figurines: 150-plus elephant figurines plus elephant-themed jewelry, more than 100 frog figurines made of sterling, bronze, brass, glass, porcelain, celluloid, etc, flocks of birds, pods of dolphins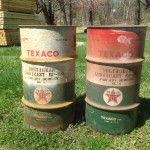 Advertising: Texaco lubricant barrels, U.S. Post Office lighted sign, John Wayne Coors Beer cardboard cutout, tin dual-sided Pepsi sign, Killians Irish Red plastic sign.
Funky miscellaneous stuff: Pair of vintage life-sized wood mannequins, stop light, Bumps in the Road sign, Airline guitar, napkin ring collection, pottery, a bit of architectural salvage including vintage garage doors and trophies, china, kitchenware, old clocks, stamps, old quilts
Dolls: Gone With The Wind Dolls including Scarlett, Rhett, Ashley and Mammy; composite dolls, Cabbage Patch Kids, Native American and international dolls, angels, bawdy woman, collectible porcelain dolls and more.
Jewelry and Vintage Women's Clothing: Tons of costume and vintage jewelry including some sterling silver and gold, necklaces, bracelets, pins, rings, earrings, chokers and more. We've also got buckets of jewelry with bird and gardening themes. We've got hats and some great pants, jackets, beaded dresses, headbands and vests.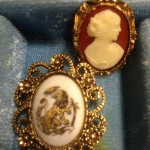 Furniture: A whole house of Mid Century furniture including dining table and chairs, china cabinet, buffets, servers, side tables, end tables, coffee tables, beds, dressers, night stands, rocking chairs, book shelves and patio furniture. Antique furniture includes a secretary, side table, chairs and more.
Vintage magazines and comic books: More than 100 Life magazines from the 1960s and 1970s with covers including Raquel Welch, Muhammad Ali, Jacqueline Kennedy, Richard Nixon, Joe Namath and others; 40-plus Look magazines; Popular Mechanics magazines from the 1970s; old Liberty magazines; Puck magazines; Mad magazines; comics including Betty, Cheryl Blossom, Dick Tracy, Yogi Bear, Yosemite Sam, Tweety and Sylvester, Star Wars, Hercules, Star Trek, Daffy Duck, The Jetsons, Chip 'n' Dale, Batman, Daniel Boone, Tom and Jerry, Life With Archie, Buster Crabbe, Flash Gordon, Popeye, Smokey Bear.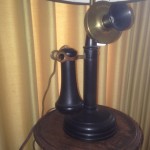 Lamps: Great assortment of lamps including pottery jug lamps, a telephone lamp that turns on when you lift up the receiver, figural lamps, oil lamps, banquet lamps, hanging lamps including a pool hall-themed lamp, Meissen-style lamp, lanterns, decorative lamps and scads of lamp shades.
Art: Large plaster sculptures, statues, oil on canvas and oil on board paintings, watercolors, several very cool framed NASA photos, inexpensive wall art.
China/Glass/Pottery: Stoneware, pottery, blue willow serving platter, dinnerware sets by Haviland and Mikasa, mid-century decorative glass, lead crystal stemware, colored glass, cruet collection
Who knows what else we'll find. We will post more info here as it becomes available.  Sign up for our e-newsletter, too, by visiting our Web site.
Want to see videos of some of the best parts of the house? Check these out. We'll add more soon: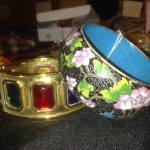 I hit the ground running on a recent morning, knocking out a little marketing from the ol' home office and then dashing across the Maryland line to a moving sale in Northwest, D.C. I was excited, my picking engines roaring and my pockets full of cash. The family running the sale had announced it on a neighborhood list serve — hyped it up good and said only people from the neighborhood would be allowed in on the first day. Awesome.
The fact that I am almost always wrong about what I think I'll find on a buying run — how good or bad it will be — had already faded from my mind. This had to be a good sale, right?
I make it through the door first. The place was a mess. It looked like a pack of kindergartners who hadn't eaten in a week had ravaged the place. "I'm sorry. We're not quite prepared like we hoped," the homeowner says, in a whopping understatement.
No problem, I think. I find the best stuff in the biggest messes. The more shambalized the house, the better deals I usually get, too. I go straight for my main target of the morning: I ask if she had any jewelry for sale. I tell her we buy everything from cheap costume jewelry to the good stuff. She calls her daughter down with a bag for me to look at while I try not to break my neck tripping over all the stuff scattered on the floors. The bag doesn't have any great treasures but it is full of the basic vintage jewelry that always does well for us. I pop n that for $22 and keep on looking.
I spot a Mid-Century modern Danish dining table that had seen better days. I email photos to a staffer who specializes in that area. She gives me the skinny and tells me the max we could sell it for. The seller's price isn't unreasonable but I d don't know if I feel like returning with our truck and then paying to re-finish the table before we can put it on the market. I ask if I could look around the rest of the house, if it was all for sale. The homeowner tells me to feel free to look everywhere and ask her for prices on anything I find interesting. The family hadn't bothered to try to price a single item, which only causes chaos at sales. It's inefficiency at its finest.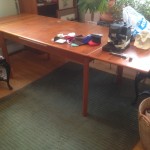 I go upstairs and see some decent bedroom furniture. I open the drawers to examine the construction and to see if there was anything inside the dressers I wanted to buy. I find more jewelry and start laying it out neatly, figuring the woman would come up eventually and I could ask her to price it for me. She comes up, alright. She comes up and starts screaming at me, telling me she can't believe I have opened drawers.
"Ma'am," I say, resorting to a slow-drawl Southern opening I sometimes use when I'm trying to keep from going off like a bottle rocket, "You told me to feel free to look around and ask for prices. When you tell people to look around, we're going to look around."
She huffs and puffs and I head back downstairs. Her husband passes me on the way up and makes some jerkish comment that again forces me to bite my tongue.
I decide to pass on the table as I had consumed my fill of that family for the day. I split and make at pit stop to visit my friendly CPA Carlos at ZP Tax. I return home, wolf down lunch while catching a back episode of Revolution on the tube, then head up to another appointment that I think will be a great one. Never mind the overwhelming fact that I am almost always wrong. Why do I even allow myself to have expectations? I enter that apartment in an upscale high-rise and see … an empty apartment with only a few piles of items that have no value to a dealer, and one cool Mid-Century chair. The owners tell me the chair is not for sale.
They're very nice people but there's nothing I can do there. I explain politely what the items look like through a dealer's eyes and suggest they contact A Wider Circle to donate the china and dishes. That Silver Spring nonprofit does great things to lift people out of poverty. I do offer to at least buy a few vintage cameras as I can always find buyers for those. I'm anxious to move on as pickers can't afford to spend time in places where there's nothing to pick.
I show myself out and race toward the elevator. I bump into a tall well-dressed man exiting an apartment a few doors down. We were deep in conversation by the time we reached the lobby floor. He saw my Orion's Attic hoodie, one of the best conversation starters I own. Turns out he's a Realtor and the apartment he was helping his client with had what he thought was some good stuff in it. He asks if I would mind taking a look.
I'm already here, I think. No harm in that.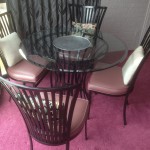 He opens the door. His client doesn't have good stuff. She has great stuff. I get blinded for a second, maybe from the quality of the furnishings in front of me but more likely from the sun that is coming through the sliding glass doors.
I have to do a triple-take to let it all sink in. I see stunning modern dining and breakfast tables in thick glass, one with a marble base and the other held together like a basket by black metal rods. Gorgeous. The art is more breathtaking … paintings that screamed, "I was done by a pro!" … sculptures and what looked like bronze pieces but made from perhaps paper mache .
"The homeowner is an artist," he tells me. "She did all these."
Holy smokes! Everything still remaining in the house is stunning. I notice a backgammon set that I know people would buy even if they don't know what backgammon is. It is just that nifty.
I suggest several ways Orion's Attic could help his client but tell him I need to do some research. I thank him for the honor of even letting me view that home. It's a thrill for me to see things like that, stuff I could see nowhere else other than in my line of work when I get the chance to enter people's homes. I am pumped just from the opportunity to see it, let alone the prospect of selling it.
We talk for a while on the way out. Turns out we have a lot in common. I'm on my third career, working harder than I've ever worked before but loving it. He's on his fourth career, loving his, too.
I drive home reveling in my consistency, that I'm always wrong about what I think I'll see at each stop I make. It's the excitement that comes with my wrongness that makes this job so right!
Need an estate liquidator or estate sale company in Maryland, Washington D.C. or Northern Virginia? Contact us today!
On behalf of our entire team here at your favorite anti-snotty estate sale firm, we would like to thank everyone who made last weekend's McLean VA estate sale a tremendous success.  We miss you already. Turnout was massive and our client is thrilled that you all cleared his house for him!
At the risk of cuing up Academy Awards music, we would especially like to thank the exceptionally patient people who arrived long before the sale started, got numbers and waited in line to get in. We would like to thank the people who packed the jewelry room and made all that glitters disappear — and the great Fairfax County police officers who protected it. We thank the shoppers who took time to teach us something about items we were not that familiar with. We thank all the people who attended both days and brought family and friends the second day. And how about the amazing parents who brought their even more amazing kids and taught them lessons about bargaining, history and more! [We're getting escorted away from the microphone now.] Thanks to all the new people who signed up for this newsletter …
Need an estate sale in Northern Virginia, Washington D.C. or Maryland? We're here to help. Contact Orion's Attic today.
You can also keep up with us on our Facebook page.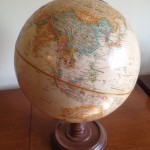 Take a trip around the world without ever dusting off your passport at our March 8-9 2014 estate sale in McLean, Virginia from 9 a.m. to 4 p.m. The owners of the home spent much of their careers overseas collecting a dazzling array of exquisite furnishings, men's and women's jewelry and watches, china, decorative arts, sterling silver flatware, clocks, art, rugs, decorative glass and porcelain, figurines and so much more. You'll find the handiwork of craftspeople from all over Asia, Europe and the Middle East, with hints of Africa and some good old fashioned U.S.A. Doors open sharply at 9 a.m. No early birds allowed but numbers will be handed out to early arrivers on a first-come, first-serve basis. [Address will be posted here on March 7.]
Stay tuned to this post for updated details as the week progresses but initial highlights include the following. See our Facebook photo album for more than 500 photos.
Jewelry: A bounty of men's vintage jewelry including designer cufflinks (some sterling silver), tie pins, tie bars, watches; Women's fine jewelry including gold, silver and gemstone such as emerald and ruby – and vintage costume jewelry including rhinestones, mother of pearl, and Siam jewelry (Thailand), featuring rings, necklaces, earrings, brooches, pendants and more; 14K ladies watch by Glycine; vintage Swiss-made wristwatches and pocket watches by American Waltham, Hamilton, Elgin, Omega, Movado, etc. There may also be a rare 150-year-old Vacheron Constantin pocket watch missing one jewel and key and needing repair (first day price of $1,300 if owner decides to include it in sale).
Decorative arts: Asian lacquered wood panels and screens, hand-carved antique ivory from the Congo, Japanese cork art, Lladro figurines.
Furniture: Vietnamese lacquer cabinet (signed), hand-carved chairs with mother of pearl inlay (Vietnam), Mid Century gate leg desk with sliding compartment top, American-made furniture including solid mahogany dining table and chairs, china cabinet, server, secretary desk, leather chair, camel stool, beds, end tables, coffee tables and couches
Lamps: Murano (Italy), Sherbinn (U.S.), and porcelain vase lamps with enamel.
Sterling silver dishes and flatware: Several makers and patterns from England including Towle (Tumbler Rose pattern), Sheffield, Fisher, Reed & Barton, Wallace & Sons, etc.
Coins: Gold coins from Austria, Iran, Italy, France, and U.S., Pottery: Delft (Holland), vases from Spain
Vintage Cameras: Olympus OM 4T, Yashica 44, Nettar, Kowa SET,
Clothing: Vintage handbags and clothes (size M), women's traditional garments from Vietnam, Japan and other places
China/porcelain: Wedgwood (England), Haviland Limoges (France), Lenox, Empress Garden (Japan), Christian Dior Gaudron Malachite (Japan), Nippon, hand-painted goblet by Dresden (Germany), Aynsley (England) and several pieces of 'Bleu De Hue' china (Vietnam)
Glass/pottery: Waterford vase, Cloisonné with dragons (China), Pedros Alcobaca vase (Portugal), Murano Guerrieri trinket box, Delft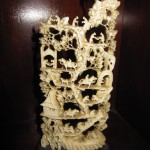 Books: Set of French-language books bound in Moroccan leather about subjects including culture and history of Vietnam, Buddhism and more; pair of leather-bound books from 1882 – "Illustrations of Dissections in a Series of Original Colored Plates, modern books on wide range of subjects.
Home décor: Carved figurines in faux ivory, bakelite, celluloid, and so on; French Ormolu Mantel Clock (circa 19c)
Rugs: Hand-made rugs in various sizes from multiple countries.
Vintage board games: Blacks and Whites by Psychology Today, Foil, and more.
Misc.: Vintage Christmas ornaments, de Uberti (Italy) cup, Kings Arms Trivet (1953), Vintage Steamer Trunk by National Vulcanized Fibre Company.
Want to get the jump on special deals we offer to our loyal shoppers? Sign up for our e-newsletter and Follow us on Facebook. Need an estate sale yourself or know someone who does? We would love to hear from you. Contact us today.
The estate sale we're hosting from 9 a.m. to 4 p.m. is packed with so many vintage treasures that you'd think Santa Claus himself stepped out of the 1960s and 70s to organize it. [Stay tuned to this post for the address the day before the event.] The sale will give you a chance to take a sneak peak at a 1970 Cadillac convertible and a 2005 Cadillac that will be for sale after title issues are handled. You will be able to go ahead and fill a sled or two with vintage items including the following. See more than 600 photos on our Facebook page at www.facebook.com/orionsattic
Toys: Lionel post-war O-gauge (O scale) trains, mostly from 1950's and 1960's, including locomotive engines, boxcars, passenger cars, flat cars, cabooses – many with original boxes. Owner also built a large o-gauge train track layout (about 12 by 4 feet – refer to the photos), which is also for sale as a set including tracks and switches, transformers, controls, etc. ; 1960s Tonka vehicles with boxes; Buddy L fire trucks; Japanese tin toys; Rapco miniature soldier molds plus more than 70 metal soldiers; Magic Action Bulldozer; 1966 Bonneville Convertible model kit and 1962 Customizing kit; Hubley planes, pachinko machine, Vintage 1931 Rolls Royce AM radio car, Anson Diecast car Model 1932 Cadillac V16 Phaeton Convertible K, Danbury 1/24 Diecast Model 1959 Cadillac Eldorado Biarritz Limited Edition, Road Legends 1949 Cadillac Coupe de Ville, Leadworks 1950′s Skyblue Cadillac Friction tin toy car made in Japan.
Political, historical and military memorabilia and ephemera: Signed John F. Kennedy photograph, JFK photos, magazines and campaign stickers;  vice presidential autographs, B-2 gas ration card, countless official Navy photos of battleships from World War II.
Cameras & Video: Rolleiflex 3.5f Xenotar TLR Type 3 with accessories and literature; Polaroid SX-70; Wollensak 8 mm movie camera; Eumig Super 8 with boom microphone; Nikon N-70; Nikon Super Zoom 8; Rolleiflex 35 mm; Vivitar flashes, tripods, various telephoto lenses; Kodak Instamatic M 95; Kodak Carousel  750.
Advertising: Coke and Pepsi signs.
Art: Oil on canvas paintings, signed prints, black and white photos, posters of Star Trek, King Kong, Batman and Robin, Superman, Cheryl Tiegs).
Furniture: Mahogany dining table and chairs, china cabinet, couches, beds, dressers, nigh stands, end tables, coffee tables, chairs, office furniture.
Firefighter memorabilia: 14k gold pin, vintage Fire Department of New York City badges, pins and photos.
Books, old newspapers, magazines: Probably 1,000 or more books with emphasis on Jewish history, American history, cooking, foreign policy plus vintage editions of magazines such as Playboy, Photography, Life, National Geographic; AAA travel maps.
China: A number of high-end china dining sets and serving dishes, including Wedgwood, Noritake, Mikasa, Limoges, and Naaman-Israel.
Home Décor: All manner of items including decorative glass, art glass lamps, figurines including Lladro, crystal, pottery, marble bookends, decorative lamps.
Stamps: Wide range of stamps span from 1920s through 1980s including mint stamps, block of four, full sheet, first day covers and cancelled stamps.
More collectibles: License plates, restaurant menus, figurines, Cadillac memorable and box of parts for vintage Cadillacs, trophies.
Electronics & Audio: Sony flat screen TV, Bose speakers, Sennheiser earphones, Sony 350 Reel to Reel, Realistic Slim Dynamic Microphone, Onkyo CD player, Sony Stereo Cassette Deck, Technics Direct Drive Automatic Turntable System, records/CDs/Cassettes focused largely on classical music – including sheet music.
Costume jewelry: Heaping mounds of costume jewelry including earrings, necklaces, pins, bracelets, charms, and beads.
Men's clothing: Big men's delight at this house as owner was a tall man who wore pants sizes including 40, 42 and 44, shirt sizes X-Large and XX-Large and shoes 13-14. Closet full of Izod Lacoste shirts, Tuxedos, dress pants, dress shoes, dress shirts, sports jackets and suits. Makers include Haggar, Hart Schaffner Marx, Levis, Tommy Hilfiger, Brooks Brothers.
Bar/glassware: Mid-century signed barware, all kinds of cocktail, wine & bar glasses.
Kitchenware: numerous Pyrex baking dishes, mixing bowls and measuring cups; kitchen aid stand mixer and other electronics; Hoffritz knife set; high quality cookware and utensils.
The house is all stuffed with all kinds of other things that are too numerous to list here including  sporting goods (oversized Prince tennis racquets),  tools, sewing machines, Royal and Coronet typewriters, office supplies, and all kinds of other surprises.
No early birds or pre-sales allowed. Numbers will be handed out to people who arrive early. Cash and credit cards only (3 percent fee on credit cards). Visit the Orion's Attic home page to sign up for our e-newsletter to find out about future sales and special deals!
Testimonial from Howard and Melany Levenson. Orion's Attic sprang into action to conduct an estate sale at their home in Potomac, Maryland. We condensed and two-week process into mere days to meet their urgent deadline.
We had the very good fortune to be referred to Chris and Won-ok from Orion's Attic by a very good friend in the estate sale business. Initially, we had planned to use our friend to conduct the estate sale, but she had a family emergency and had to be out of town. We were in an incredible time crunch to get our home empty by the date of our walk-through, and Chris and Won-ok really stepped up to the plate at the 11th hour to conduct our estate sale on Memorial Day weekend 2013. They both did an absolutely incredible job, especially in light of the fact that they had only a few days to get everything organized and ready to go. In addition, our home in Potomac, was very large and EVERYTHING had to go! First of all, nobody has as much energy as these two. They are young, professional, fit, and focused! Believe me, if you have a deadline they will meet it, and if you have a problem they will fix it. They did a beautiful job getting our house emptied, and they continue to keep in touch with us … sending us checks for the items (that did not sell during our estate sale week-end) that they transferred to Orion's Attic to sell to the general public. I  recommend them highly as they are efficient, reliable, and trustworthy.
Orion's Attic is proud to announce that Freeman's Auctioneers and Appraisers in Philadelphia will be selling our impressive autograph collection on Thursday, Sept. 26, 2013 starting at 10 a.m. You can bid in person or online through the Freeman's web site. You'll find a treasure trove of history that includes an autograph book signed by John F. Kennedy and other presidents, a letter written by Mother Teresa and many other pieces by presidents, Supreme Court justices, members of Congress and old Hollywood and entertainment legends. Go ahead and register to bid now and then bid on our items. They are lot numbers 380, 381, 382, 383, 386, 387, 389, 392, 395, 396, 398, 399, 400, 402, 419, 427, 428, and 435.
You can visit the Web link above to see what's being sold in each Freeman's grouping.  All of these autographs came from one Washington D.C. man who managed a local theater and organized events at the White House.
We'll soon write more about some of the pieces in this collection but here's a quick set of links to each of our individual lots up for sale at Freeman's on Sept. 26:
You can also find some additional photos on our Facebook photo album of these autographs.
Do you have great stuff that you need to sell? Maybe you have a whole house that needs an estate sale? Contact Chris by phone or email today.
Orion's Attic is proud to announce that we will host our third annual Upscale Yard Sale fundraiser for Pyramid Atlantic Art Center on Saturday Aug. 31 and Sunday Sept. 1 from 9 a.m. to 4 p.m. in the Pyramid parking lot at 8230 Georgia Avenue in Silver Spring MD. Think of it as an outdoor estate sale as this event is always packed with a stunning array of antiques, collectibles, mountains of costume jewelry (and a few pieces of gold and sterling silver jewelry), art, tons of furniture from modern to antique, home decor, lamps, a flat screen TV, books and so much more. The sale even features a five-foot-tall carved wooden eagle! Pyramid Atlantic expects to add a giant gumball machine to the sale in the next few days. Prices range from $1 to $2,500.
Check out more than 600 photos at www.facebook.com/orionsattic and support Pyramid Atlantic's mission to build communities that give life to printmaking, papermaking and the book arts. Donations are still coming so many more items will be added to the sale by Labor Day weekend. Check the photo album throughout the week to see the latest additions to the sale. Also note that strong-bodied volunteers will be on hand to help people load heavy items into their vehicles.
Our company organizes this event every year as part of our work as social entrepreneurs. Because we're an antiques and collectibles company that runs estate sales, we see to it that no junk is included in this sale. We don't allow donations that fail to meet our standards. Pyramid Atlantic also has a great base of support, generating the kinds of estate sale quality pieces you see in these photos. Some donors have given entire apartments to this fundraiser. Learn more about Pyramid Atlantic at http://www.pyramidatlanticartcenter.org/
There are a lot of simple ways to save money at Orion's Attic estate sales. We have compiled our favorite eight tips and share them with you here, one at a time. We'll publish the list as a whole when we're done so you can pin these reminders to your fridge and save some bucks the next time you join us at an estate sale. Drum roll please … here's Tip No. 1.
1. Be kind. Think of every pearl of wisdom you've heard about the value of kindness: "You can catch more flies with honey than vinegar" and "Do unto others as you would have them do to you." They're all true when it comes to shopping at estate sales. It actually pays to be nice at Orion's Attic estate sales in Northern Maryland, Virginia and Washington D.C.
Despite the overwhelmingly obvious nature of the notion that it doesn't serve a shopper's interests to be rude to the people they're trying to buy from, you would be shocked – shocked I say – by how many people fail to use the kill with kindness strategy.
Put yourself in our shoes for a moment. Estate sales are a ton of fun to operate but they involve huge crowds of people pouring through a house and calling for our staff from every direction. We're running around trying to address every question and do everything we can to serve our client by emptying the contents of a home in two days. We're carrying heavy furniture out the door, wrapping delicate items, making change, running credit card transactions, answering tons of questions, and trying to make shoppers the best deals we can within the confines of doing what's right for our clients. Throwing a $1 item on the pay counter and saying "You have to give me this for fifty cents," is not the way to endear yourself to us. We don't "have" to do anything and we're not fond of shoppers making demands rather than requests.
Conversely, a shopper who approaches us with a $200 Tiffany-style lamp and a smile is likely to have much greater success this way: "I really love this lamp. Would you consider $150 for it?" We also see a lot of people on the first day of a sale who recognize that prices on the second day will be discounted. They ask, "If this $1,000 table is still here tomorrow, would you accept $500? We'll get our kids to carry it out so you don't have to." Our answer to that question is usually going to be "yes." If it's an item that we know is difficult to find a buyer for, we might accept that offer even on the first day.
We love working with nice people. We'll either accept those offers or start a polite negotiation process. There have been many occasions in which people have treated us with such kindness that we have given them a discount they didn't even ask for or thrown in a little something extra in their bundle (see rule No. 2). Happy shoppers make for loyal shoppers who are going to do business with us for a long time.
We have been very blessed to see that every sale we have run has largely been packed with friendly, considerate people. We'd like to think it's just because we do all we can to provide, fun, up-tempo, service-oriented sales and because shoppers like Won-ok and me. Hopefully that's the case, but maybe people are simply smart enough to use tip No. 1.
We can live with that!
Want to find out about our next estate sale? Sign up for our e-newsletter on the home page of our Web site at www.orionsattic.com. Know someone who needs an estate sale? Contact Chris today.
There are a lot of simple ways to save money at Orion's Attic estate sales. We have compiled our favorite eight tips and share them with you here, one at a time. We'll publish the list as a whole when we're done so you can pin these reminders to your fridge and save some bucks the next time you join us at an estate sale in Northern Virginia, Maryland or Washington D.C. Here's Tip No. 2.
2. Bundle! Frank Fritz from the mega-hit TV show American Pickers may the most famous bundler in the country but do you know who could be the next great bundle king or queen? You!
Smart estate sale shoppers recognize the truth in the old adage that "the more you buy, the more you save." Orion's Attic loves to offer deals to people who buy multiple items but we love it even more when shoppers come up with their own offers. An increasing number of our loyal shoppers at estate sales are mastering the Frank Fritz discounting plan that he uses at Antique Archeology.
Say you've never tried your hand at putting multiple items together in a package deal? Don't sweat it. One way to work with us is to show us several bigger ticket items you like and ask us what kind of price break we could give you if you bought them all. Another approach is for you to make an offer on the same.
Bundles have the potential to work out great for you and us. We get to move multiple items in one transaction, meaning there are fewer items left over at the end of a sale that we will have to transport to one of our stores, and you save some cash. The quickest way bundles will save you money is on quality, higher-end pieces but they can also work for groups of inexpensive pieces.
Our favorite bundler is actually a couple who comes to many of our sales. We have a great relationship with them and we respect how they shop. At our "Tool Time Sale" in Silver Spring, Maryland, they rolled a wheelbarrow full of miscellaneous tools and other items to the pay counter and made an offer for everything there, including the wheelbarrow. The price they gave sounded reasonable and saved us from a lengthy session with a calculator. We accepted the offer without even trying to negotiate for a higher price. They saved us time. We saved them money.
Bundle up, America!
Want to find out about our next estate sale? Sign up for our e-newsletter on the home page of our Web site at www.orionsattic.com.