Testimonial from Ann Reavey.  Orion's Attic conducted an estate sale for her father in August 2014. We sold almost all of the contents of the home, consigned a few high-end pieces remaining from the sale, transported a number of other items to charity and left the house broom clean.
Fantastic!  Thank you so much!
I can't tell you how pleased I have been with working with you and your crew. This process has been difficult logistically and emotionally, thank you for making it much easier for me on both fronts. Please know that I will enthusiastically recommend you to others!
Let Orion's Attic offer the following pop quiz: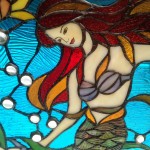 Have you ever been to a single estate sale that was so eclectic that it included all of the following items: Genuine Native American art and jewelry, Quimper pottery, Jerry Garcia images, coat rack made of copper tubing, leather biker chick jacket, drone, Mermaid stained glass panel, life-sized pig figurine, bronze sculptures featuring emergency responders, lithographs and pins honoring each branch of America's armed forces and a custom-made toilet seat adorned with nickels, dimes, quarters and Kennedy half-dollars?
If so, wow, you've lived a great life. If not, you absolutely have to come to our Bethesda, Maryland estate sale on Aug. 9-10 from 9 a.m. to 4 p.m. at 6311 Poe Road, Bethesda MD 20817.
We found a more dizzying array of items piled on one over-sized farm table in this house than we often find in entire houses. One of the owners also dedicated much of his life to producing art and pins appealing to Vietnam Veterans and veterans of all branches of the military. The house is packed with piles of pieces he didn't have time to sell before his passing. Both of the owners of this home lived life to the fullest, though, embracing every new thing they could see and experience. Now you'll be able to get some gusto to take him with you!
See our Bethesda photo album on Facebook for some 600 photos. Tons more to come. More details on the way as well but make plans now to check out this sale. You really have to see this place.
Highlights include:
Art: Folk art including small metal dog, tin sun, wood sculptures, Jack Daniels bottle wind chime, beer can airplane, wood-carved airplane; signed pencil sketches; limited edition print of Jerry Garcia;
Cameras: Wide variety of modern and some vintage cameras, lenses and equipment used by the homeowner to produce his art;
China: Taylor-Smith; Italian plates with lobster motif
Clothing: Wide variety of vintage and women's clothing and accessories (leather and beaded purses), beaded dress by Hyo Bee; men's clothing including Jack Daniels belts;
Electronics: Spirit of St. Louis hands-free telephone; short-wave radio; large flat screen TV; Bose speakers; Pioneer stereo system; drone (yes, a drone – don't know if it works yet);
Glass: Floral crystal glass candy dishes by Daniel Hechter; heavy glass elephant;
Furniture: You have got to see the toilet seat.  How many toilet seats are conversation starters? The one at this house is a clear seat embedded with coins; big farmhouse table with six matching wooden seats and two upholstered end seats; king-sized Sleep Number bed; hand-made coat rack made with copper pipes; suede couch; rocking chair; linen press; night stands;  wooden chairs; short stools; single bed; full bed; corner cabinet; reclining chairs; coffee tables; love seats; buffets; china cabinet; shipping trunks
Home Décor: Life-sized piggy bank; baskets; ceramic, glass and other figurines of all kinds of animals including squirrels, dogs, elephants; Hochst decorative egg; decorative lamps, Herend hungarian fishnet figurines
Jewelry: Several unique watches including one that is custom made featuring a watch on a half-dollar coin with a custom eagle-adorned band that is signed and numbered; costume jewelry from necklaces, pendants, brooches/pins, bracelets, earrings, rings, and so much more. Some pieces take the form of elephants, the sun, turtles; amethyst ring; signed pieces by makers such as Christopher Jupp; sterling silver Austrian crystal by HY Jewels; earrings made from old Bhutan coins; Christian Bernard watch; Laurel Burch watch with horsehead image;
Kitchen: Coffee pot, microwave oven, antique pots, food saver, hand-painted salt and pepper shaker;
Mermaids: There's a veritable ocean full mermaids in this house including items such as: small stained glass panel, iron and other metal art, jewelry, clocks, candle holders; figurines; tiles; knives; footstool; drawings;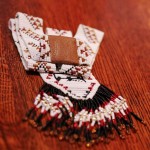 Military/Patriotic/Emergency Responder: This home was co-owned by an artisan who produced a wide variety of pieces appealing to Vietnam War veterans, veterans of other wars including World War II, Afghanistan, Iraq and more. Other pins honor the Army, Air Force, Navy and Marines (we may also find Coast Guard but haven't located a box yet.) You will find perhaps a thousand pins honoring those veterans along with pins honoring nurses, firefighters, police including women in law enforcement, K-9 units. He made clear etched glass blocks honoring the Vietnam Wall. He produced a variety of lithographs and prints (including some signed and numbered) honoring Vietnam veterans and other military and patriotic themes. The home contains a bit of the work of Tom Nielson including his striking limited edition print of an eagle against a flag backdrop called "Colors of Courage"; cast bronze sculptures; Marine Corps banner;
Misc.: Colorful kite with nude woman figure; oak walking stick with brass animal figure head; black wood walking stick with carved elephant; Tiffany & Co. playing cards; breakfast tray with architectural rendering of a ship; Jack Daniels leather-covered whiskey flask; MetroMeter Co. Trident water meter from New York; bull horns; natural sine compass; dust pan made from South Dakota license plate; Iraqi coins saved by British military;
Motorcycle Stuff: Gorgeous leather biker chick jacket; multiple Harley-Davidson items including four-tile floor logo, Custom Chrome ad featuring Albert Einstein; belt buckle, carrying bag, pins and more; pins honoring many different years of Motorcycle Week and other motorcycle pins such as the Biker's 4-Leaf Clover; Framed print of 75th Annual Laconia Motorcycle Rally; what appears to be a die-cast figure of a winged, bikini-clad woman on a motorcycle; "Live to Ride" canteen; pottery with motorcycles painted on it; Sturgis shot glasses;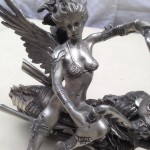 Musical Instruments: Guitars by Nagoya and Yamaha; vintage Sitar (needs re-stringing); stringed instrument from Africa; dulcimer;
Native American: Tapestries; jewelry; modern ceremonial pieces by the Lakota people;
Pottery: Great collection of pottery, sconces and figurines by Henriot Quimper (France); other signed pieces including R. Scot Hardwig (Lost Mountain Pottery), Stiles; Gail Heilmann;  hand-made and painted pieces from Italy including motifs of sunflowers; hand-painted ceramics of Portugal; Delft;
Know someone who needs a great estate sale company or has nifty antiques and collectibles to sell? Contact us today!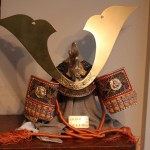 Our Aug. 2-3 estate sale in McLean, Virginia from 9 a.m. to 4 p.m. in shaping up to be another big one. [Address is 1513 Oakview Drive, McLean VA 22101.] Take a trip through many parts of Asia by perusing furniture and décor from across the continent. Scoop up heaping mounds of gold, silver and costume jewelry. Check out some good old fashioned American antiques. Get wild in the "nature room" full of wildlife and plant figurines and collectibles.
You'll also find a stunning volume of kitchenware, china, flatware including sterling silver and bronze, a smattering of vintage toys, tools, a large collection of vintage books, pottery, antique bottles, area rugs, baskets, art, vintage refrigerators, and more items than we can list here.
Check back here for more details as the week progresses. No early birds. Numbers handed out to early arrivers.
View more than 400 photos and counting on our McLean estate sale Facebook photo album.
Highlights include:
Asian antiques: Chinese lacquer sewing desk, ebonized with abalone (1840s-1870s); Ladies headside chest, China, late Qing period (1900 to early 20th century); Chinese bookcase cabinet (late 19th to early 20th century); Betel Nut box — brass with silver inlay — from the Phillipines;
Asian décor: Chinese snuff bottle (1870s – 1900); Cloisonne vases, napkin holders, jars, candle sticks; Chinese cinnabar-style enamel decorate porcelain vase and snuff bottle; Small Chinese rayon tapestry "Two Horses and a Groom by Han Kan"; hand-carved chair; soapstone carving from Korea; brass butterfly candleholder used by a madam in Korea to let people know she was open for business; small brass cooking pot from Korea; black lacquer plates; Korean brass hotpot with decorative lid; Chinese brass symbols for variety of wishes including peace, longevity and others; so much more.
American antiques: Victorian chests, dressers, dropleaf table with marble top; Louis Myers pencil sharpener, (1912); Skandia Furniture Co. secretary; framed mirrors; Kenney Brothers student chair with W.C. Eclipse school desk; rocking chairs; end tables; cane seat chairs; spindle back chairs;
Art: Etching by James S. King (active in late 1800s and early 1900s); Henri Le Riche signed etching; Dong Kingman San Francisco prints; Emergency Fleet Corporation meeting photo (1918); oil on canvas paintings; watercolors; pencil drawings; pen and ink drawings.
Books, Magazines and Newspapers: Many bookshelves packed with antique, vintage and modern books on wide range of subjects – clearly the home of serious readers; Small collection of old newspapers covering events including John F. Kennedy assassination, election of President Herbert Hoover, shooting of Pope John Paul and shooting of President Reagan; Large magazine collection from 1940s through 2000s including but not limited to Air World (1946),  Look (1970s), Life (1960s and 70s), Photography (1951), Radio Stars (1937), Sports Digest (1946), Air Force (1945) and Wings (1943)
Bottles: Blanchard and Co. Whiskey, Curtice Brothers, Dr. Hookers Cough & Croup Syrup, Fellows Syrup of Hypophosphites, Larkin Soap Co., Philips Milk of Magnesia (1906), Sloans Linament,
China: Adams (Member of Wedgwood Group), Crownford; Royal Tara (Ireland); Myott (Staffordshire, England); Regency; M.Z. (Austria); Rosenthale; Dansk; W & J Sloane; plates hand painted in Portugal by Azuller; Hammersley; Lenox; Noritake; Nippon;
Clothing: Start your own boutique women's clothing shop or find the perfect retro item to make the perfect addition to your wardrobe. Hats, dresses, jackets, shirts, suits, skirts, pants, blouses, shoes, scarves and much more for all seasons.
Glass: EO Brody Company candy dish; antique cruets; ruby Bohemian or Bohemian-style bowl featuring winter scene; all kinds of lead crystal including American Brilliant Cut;
Flatware: Sterling silver, bronze, silver plate and more. Sterling flatware set (70 pcs) by Towle in Mary Chilton pattern (Pat. 1912); Saiam flatware.
Furniture: Brass bed (double); dining table with extension leaves and six chairs; Stakmore folding chairs; love seats; full bedroom set with double bed; bar stools; what appears to be a black leather couch (needs a bit of cleaning); end tables
Home Décor: Antique wall hanging; decorative lamps; antique oval Shaker box;
Jewelry: Fine jewelry, including a platinum diamond ring, numerous vintage and modern gold and sterling silver pieces and precious stones; a mountain of costume jewelry from necklaces, pendants, brooches/pins, bracelets, earrings, rings, and so much more. "Ant rings" are a must-see.
Kitchen: Microwave oven; KitchenAid mixer; Imperia pasta maker; Krups Panini grill; tons of cookware (enough to fill up the kitchen, giant shelves in the basement and some closets); flowered coffee mugs; meat grinder; jars; bamboo serving trays; cookbooks; dishes; ball jar;
Misc.: Washer and dryer; old refrigerators
Nature Room: We've rounded up just about every item in the house with a plant or animal and put it all in one room. You'll feel like you're walking into a nature preserve. Orange glass butterflies. Bronze miniature animals. All kinds of elephants. Flocks of birds. Flowers galore. Frogs. A three foot tall giraffe. Dogs. Cats.
Pottery: Italian pottery including Dip A Mano and Ceramiche; Buffalo Pottery Semi Vitreous Pitcher;
Rugs: A number of area rungs, including Afghan Turkoman rug and Konya Mountain Turkish rug
Sterling Silver: Sterling nut dish bowls by Gorham; Sterling holloware pitcher by Manchester; collectible sterling spoons by Kirk & Son, Gorham, etc.; Tiffany sterling bowl; several weighted sterling candle holders.
Tools: Black and Decker saw; hand tools; gardening tools
Toys: A nice little group of vintage toys including Tonka trucks, building blocks, fire trucks and cars, pull toy, puzzles, games, dolls and more.
Know someone who needs a great estate sale company or who has neat antiques and collectibles to sell? Contact us today!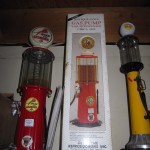 We're hosting another big Silver Spring, Maryland estate sale on June 28-29, 2014 from 9 a.m. to 4 p.m. This sale is bursting at the seams with all kinds of tools, jewelry (gold, silver, costume, vintage), antique sterling silver flatware, advertising (especially related to alcohol), furniture, player piano with hundreds of song scrolls, vintage radios and whole cases of old radio and TV tubes, kitchenware, lamps, records, a grandfather clock and more. There's an excellent library of books on subjects including history (Civil War and 20th century history), guns, Ireland, cooking, bartending and gardening.
VIEW MORE THAN 1,000 PHOTOS on our Facebook page via Album 1 and Album 2! We'll keep adding all the way until the sale starts. (Address is 324 Old Stone Road, Silver Spring MD.) No early birds allowed. Numbers will be given to early-arrivers.
Highlights of the sale in alphabetical order:
ADVERTISING: Coca-Cola trays and mirrors; Wine crates; Mirrors and art by companies including Southern Comfort, Guinness, Coach & Horses, Heineken, Cutty Shark, Wild Turkey, Lochan Ora, Smith & Wesson; Decorative decanters including stagecoaches, cowboys on horses, old cars, ducks, geese, turkeys; liquor dispensers including gas pumps and fire hydrants; liquor glasses by brands including Ancient Orange bourbon; Budweiser stein; German steins;
ART: White House Christmas print of Red Room with signatures of John F. Kennedy and Jacqueline Kennedy; Ansel Adams print; huge variety of limited edition prints, watercolors, photographs and oil on canvas paintings with themes including the American west, ships, cityscapes, Montgomery County history, Maryland history, American Revolution, Paris, wildlife, classic cars (Lamborghini, Corvette); Spartacus bust signed by S. Eylanbekov; NASA Apollo program prints
BOOKS AND MAGAZINES: Tremendous collection of books including some high-end on the subjects of guns (history, collecting, values), hunting, fishing, travel, cooking, American history (Civil War, Abraham Lincoln, modern presidents and more), world history; vintage magazines and auction catalogs of guns; other vintage magazines including Electronics Illustrated, Popular Mechanics, Field & Stream,
CAMERAS: Keystone 8mm magazine camera, Model K-40; Polaroid Sun 640; Clix Candid Camera; Baby Brownie; Canon AF 35; JVC GZ-S3 video camera; Foldex 20;
CAMPING GEAR: Coleman lantern in box; Coleman camp stove – apparently never used;
CHINA: Dining room table covered in mound of china by makers including X; decorative china made in Occupied Japan; Keele Street Pottery; hand-painted plates made in Austria by O. & E.G; hand-painted plates made in Bavaria; Maling china made in Newcastle-on-Tyne, England; Seltmann Weldman (Bavaria) cabinet plates featuring work by artists including Francisco de Goya, Rubens, and Cassioli
CHRISTMAS: Collection of lights, ornaments, bulbs, manger scenes and decor
CLOCKS: W Jones mahogany grandfather clock
CLOTHING: Shirts, belts, shoes and more for a large man; women's clothing and accessories
ELECTRONICS: Electric typewriters by IBM; all kinds of fax machines, tape recorders, computer hard drives and key boards; HP Office Jet 6110 printer new in box; heavy duty monitor arm; wide variety of older push button telephones; Ceiling fans new in box; Bissell Power Steamer new in box; all kinds of fans; televisions
HOME DÉCOR: Hand-made quilts; decorative glass; painted sea shells; wood-carved wine display; Delft-Blauw vases; pottery made in Austria; Roseville candlestick; brass firewood holder; Lenox figurines
FLATWARE: Sterling flatware set (Danish Crown by Frigast), David Anderson Norwegian sterling flatware, Tiffany sterling baby spoon, George Jensen Denmark Spoon, Gorham sterling spoon, Norwegian Sterling Plique A Jour spoons By Johan G Kjaerland, Guatemala coin silver spoons, and many other collectible sterling spoons; numerous serving pieces, from sterling and silver-plate to stainless; several sets of stainless flatware
FURNITURE: Multiple bedroom sets including master bedroom with huge Thomasville bed, dresser, armoire; Broyhill bedroom set with pair of single beds; lodge-style couches and chairs; antique sideboard and display cabinet; modern lighted display cabinet; Mirassou wine wrack; pair of leather-topped bar stools; Mid-Century desk; black secretary desk needing new back panel; end tables; coffee tables
GARDEN: Tools; lighting; birdfeeders and more
JEWELERY: Fine jewelry, from a vintage Tiffany brooch through numerous vintage and modern gold and sterling silver pieces and precious stones; abundant costume jewelry from necklaces, pendants, brooches/pins, bracelets, earrings, rings, and so much more. The family is still going through most of the jewelry and will hand us the rest in a day or two. More details and photos coming.
KALEIDOSCOPES: Three very nice kaleidoscopes including Spirit Scope;
KITCHENWARE: Etched drinking glasses; crystal champagne glasses; coffee mugs; many appliances and gadgets (some new in box) including Cuisinart food processor, Novita digital pressure cooker, Bella Panini grill, Black & Decker countertop oven; Presto skillet, Flow-Thru salad spinner, coffee pots and coffee grinder; all kinds of pots and pans; spice wracks; mason jars; face mug; Norman Rockwell painted coffee mugs;
LICENSE PLATES: Pair of Pennsylvania license plates, one from 1940s and other from 1950s; Maryland license plates from 1980s;
LIGHTING: Cork lamps; leaded glass hanging lamps; decorative lamps; hanging pendant lamps new box;
MISC: Pokemon cards; new and used suitcases; medical devices including Lympha Press and Sequential Circulator; thermoelectric cooler;
MUSICAL INSTRUMENTS: Player piano (Standard Artistic Action — not sure about condition) and hundreds of piano rolls/music sheet scrolls new in the box; banjo
ANTIQUE RADIO CABINETS AND RADIO AND TV TUBES: Brunswick Radio Corporation Uniselector Furniture Cabinet Radio 1930s (condition uncertain); RCA Victrola stereo cabinet (stereo removed, radio missing parts); Fantastic collection of new old stock radio and TV tubes in original boxes plus salesman's case;
RECORDS, CDS AND VIDEOS: Great collection of records covering multiple genres such as rock, jazz, country, classical, showtunes, comedy and more. Artists include Beatles, Rolling Stones, Frankie Lymon, Ray Charles, Joe Houston, Cole Porter, Mach One (U.S. Air Force Rock Band), Hank Williams, Frank Sinatra, Jimi Hendrix, Elvis, Johnny Cash, Willy Nelson, Patsy Cline, Kiss, Simon & Garfunkel, Bill Cosby, Dolly Parton, and many, many more. DVDs of movies such as Shawshank Redemption and others featuring John Wayne;
RECREATION: Free weights with benches and bench press bar; girls' Huffy mountain bike; men's Brittany Free Spirit road bike
SPORTS MEMORABILIA AND DÉCOR: Coca-Cola bottles from Washington Redskins 1983 Super Bowl championship; Coca-Cola bottle from Baltimore Ravens; Photograph of Cole Field House at the University of Maryland; University of Maryland couch pillows; vintage Washington Redskins jacket (large man); Washington Redskins beverage glasses;
STAMPS: First day covers with automobile themes.
STEREO: Vintage and modern stereos, CD players, radios and speakers by companies including Panasonic, Sony, Admiral and more – some new in the box.
TOOLS: An entire basement that is flooded with tools, way more than we could ever list or photograph — some new in the box. You'll find all kinds of wet saws and various power saws by makers including Craftsman, power snips, nail guns, hand saws, wrenches, clamps, hammers, axes, ratchet and socket sets, power wrenches, battery testers, bolt cutters, hex key wrench set, tubing benders, glue guns, ratcheting screw driver and bit sets, drills, stud finders, screw drivers, nuts, bolts, tool boxes, painting supplies, sanders, high-powered flash lights, tool cabinets, electric pole saw, plumbing tools, air tanks, battery chargers, gas connector kit, shop vac, swing arm magnifying lamp, braces, coaxial cable, dollies, shovels, rakes. We've got everything including a kitchen sink plus a variety of faucets to put in it.
TOYS: Nice collection of die-cast vehicles including 1926 Mack AC Rotary Pumper, 1932 Cadillac V-16 Roadster, 1935 Dusenberg, 1932 Chevrolet Confederate, 1916 Mack AC Bulldog, 1956 Ford Thunderbird, Coca-Cola delivery truck, 1957 Chevrolet Corvette, Sherwood Forest delivery vehicle, Standard Oil Company Delivery vehicle, Ford Thunderbird; Model stagecoach including Wells Fargo Overland Stage
WILDLIFE DÉCOR: Murano glass fish; taxidermy ducks and other birds; kitchen and barware with birds including ducks, mallards, herons and turkeys; duck quilt square; photos, paintings and carvings of butterflies, ducks and many other birds; bronze or aluminum bird wreath sculpture; painting of buck deer on split log; "Ducks Taking Flight" painted plates by David Maass; Signed bells featuring eight birds including nuthatch, oriole and more; pewter bookends with ducks; Hummingbirds by Gorham; figurines of birds, dogs, and elephants;
Need an estate sale? Contact Chris at Orion's Attic today!
We're ecstatic about the May 31 and June 1 estate sale we're hosting in Silver Spring, Maryland on May 31 and June 1 and hope you will be, too. This house is stuffed with some serious treasures including antiques, fine art, Mid Century and Mid Century Modern furniture, jewelry, including numerous gold and sterling pieces, and one of the best military collections we've ever found.
A full list follows below but return here for updates and additional photos as the week unfolds. View hundreds of photos on our Silver Spring estate sale photo album on Facebook. Address is 4014 Havard Street, Silver Spring MD.)
We still have a lot to unpack and examine so return to this site for updates all the way up to opening day. (Our clients just called and said they're bringing more stuff from storage!) No early birds. Numbers handed out to early arrivers.
Antiques and Vintage Furniture and Decor: Beds, dressers, side tables, lamps, chairs, couches, Louis XV style cartel clock carved and gilded (made in Sweden); Magnavox radio cabinet;
Mid Century and Mid Century Modern Furniture: Couch, wood-framed chairs, molded Lucite chair with chromed metal base, lamps, stackable cabinet made in Denmark by Ervi-Mobler; dining set with table, chairs, buffet and china cabinet;
Art: Large oil on canvas painting dated 1615 of 29-year-old man; 18th century oil on canvas painting of figures at ruined building with nameplate attributed to Jacopo Marieschi (our research indicates it is not by Marieschi himself but a follower or someone painting in his style); 18th century painting of a gentleman in a powdered wig; statues;
China and Kitchen: China by Mikasa, Homer Laughlin, Nippon, Lenox and others; painted plates made in Italy (Benrose), Greece and elsewhere; stemware; coffee pots; stemware;
Decorative Glass: Perfume bottles; hobnail vase; Wheaton miniature bottles;
Figurines: Royal Doulton; Coronetti;
Glassware: All kinds of bowls, vases and plates; crystal; decanters; jars; handmade glass by Empire with sterling;
Home Décor: Large brass wall sconces; mirrors;
Jewelry: Fine jewelry, from very old 14K necklace and brooch with amazing artisanship through numerous vintage and modern gold and sterling silver pieces; abundant costume jewelry from necklaces, pendants, brooches/pins, bracelets, earrings, rings, and so much more.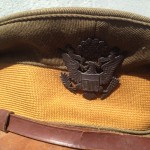 Lamps: Leaded glass hanging lamp; chandeliers; table lamps.
Militaria: This is one of the best military collections we have found in a long time and includes an excellent blend of original and high quality reproduction pieces. The list of items available includes but is not limited to Civil War buttons and insignia (some authentic and many reproduction – great for the Civil War re-enactor enthusiast); uniforms, badges and pins from World War I, World War II, Vietnam and other eras; trench art from World War II; original U.S. World War II propaganda poster ("Help Them – Keep Your War Savings Pledge"); Air Force sword; Vietnam flight jacket; Royal Air Force badges; Wings from U.S., England and others; Army Air Force Cloth Chart of Philippines; Gear including folding shovels and mess kits; Post World War II caps, hats and clothing from Germany, Russia and elsewhere; Red Cross flag; American flag;
Toys and Games: Array of chess sets including set with hand-carved African pieces, another set with brass pieces; Tonka truck; Anson Classic 1947 Cadillac
Pottery: Signed and hand-thrown pieces including Irish pottery.
Women's Clothing and Accessories: Designer handbags and women's clothing;
Do you need an estate sale or know someone who does? Maybe you know someone who may have an attic full of treasures they need to sell? Contact Orion's Attic today!
Make plans now to attend our May 17-18, 2014 Hyattsville, Maryland estate sale that will include a staggering number of collectibles (especially figurines), Coca-Cola room, countless paintings covering many walls, Christmas collectibles, teddy bears, furniture, china, appliances, motorcycle, car, bicycles, jewelry including gold and silver, hair salon chairs and equipment, tools, vintage toys, vintage ladies clothing, baby clothes and much more.
The home owner has lived in home for decades and there are so many smalls and collectibles that we had to donate much of the furniture in the home to make room to display them!
We will post additional updates here in the days ahead along with many more photos. You can also find updates on our Web site at www.orionsattic.com and on our Facebook page at www.facebook.com/orionsattic. Videos coming soon.
The sale will run from 9 a.m. to 4 p.m. both days. No early birds allowed. Early arrivers will receive numbers for entry. Address to be posted here the day before the sale.
Here's a partial list of what we've uncovered so far:
Art: Oil on canvas painting of a bearded man whose eyes seem to follow you across the room; Countless pieces of inexpensive oil on canvas and board wall art with heavy emphasis on cottage scenes, flowers, beaches, light houses, ships and the sea; Scores of mansion, home, city skyline and Gone With The Wind plaques signed by Sheila;
Beanie Babies: Hundreds of Beanie Babies including those from 3rd generation plus Coca-Cola Beanies
Teddy Bears: It's as if Teddy Roosevelt himself convened a teddy bear convention. There have to be at least several hundred bears of every size and shape in this house and they're all in excellent condition, some with original boxes. Won't surprise us if number passes 500.
Bicycles: Pink Predator Pro; GT BMX Performer Pro; Ross EuroTour
Board Games: All kinds of current and some vintage board games.
Books: Modern and older hardbacks and paperbacks on history (Civil War and many other subjects), religion, diet, health, arts and crafts, nature and many other subjects; modern and old children's books; coffee table books
Cameras: A small group of vintage still and video cameras
China: Multiple sets of china including Noritake, Staffordshire Ironstone,
Eschenbach (Germany), Bavarian, Haviland Limoges (France), Shelley (England) cup and saucers, La Fleur gold-rimmed coffee cups, Pfaltzgraff, china with duck decor
Christmas Stuff: Every manner of Christmas décor, bulbs, paper, trees, lights and more
Clothing – adult: Vintage women's clothing including hats, purses, handbags (Prada, bottega veneda, etc.), dresses, fur coats, leather jackets, shoes
Clothing – baby: Mountains of baby clothes and infant clothes for girls and boys including shoes, boots, pants, dresses, suits, bibs, pajamas, shirts.
Coca-Cola Collectibles: The Coke room includes a great ceiling fan, plus polar bears, plaques, glasses, lamps, towels, puzzles, clocks, signs, nightlights, snow globes, figurines, Coca-Cola Picnic Barbie, Beanie Babies, train car, antique wallets and more.
Crafts: All kinds of arts and crafts supplies including silk and plastic flowers, pine cones, reference books, paints and more
Dolls: Wide variety of dolls including Marian Yu Designs, Brinn's Collectible Porcelain, Princess House, Heritage, Memories, and more
Electronics: Stereo, vintage Apple McIntosh SE computer, Animated Holiday Symphonium
Figurines: Many hundreds of animal figurines including ducks, horses, elephants, dolphins and dogs (Collies); human character figurines by Enesco; Norman Rockwell figurines; Hummel figurines; numerous lighthouses
Furniture: Dining table and chairs, china cabinet, office chairs, rocking chairs, student desks, roll-top desk, marble-topped vanity, toy chests, reclining chairs, book cases, jewelry cabinets, patio furniture, mahogany flatware chest
Glass: Red decorative glass, unused lead crystal glassware in boxes, multiple punch bowl sets, pair of vintage milk bottles, Fostoria glass, unused lead crystal or etched glassware in boxes, multiple punch bowl sets and cake stands
Harley-Davidson Collectibles: Some great coffee table books, several figurines, black Christmas stocking, belt buckle and a few other items.
Hair Salon: Vintage and modern hair salon equipment and supplies including washing chair, dryers and all kinds of products (homeowner operated salon in basement)
Home Décor: Pair of leaded glass kitchen cabinet doors; lamps from Victorian to modern; piles of blankets and linens; lots of décor related to beaches and oceans including light house lamps, shells, art, miniature ships
Jewelry: We'll have a jewelry room with fine jewelry, including gold and sterling silver, as well as mountain of costume jewelry; rings, necklaces, bracelets, brooches, pins, earrings, charms, etc.
Kitchen: Cutlery, Reed & Barton flatware, cookie jars, glasses, cookware, dishes, NFL team glasses/mugs (Dallas Cowboys, Washington Redskins, Buffalo Bills)
Lamps: Lovely assortment of banquet lamps including some two-tier, hand-painted Victorian-style lamps, kerosene oil lamps, and decorative lighthouse lamps, including an unusual vintage Port & Starboard lamp.
Miscellaneous: Four nifty vintage matchbooks; fishing gear including lures; fish tanks and accessories;
Musical Instruments: Organ (not sure yet about condition), Yamaha PSS-270 keyboard
Puzzles: There have to be at least 50 puzzles, maybe a lot more.
Thimbles: Probably 100-plus thimbles made from variety of materials including porcelain, cloisonné, brass, tin and more.
Tools: Variety of household and garden tools; Craftsman tools;
Toys: Fantastic assortment of toys spanning decades. They include two working musical carousels in near mint condition; numerous dolls; doll houses and doll furniture; Hess trucks; metal farm vehicles; all kinds of vintage and modern Fisher Price toys; Barbie; Construx; Matchbox and Hot Wheels cars; Lego sets; cookware sets; McDonald's miniature food set; HO scale model trains, scenes and accessories by AHM, Tyco, Life-Line.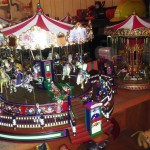 Vehicles: Suzuki Savage 650 motorcycle in excellent condition with clear title with 3,440 miles on it; 1983 Monte Carlo with blown radiator and much rust on the driver's side – great restoration project; small number of auto and motorcycle parts, starters, alternators, tires and rims.
Need an estate sale company in Maryland, D.C. or Northern Virginia? Contact Orion's Attic today. Want to find out about more of our events and special offers? Sign up for our e-newsletter from the top of our Web site.
We just got back from stuffing our brand spanking new booth space at Emporium Antiques in downtown Frederick, Maryland with tons of vintage toys, dolls and blue glass. We've got vintage and modern tin litho wind-up toys, a railroad yard full of Lionel and Tyco trains and accessories, dolls and some blue glass. Many of the toys and dolls come with their original boxes! Some are very rare pieces.
Most of this stuff minus the glass and some of the dolls is making its public debut! Our space is in the middle building along the edge of South Carroll Street. Ask for vendor code "ORI" if you have trouble finding us. See more than 90 photos from our first batch on our Emporium Antiques photo album on Facebook. Emporium Antiques is open seven days a week and is located at 112 East Patrick Street in Frederick MD.
A partial list of the first batch of merch at Emporium Antiques includes:
Tin Wind-Up Toys/Tin Toys from Japan, the U.S. and China: Jocko The Climbing Money; Lincoln Tunnel (one car missing); J Chein 1930s pig; Schylling Duck Family; Zig-Zag Express; Diamond Jeep; Panda drummer; Ranger Motor Line Truck;
Tin Friction Toys: Eastern Airlines Plane; Avion Aircraft; Frog;
Car and Truck Toys: Dinky Toys Fork Lift Truck; large hand-made model car; Corgi London Taxi, plastic Aerocar
Misc. Toys: Vintage noisemakers; 1940s Kellogg Cereal Atomic Submarine; Magic Lantern with lamp and two slides; Slinky Bucko from the 1950s; Illco Mickey Mouse Wind-up Music Box; Pony Express and Fort Superior tin forts with heaps of figurines and a working cannon; wood balance toy
Lionel Trains (too numerous to list but to mention just a few) No. 50 Gang Car; No. 53 Snow Plow; No. 624; No. 260 Bumper; No. 2025 Engine; No. 2432 Illuminated Vista Dome Car; No. 2436 Illuminated Observation Car; No. 3559;
Train Accessories by Lionel, Louis Marx, Tyco and More: (also numerous) Lionel transformers; Revolving Beacon Tower; Railroad Crossing Signal; Lionel No. 128 Animated News Stand; Plasticville U.S.A. kits
Dolls: A whole colony of dolls including Madame Alexander (including Gone With The Wind dolls); Heritage Mint Clown Collection; Country Keepsakes; Effanbee; composite dolls
Blue Glass: Cobalt blue plates, bowls, cake plates, bottles, fruit jars, oil lamps, cruets, butter dishes, glass basket
Got great stuff to sell or need an estate sale? Visit Orion's Attic and contact us today! We buy and sell antiques, collectibles,  jewelry, modern furniture and more. Sign up for our e-newsletter, too, to find out about all of our upcoming events including estate sales.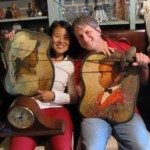 Thank you, Bowie, Maryland! We never have enough time to thank everyone personally for the tremendous support you give us at our estate sales. While a 60-second video and a note here can't fully express our gratitude, do click on the Bowie estate sale video for a more personal gesture.
The sale exceeded all of our expectations. We cleared out most of the house, connected people with all kinds of treasures they love, created great new car restoration projects for several buyers and even found a new home for the humongous rusted dump truck in the field. A man with a love for "ostentatious" yard art claimed it thanks to a friend who stopped by the sale. We also thank all the shoppers who provided us leads for future estate sales and buying opportunities. Double thanks as always to folks who attended both days of the sale and brought friends and family on day two!
Along the way, you made it possible for us to provide another weekend of employment for our youth labor force, who earned more than $250 per person in wages plus tips! We also raised $200 for our favorite charity, House With A Heart Senior Pet Sanctuary.
Thank you, Bowie!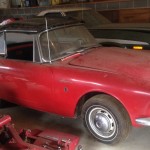 Make plans now to attend one gigantic estate sale on April 26-27, 2014 from 9 a.m. to 4 p.m. in Bowie, Maryland. This estate sale features a house and a barn that are packed with tools, furniture, classic cars and collectibles. (The address of the sale is 2609 Enterprise Road, Bowie MD, 20721. No early birds allowed. Early arrivers will receive numbers for entry.) You can also find more details and updates on our Web site at www.orionsattic.com. Be sure to check out all the videos we're posting on our YouTube channel at www.youtube.com/OrionsAtticTV. For still photos, find more than 600 photos on our Facebook page.
Highlights of this sale include:
Classic Cars: Buy three hard-to-find cars – a 1963 Sunbeam Alpine, Series III (B92), 1958 Studebaker Silver Hawk (58G) and 1973 Ford Ranchero GT. These three are restoration projects as the cars do not run now. The sale also includes part of another Alpine along with a pair of a scrap metal or parts projects — a Ford dump truck and an old tractor. See all kinds of photos and lengthy details on each car on our Facebook photo album dedicated to the vehicles. There are also lots of auto parts for various vintage vehicles including Sunbeam and Ford.
Tools: You could start a business or stock a couple of garages with all the tools we have waiting for you. The house and barn include a fully loaded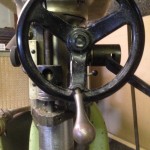 precision machine shop with American-made high-end tools, tons of other tools and all kinds of auto parts. We've even got some antique horse carriage parts!  A partial list of the bounty you'll find includes: Bridgeport M-Head Milling Machine plus parts (Bridgeport J Head available), Collets, Chucks and End Mills (American and German), Boring Heads, Precision Gage Sets, Micrometers, Calipers, Parallels, Clamps, Indexing Head, Small Lathe Chucks for milling machine (no stand-alone lathe), Delta Vertical Band Saw, Peerless Power Hacksaw, Bench Grinder, Variable Speed Drill Press (tabletop), Block and Tackle with Trolley, Weldon Relieving Fixture and Sub Bases, Rotary Tables, Made in USA tools, Hand Tools, Power Tools, Industrial Drawers (many), Hamilton Drafting Desk, Bridgeport, Starrett, Albrecht, Wheldon, Wohlhaupter, Craftsman, Delta, Rockwell, Hardinge, Equipto, Hamilton, Hoke, Yard tools plus countless hammers, wrenches, screwdrivers, chainsaws, woodworking tools, tool chests and so, so much more. View 150 tools photos on our tools photo album on Facebook.
Antique and Vintage Cameras: Antique Kodak cameras (including Brownies), Voitlander (bellows) camera, movie and slide projectors, brass lenses, 1930's Surveyor K&E Transit in box, surveyor telescope, Polaroid
Cobalt Blue Glass: Peruse more than 100 pieces of blue glass in a room drenches in natural light including milk bottles, Carnival glass, cruets, goblets, plates, bowls, fruit jars, oil lamps and more.
Animal figurines: 150-plus elephant figurines plus elephant-themed jewelry, more than 100 frog figurines made of sterling, bronze, brass, glass, porcelain, celluloid, etc, flocks of birds, pods of dolphins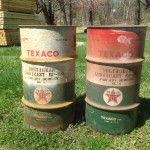 Advertising: Texaco lubricant barrels, U.S. Post Office lighted sign, John Wayne Coors Beer cardboard cutout, tin dual-sided Pepsi sign, Killians Irish Red plastic sign.
Funky miscellaneous stuff: Pair of vintage life-sized wood mannequins, stop light, Bumps in the Road sign, Airline guitar, napkin ring collection, pottery, a bit of architectural salvage including vintage garage doors and trophies, china, kitchenware, old clocks, stamps, old quilts
Dolls: Gone With The Wind Dolls including Scarlett, Rhett, Ashley and Mammy; composite dolls, Cabbage Patch Kids, Native American and international dolls, angels, bawdy woman, collectible porcelain dolls and more.
Jewelry and Vintage Women's Clothing: Tons of costume and vintage jewelry including some sterling silver and gold, necklaces, bracelets, pins, rings, earrings, chokers and more. We've also got buckets of jewelry with bird and gardening themes. We've got hats and some great pants, jackets, beaded dresses, headbands and vests.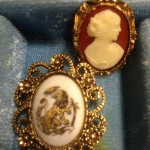 Furniture: A whole house of Mid Century furniture including dining table and chairs, china cabinet, buffets, servers, side tables, end tables, coffee tables, beds, dressers, night stands, rocking chairs, book shelves and patio furniture. Antique furniture includes a secretary, side table, chairs and more.
Vintage magazines and comic books: More than 100 Life magazines from the 1960s and 1970s with covers including Raquel Welch, Muhammad Ali, Jacqueline Kennedy, Richard Nixon, Joe Namath and others; 40-plus Look magazines; Popular Mechanics magazines from the 1970s; old Liberty magazines; Puck magazines; Mad magazines; comics including Betty, Cheryl Blossom, Dick Tracy, Yogi Bear, Yosemite Sam, Tweety and Sylvester, Star Wars, Hercules, Star Trek, Daffy Duck, The Jetsons, Chip 'n' Dale, Batman, Daniel Boone, Tom and Jerry, Life With Archie, Buster Crabbe, Flash Gordon, Popeye, Smokey Bear.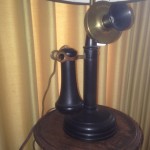 Lamps: Great assortment of lamps including pottery jug lamps, a telephone lamp that turns on when you lift up the receiver, figural lamps, oil lamps, banquet lamps, hanging lamps including a pool hall-themed lamp, Meissen-style lamp, lanterns, decorative lamps and scads of lamp shades.
Art: Large plaster sculptures, statues, oil on canvas and oil on board paintings, watercolors, several very cool framed NASA photos, inexpensive wall art.
China/Glass/Pottery: Stoneware, pottery, blue willow serving platter, dinnerware sets by Haviland and Mikasa, mid-century decorative glass, lead crystal stemware, colored glass, cruet collection
Who knows what else we'll find. We will post more info here as it becomes available.  Sign up for our e-newsletter, too, by visiting our Web site.
Want to see videos of some of the best parts of the house? Check these out. We'll add more soon: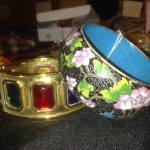 I hit the ground running on a recent morning, knocking out a little marketing from the ol' home office and then dashing across the Maryland line to a moving sale in Northwest, D.C. I was excited, my picking engines roaring and my pockets full of cash. The family running the sale had announced it on a neighborhood list serve — hyped it up good and said only people from the neighborhood would be allowed in on the first day. Awesome.
The fact that I am almost always wrong about what I think I'll find on a buying run — how good or bad it will be — had already faded from my mind. This had to be a good sale, right?
I make it through the door first. The place was a mess. It looked like a pack of kindergartners who hadn't eaten in a week had ravaged the place. "I'm sorry. We're not quite prepared like we hoped," the homeowner says, in a whopping understatement.
No problem, I think. I find the best stuff in the biggest messes. The more shambalized the house, the better deals I usually get, too. I go straight for my main target of the morning: I ask if she had any jewelry for sale. I tell her we buy everything from cheap costume jewelry to the good stuff. She calls her daughter down with a bag for me to look at while I try not to break my neck tripping over all the stuff scattered on the floors. The bag doesn't have any great treasures but it is full of the basic vintage jewelry that always does well for us. I pop n that for $22 and keep on looking.
I spot a Mid-Century modern Danish dining table that had seen better days. I email photos to a staffer who specializes in that area. She gives me the skinny and tells me the max we could sell it for. The seller's price isn't unreasonable but I d don't know if I feel like returning with our truck and then paying to re-finish the table before we can put it on the market. I ask if I could look around the rest of the house, if it was all for sale. The homeowner tells me to feel free to look everywhere and ask her for prices on anything I find interesting. The family hadn't bothered to try to price a single item, which only causes chaos at sales. It's inefficiency at its finest.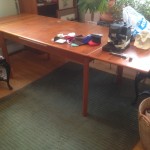 I go upstairs and see some decent bedroom furniture. I open the drawers to examine the construction and to see if there was anything inside the dressers I wanted to buy. I find more jewelry and start laying it out neatly, figuring the woman would come up eventually and I could ask her to price it for me. She comes up, alright. She comes up and starts screaming at me, telling me she can't believe I have opened drawers.
"Ma'am," I say, resorting to a slow-drawl Southern opening I sometimes use when I'm trying to keep from going off like a bottle rocket, "You told me to feel free to look around and ask for prices. When you tell people to look around, we're going to look around."
She huffs and puffs and I head back downstairs. Her husband passes me on the way up and makes some jerkish comment that again forces me to bite my tongue.
I decide to pass on the table as I had consumed my fill of that family for the day. I split and make at pit stop to visit my friendly CPA Carlos at ZP Tax. I return home, wolf down lunch while catching a back episode of Revolution on the tube, then head up to another appointment that I think will be a great one. Never mind the overwhelming fact that I am almost always wrong. Why do I even allow myself to have expectations? I enter that apartment in an upscale high-rise and see … an empty apartment with only a few piles of items that have no value to a dealer, and one cool Mid-Century chair. The owners tell me the chair is not for sale.
They're very nice people but there's nothing I can do there. I explain politely what the items look like through a dealer's eyes and suggest they contact A Wider Circle to donate the china and dishes. That Silver Spring nonprofit does great things to lift people out of poverty. I do offer to at least buy a few vintage cameras as I can always find buyers for those. I'm anxious to move on as pickers can't afford to spend time in places where there's nothing to pick.
I show myself out and race toward the elevator. I bump into a tall well-dressed man exiting an apartment a few doors down. We were deep in conversation by the time we reached the lobby floor. He saw my Orion's Attic hoodie, one of the best conversation starters I own. Turns out he's a Realtor and the apartment he was helping his client with had what he thought was some good stuff in it. He asks if I would mind taking a look.
I'm already here, I think. No harm in that.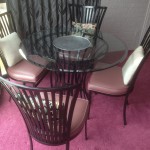 He opens the door. His client doesn't have good stuff. She has great stuff. I get blinded for a second, maybe from the quality of the furnishings in front of me but more likely from the sun that is coming through the sliding glass doors.
I have to do a triple-take to let it all sink in. I see stunning modern dining and breakfast tables in thick glass, one with a marble base and the other held together like a basket by black metal rods. Gorgeous. The art is more breathtaking … paintings that screamed, "I was done by a pro!" … sculptures and what looked like bronze pieces but made from perhaps paper mache .
"The homeowner is an artist," he tells me. "She did all these."
Holy smokes! Everything still remaining in the house is stunning. I notice a backgammon set that I know people would buy even if they don't know what backgammon is. It is just that nifty.
I suggest several ways Orion's Attic could help his client but tell him I need to do some research. I thank him for the honor of even letting me view that home. It's a thrill for me to see things like that, stuff I could see nowhere else other than in my line of work when I get the chance to enter people's homes. I am pumped just from the opportunity to see it, let alone the prospect of selling it.
We talk for a while on the way out. Turns out we have a lot in common. I'm on my third career, working harder than I've ever worked before but loving it. He's on his fourth career, loving his, too.
I drive home reveling in my consistency, that I'm always wrong about what I think I'll see at each stop I make. It's the excitement that comes with my wrongness that makes this job so right!
Need an estate liquidator or estate sale company in Maryland, Washington D.C. or Northern Virginia? Contact us today!