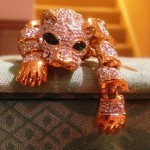 Looking to have some fun and find some great bargains this holiday weekend? Take advantage of some serious deals at our May 25-26 estate sale in an upscale Potomac, Maryland home from 9 a.m. to 4 p.m. (Address will be posted here on Friday.) This house is brimming with gorgeous fine furniture, antiques, jewelry, books, pool table, a large art collection (paintings, prints) and more. Owners are moving out of state and leaving most of their great treasures behind. (See the first batch of photos on our Facebook page.)
Furniture includes a beautiful dining set with table, chairs, and china cabinet. There are also leather couches, upholstered couches, bureaus, bedroom sets, home office furniture and more. An old, beautiful desk highlights the antiques collection. Home decor include a grandfather's clock. You'll find a pool table, patio set, ton of books and games.
The jewelry collection, including sterling silver jewelry, is fantastic, with tons of earrings, necklaces, rings, bracelets and pins — many with animal and nature decor. Our favorite piece is the tiger or leopard pictured here. We also love a little alligator pin that has two tiny baby alligators riding along with her that detach to become earrings.
We've barely seen the art collection but there are plenty of paintings, watercolors and prints.
We'll post more photos and details on our Facebook page as the week goes on. Sale runs from 9 a.m. to 4 p.m. Saturday and Sunday. No early birds allowed. Cash and credit cards only. We will have strong staffers there to help you load furniture on to a vehicle as time allows.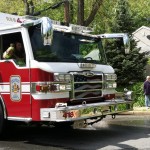 The second day of our latest Falls Church estate sale opened with a rush of shoppers seizing Sunday bargains. The house was packed with Orion's Attic fans. People were calling for help from all directions. One voice, though, was louder and more stern than the others.
"Excuse me," he said. "I think you have a gas leak in the kitchen."
I raced to the kitchen and caught a nose hair-turning whiff of gas coming from the stove area. I wheeled around 360 degrees to make sure no one in the vicinity was smoking, called 9-1-1 and gave the dispatcher the low-down. She told me to evacuate everyone from the home immediately and close all the windows and doors to make it easier for the fire company to detect and stop the source of the leak. I actually heard sirens by the time we hung up.
"Everyone, get out of the house!," I screamed at the top of my lungs. "We have a gas leak. Get out of the house now!"
There was a moment of deafening silence as all activity throughout the house and front and back yards ceased. People looked at me as if I were an alien that had just landed in the living room.
"Everybody, there is a gas leak. Fire trucks are on the way. Get out!"
Shoppers overcame their tape-delayed response to the message, made for the exits and crossed the street. All but one person, that is. I walked past the pay station on my own way out. A large, muscular gentleman was about to pay for a pair of $20 pots. "Sir," I said, harshly, "you've got to leave the yard right now."
"But I want those pots," he exclaimed. "I need to buy those pots."
Fury ignited inside me.
"Sir," I said, "these pots are not worth dying over."
The man STILL didn't move toward the gate. I grabbed him by the shoulders, using his shirt to yank him away from his pots and drag the much bigger man toward the gate. I didn't let him go until we were both well clear of the property.
The first of several Fairfax County fire trucks arrived. Burly men and a petite blonde woman in full gear marched into the home with all kinds of gadgets and tools. They spread across the home with eye-catching precision, like a marching band stepping to a beat only they could hear. The firefighters were clearly ready for anything.
One very polite firefighter later told me they did in fact find a leak at the stove, would shut off the gas to the house, and to stay clear until they were done.
I breathed a huge sigh of relief. Then I looked up and saw that a very large crowd of our estate sale shoppers were standing across the street, waiting patiently to return to the event. That's a loyal clientele right there, I thought.
Firefighters gave us permission to return. The sale hit full swing in a flash. The firetrucks may have inadvertently drawn an even bigger crowd; Neighbors coming out to check out the commotion came on in and joined the buying frenzy — gobbling up crystal, oil on canvas paintings, decorative art, the few remaining pieces of a large ladies' wristwatch collection and all kinds of other things. I lost track of the man who was willing to give his life for the pair of pots.
The lightened mood didn't last long.
"Excuse me," someone said. "Your bathroom is flooding."
I ran to the bathroom and saw enough water flowing out of the toilet that I was thankful I had started taking swimming lessons. It looked like the toilet had cracked but there was so much, um, stuff, coming out of the john that I couldn't get that close to see it any better. I turned off the water valve and started cleaning that mess, calling Realtor Jamie Wheeler of the Wheeler Team for the second time in a day. I've never had to call a client or real estate agent during a sale, ever, let alone twice.
Won-ok Kim and our staff kept on selling why I cleaned up the mess. This house had already provided plenty more adventure than our typical job offers. The junk removal service we provided before the sale dealt more bumps and bruises than usual. I cut a nice hole into my arm when I got bitten by a broken bottle. The beautiful yet tiny size of the house also turned out to be deceiving. Once we began tugging loose the trash and non-sellable items, tons of them sprang forward. Spandex houses, we call this type of project.
The problem turned out to be just an issue of a shopper putting too much into the toilet but I still cursed under my breath a bit, wondering what was going to go wrong next.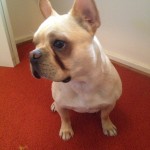 My answer came on four legs, a small pug-like dog flying down the street, turning left and dashing into the yard as if he needed to make an estate sale purchase. The amiable youngster had no collar to identify him or his owner. I again turned my attention from the sale and focused on corralling the dog. I am a huge dog lover. Our company is named after my first dog. We support House With A Heart Senior Pet Sanctuary. I was not about to let this dog get hurt on my watch and figured an owner would think of going to the center of activity on the block to ask for him.  One of our staffers used a little pizza crust to lure the pup into a small room, moved the merchandise out of there, gave the dog some water … and made a third call to the Wheeler Team. I checked on the dog periodically and shot enough photos to start a multimedia campaign if needed. I was thrilled when the boyfriend of a shopper from the previous day arrived and asked if we had seen a stray dog. He thanked us profusely for the rescue and bought a great wet bar in the process.
I wasn't about to risk wondering anything after the pooch left. The sale was scheduled to end at 4 p.m. but people were still in the house spending good money. I'd far rather sell something at a deep discount on a Sunday than spend the time and labor cost moving it to one of our retail stores on Monday so I let the sale keep going while two of our crew drove around retrieving our bright yellow signs.
It took us three hours longer than usual to break down and clean up but that didn't surprise me. Of course that house would take triple the time. On the plus side, we had exceeded the executor's expectations for the sale and met the new owners of the home. They had turned up at the sale and bought several pieces of furniture. We don't normally get to meet the next owners of a home we serve but this house sold in one day.
The Orion's Attic team left knowing TWO families were happy with our work, not to mention all the shoppers who thanked us for the way we treated them during the sale.  Gas leaks, floods and stray dogs just aren't enough to keep Orion's Attic down.
Testimonial from Holt Ennis. Orion's Attic provided two services for his brother's estate in Silver Spring, Maryland. We did a junk removal job to remove an enormous amount of trash and debris from the home — filling a 30-yard dumpster and using two huge bulk trash pick-ups from Montgomery County. We then organized the quality items that remained and conducted an estate sale that cleaned out the rest of the home, generated revenues for his brother's beneficiaries and made the home itself ready to sell.
April 30, 2013
Orion's Attic
solved an estate problem for me. I had to deal with a house full of valuable specialized tools. Large amounts of non-valuable material and ordinary household effects were mixed with the valuable items. I tried to separate out the more valuable items and sell them, but I could achieve only a low rate of sales.
I took what seemed like a chance when I handed the problem to Orion's Attic. However, Orion's Attic resolved the situation with blazing speed. The energetic team had the house 99% cleaned out well before the date named in an aggressive schedule. The firm rapidly organized and publicized a sale that generated excellent profits. It researched waste disposal actions to find the lowest cost methods.
Orion's Attic welcomes challenges and enjoys devising creative solutions for difficult problems. The firm can offer more than one solution for the same problem.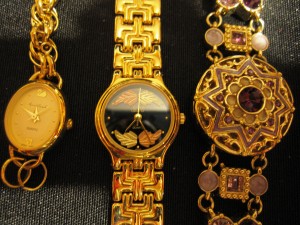 A stunning array of sparkly ladies' wristwatches and costume jewelry gave us a bout of light blindness when we first walked into the home of our May 4-5 estate sale at 1918 Pimmit Drive, Falls Church VA. View hundreds of photos of the sale on our Facebook page at www.facebook.com/orionsattic.
The elegant yet affordable watches, though, are just the start of a sale that packs a mountain of fun finds into a small home.
This sale also includes oil on canvas paintings, fine china, decorative glass and vases, crystal, Tiffany-style lamps, a few Army uniforms from the 1950s or 60s, books, records, vintage stereos, porcelain, silverplate and goldplate pieces, furniture including a vintage chest-on-chest, couches, bedroom set, Mid-Century cabinet, dining table, leather chairs and very nifty bar. The sale will also feature a special appearance by Washington D.C. furniture maker James Navarro, Jr., who specializes in reclaiming and re-using local hardwoods to make a variety of pieces – some of which will be on sale on Saturday.
The watch collection includes collectible ladies' wristwatches, from Jules Jurgensen, Addrienne, Gruen, Madison, Suzanne Somers, Helbros, and so much more.  Many of them have never been worn, remaining in mint or almost new condition. We've added new batteries to many of them, too.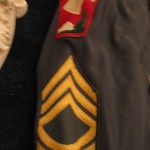 "I am not a watch collector myself but as I now see how beautiful and fashionable a watch can be, I would like to try them all," Orion's Attic co-owner Won-ok Kim says. "You want a watch that is just like a bracelet, inexpensive but gorgeous like real gold and diamond, this is the collection for you. You can get one for your daughter, one for your mom, and another one for yourself!
The house was owned by a German woman who lived there for decades.
Doors to the sale open precisely at 9 a.m. Numbers will be handed out to people beginning at 7:30 a.m.
Orion's Attic is adding a twist to the Falls Church estate sale featured above: We're inviting Washington D.C. furniture maker James Navarro, Jr., of Live Edge Studio to make his public debut. Navarro makes handcrafted furniture with natural — or "live" — edges on a private commission basis but will offer several pieces to the general public for the first time at the Attic's May 4-5, 2013 estate sale in Falls Church, Virginia (1918 Pimmit Drive). Navarro will be on hand Saturday May 4.)
"I like to build organic, live edge furniture," Navarro says. "I used to work in the environmental community and spent a lot of time fighting for healthy forests. Sustainable forestry is near and dear to my heart. I enjoy using local, reclaimed woods like elm, walnut, cherry, hickory and pine. My designs are inspired by the forms I find in the trees."
Working with environmentally conscious craftsmen and artists like Navarro is also a natural fit for Orion's Attic, a company that enables people to "buy good stuff, do great things." Attic co-owner Christopher Lancette first met Navarro when they worked together at The Wilderness Society. Navarro later joined Defenders of Wildlife before launching his furniture making career while Lancette headed straight to Orion's Attic to start the next phase of his life.
"I was incredibly impressed when I first saw Navarro's work," Lancette says. "His furniture is beautifully crafted and is the kind of stuff that buyers love. The fact that he preserves existing materials and brings them back to life makes it even more striking."
In addition to selling pieces directly to estate sale shoppers, Navarro will also be on hand to discuss potential new projects. He produces a wide range of items including a variety of tables, entertainment centers, bathroom vanities, and custom radiator covers.
"I know Orion's Attic draws pretty big crowds at their estate sales so I'm looking forward to the Falls Church event," Navarro says. "I'm happy to brainstorm with people about anything I may be able to craft for them."
Navarro's appearance is set for Saturday, May 4 from 9 a.m. to 4 p.m.
We had a great turnout last Tuesday at our newsletter subscriber-only advance sale but even that didn't make a dent in the bounty of good stuff stored inside the home of our next estate sale. The regular sale is set for this Saturday and Sunday from 9 a.m. to 4 p.m. at 2028 Forest Hill Drive in Silver Spring. [See hundreds of photos on our Facebook page.]
If you're a tool guy or gal, you may faint when you come to our Silver Spring MD "Tool Time" estate sale. We've never seen so many tools in one home in our lives.
The house was owned by a man who was an engineer by day and a first-class craftsman, builder and Mr. Fix It by night. The gentleman hoarded tools — we've found a number of them brand new in the box.  Here's a partial list of what you'll find this weekend:
TOOLS: Air compressors, cement mixers, car tools, drills, Cleveland hydraulic ton bearing press, snow blowers, chain saws, water pumps, bicycle repair stations, dry vacs, paint sprayers, ladders, hammers, wrenches, tool boxes, woodworking tools, routers, impact drivers, drive sockets, power tool accessories such as drill bits, saw blades, chargers, flashlights, air tools, including nail guns, impact wrenches, sanders, grinders, air hoses, painting accessories, sockets & ratchets, pliers, hammers, screwdrivers, snips, chisels, old tools for electrical work, lighting, plumbing, kitchen, security, and all kinds of bits and nails, automotive tools including welders, bottle/floor jacks, jump cables, towing chains, molding tools, tie downs, auto care products, dollies, ladders, workwear, safety gear. Many of these tools are made by the best names in the business including Craftsman.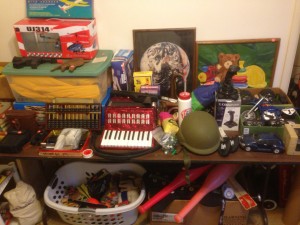 OUTDOOR AND ADVENTURE GEAR: Vintage Raleigh black and white bike with original components, Cannondale road bike from probably the 1980s/90s, Phoenix 6D hang glider, tents inflatable kayaks, scuba gear (wet suit) snowboards, fishing poles, bows and arrows, paint ball guns, tents,
ART: Salvador Dali signed, limited edition lithograph "Impressions of Africa", prints, oil on canvas paintings
FURNITURE: Mid-Century cabinet made Denmark; Mid-Century dining chairs made in Denmark, mahogany curio cabinet, bedroom set, side tables
COOL TOYS: Remote control airplanes and helicopters, paintball guns and supplies, kites
JEWELRY: Collectible men's watches including a 14k Jules Jurgensen watch; costume jewelry
ELECTRONICS: Stereo equipment; musical instruments (guitars, keyboards); DVRs, VCRs, radios, DVDs and CDs
Doors open promptly at 9 a.m. No early birds allowed but numbers will be handed out on a first-come, first-serve basis.
Testimonial from Greg and Jean Porter. Orion's Attic conducted an estate sale at Greg's parents' home in Glenn Dale, Maryland on April 6-7, 2013, and sold out virtually everything in the home so that they could put the house on the market. Orion's Attic also worked with the Porters' real estate agent, Barbara Remias, during the sale to attract home buyers.
April 12, 2013
Greg: I hired Orion's Attic to empty my mother's home, which was definitely overwhelming to me – and something I couldn't have accomplished without them. Orion's Attic came in and pretty much cleared the entire contents of the house. Let's face it, after their first day of preparation work for the sale, I couldn't believe the way the house looked. It was wonderfully staged. They're done now and I've never seen it this empty in my life. It will be much easier to sell the home because of the sale. I never realized these rooms are as large as they are. My mother had an incredible amount of stuff. [Jean: What house has two organs?] We had the organs, three or four couches, complete dining room set, and three floors full of all kinds of other things. Won-ok and Chris have a great work ethic. I couldn't have done what they did if I had months to try to do it. [Jean: Chris is like the "Energizer Bunny" and Won-ok is like a mountain goat that can lift more than her weight and carry it up stairs.]
We billed our April 6-7, 2013 estate sale in Glenn Dale, Maryland as the "Fun House" sale. Turned out to be exactly that. Won-ok and I love hosting these events because they're not just about selling things and making money; they're about helping clients eliminate headaches while connecting people with treasures they'll love. The Glenn Dale sale created many great moments that put big smiles on the faces of shoppers and sellers alike. We only wish we had taken pictures of the sale while it was taking place.
Take the eight-year-old boy who approached the pay counter and asked about the price of a toy figurine that had lost its tag. "Sir," the youngster began, "How much is this?"
I was so stunned by the fact that he was so polite that I knew I had only one response.
"For you — you're so polite, please accept that as a gift from us," I said.
He grinned from ear to ear.
"Thank you, Sir," he said. I reached over the table, shook his hand and wished him a good afternoon.
Children weren't the only people interested in toys. Adults came out in droves to buy vintage toys including Buddy L vehicles, Legos, stuffed animals, Matchbox cars, and the two marquis items up for grabs — a collection of model trains and a collection of dolls. The trains filled an entire room and were the pride and joy of our client. (He had left the trains in his parents' home for decades and had hired us to conduct an estate sale to clear the home and make it ready for sale.) One gentleman, Eric, came on the first day, snatched up the Buddy L pieces and wanted to buy a ton of trains. The first day total, even at our bargain prices, still added up to no small sum.  He returned the next day, discount day, and saw that the majority of trains were still there and priced at 50 percent off.
An entire room full of anything, even at half-off, is still a significant amount of money for most people to spend. I knew Eric was itching to get started in the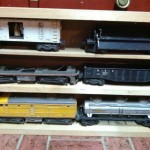 model train world. Won-ok and I pulled out a calculator and made him our very best offer. He called his wife to make sure the purchase wouldn't land him on the couch that night and accepted the deal.
Grown folks were feeling like kids all over the home as they bought the vintage toys. Many shared memories the toys brought back. The toughest decision Won-ok and I had to make came with the doll collection. We had to balance our client's priorities with the offers made to us. A grandmother, daughter and granddaughter teamed up on us with a combination of smarts and charm that was hard to resist. The negotiation was the longest of the weekend. The snag was a neat doll lamp that Won-ok and I knew would look fantastic in one of our stores. We wanted to buy the lamp, put a "Not for Sale" sticker on it, and let the doll make like a magnet and pull people to our merchandise.
I accepted that we had to let the lamp go to close the deal. (Won-ok had no such attachment to the piece.) We ultimately found a number that worked for everyone, I said goodbye to the lamp, and Won-ok and I stuffed a car with boxes of dolls. I ran back to the house and noticed a shelf with a stuffed animal pig that everyone seemed to ignore. Had he done something wrong? Was he being punished?
I turned my attention back to crowd that packed our sale from the opening bell to the closing minute. People told us they knew our sale must be good because they had to drive a few blocks to find a place to park. They also told us they loved the way Orion's Attic does business … taking on homes with great stuff, offering fair prices and making people laugh along the way. (Stay tuned for details on upcoming estate sales in Silver Spring and Bethesda, Maryland, and in Falls Church, Virginia.)
One item was music to a man's ears.
He came in at closing time on the first day and asked if he could look at the antique pump organ before we closed the door. We were ready to call it a day but knew that such rare pieces are tough to sell. We couldn't walk away from a potential buyer. He asked if it worked. I said that it did and sat down to play it like a wounded duck falling out of the sky. Pump organs take musical talent and an extraordinary amount of coordination to pump the foot pedals, expand the knee pedals outward and bang the keys.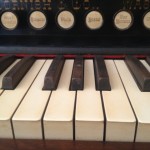 He asked if I minded if he gave it a try.
By all means.
He sat down and hypnotized us. It didn't even look like he was moving but music poured out from the organ. Wow.
The man explained he had been in the market for exactly such a pump organ and that the others he had traveled to see — including one in West Virginia — were over-priced. He made us a very fair offer. Done!
We sold out the house by 4 p.m. on Sunday. Won-ok and I, along with our tremendous crew, closed up shop, retrieved our signs and cleaned up the house. Another successful sale was in the books. (Read testimonial from the clients.) I had to go back a few days later to help a shopper pick up a dining set she had paid for on Sunday. I took one last look around and found one of the last few items in the house — the pink pig. Willy the Pig, I named him. Won-ok and I love stuffed animals. We have a kingdom of them.
"Come on Willy," I said, a huge smile breaking out across my own face. "Time to go home."
Countless shoppers at our April 6-7, 2013 "Fun House" estate sale in Glenn Dale, Maryland told us they had to drive a few blocks down the road to find a place to park. That's par for the course at Orion's Attic as we're pretty good at drawing big crowds to our sales.  People love the kinds of homes we take on and they love the fair prices we offer. While the attendance and sales speak for themselves, everyone loves to be recognized for hard work. We're no different, which is why we are honored and thrilled to receive an award from EstateSale.com for being the most viewed estate sale company in Maryland for the week ending April 7, 2013.  Thanks to everyone across the Maryland, D.C. and Virginia region for your incredible support of our company!
Life is rarely more poignant for grown folks than when you have a chance to feel like a kid again. Step into our Glenn Dale, Maryland estate sale on April 6-7 from 9 a.m. to 4 p.m. and you're almost certain to find long-forgotten memories returning to mind and a smile spreading across your face. Pick up model planes, trains and automobiles. Get lost in the "doll room" that includes one of the neatest lamps we've ever seen. Admire collections of pigs, frogs and other critters. View one of the largest mounted matchbook collections in town. [Stay tuned to this blog and our Facebook page for the address when the sale draws closer but see photos now!]
There is plenty of good stuff for your adult side, too. Start with the antiques. There's a gorgeous mahogany dining set with matching chairs, buffet and china cabinet. One room over is a 100-year-old pump organ made by Cornish & Co. of Washington, New Jersey. The organ shares the room with a hand-made table probably from the 1920s, Mersman side tables and vintage lamps. An array of prints, old photographs and decorative plates dot the walls. The master bedroom contains a lovely mahogany bedroom set, quilts and Afghans. Other rooms host an ocean travel-themed couch, coffee tables, rocking chairs, antique sewing machines and antique sewing machines turned into great desks, books, costume jewelry, mirrors, decorative glass, figurines, music boxes, snow globes, vintage toys, a Gone With the Wind lamp, banquet lamp, pottery, kitchenware, tools and more.
The estate sale will also feature a yard sale with heavily discounted art and all kinds of treasures that couldn't be displayed well inside the house.
Attending the estate sale will also give you the first chance to look at the house that is up for sale, too. You'll be shocked by how much land it sits on.
Mark your calendars now for a visit to Glenn Dale. Doors to the sale open precisely at 9 a.m.